**This post was written in partnership with Whole Foods Market, all opinions are my own.
I know everyone is bummed summer is behind us, but that doesn't mean grilling has to end. In fact it's the perfect weather to be out by your grill – no more sweat-soaked shirts while you barbecue.
This recipe for pig wings coated in homemade dry rub is epic and easy. The hog wings come off the grill juicy and tender. It's game day food at its finest.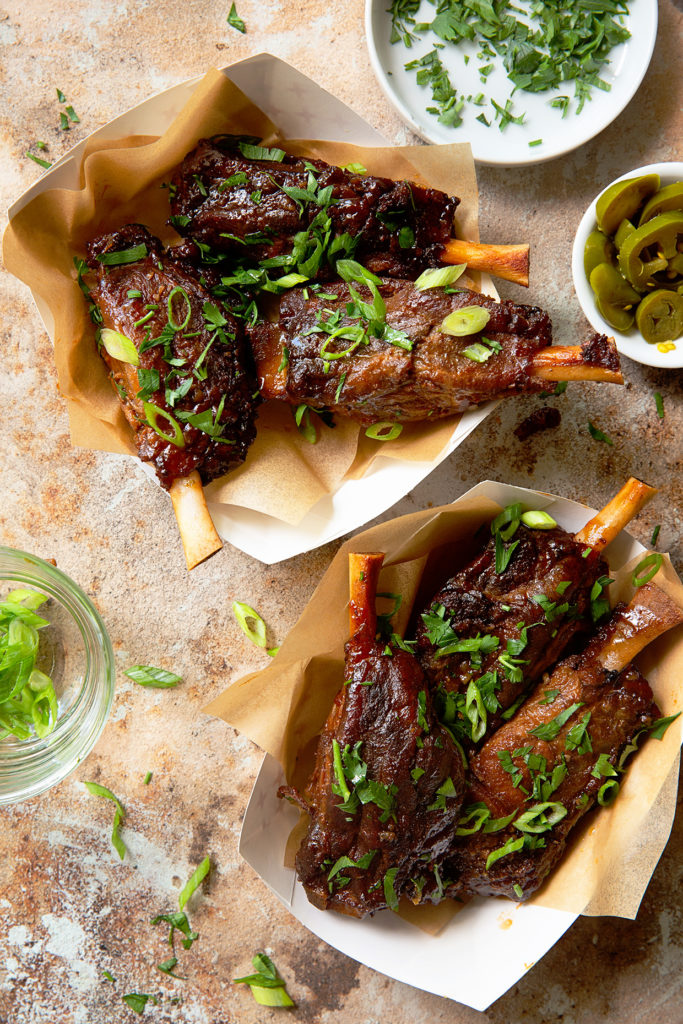 That said, check out these pig wings. Yes, pig wings, it's essentially a trimmed pork shank. My boys are crazy for chicken wings – the 11-year old got my toddler into them, so now we do wings —of all sorts, all the time. Or at least it feels like all time when you are grilling 30+wings at a time.
That's where these pig wings come in real handy. They are a lot bigger and that means less prepping and babysitting the grill. To make things even easier, just ask your butcher to trim them for you before you get started. I picked up all of my items at my local Whole Foods – the ultimate resource for all of your summer grilling needs.
To cook these, I smoke them with a rub and then barbecue them for the last 15 minutes with a sauce. Of course, you can cook pig wings any way you prefer, just like you would chicken wings.
These would make the perfect addition to any homegating party (you know, tailgating, but from the comfort of your own couch). Check out what else I recommend in my ultimate guide for How to Throw a Killer Homegate party over on the Whole Foods Website. I'm sharing all my pro-tips for keeping everyone happy and digging in for seconds, thirds, fourths . . . hit the jump here.
Now go fire up that grill and let's do this!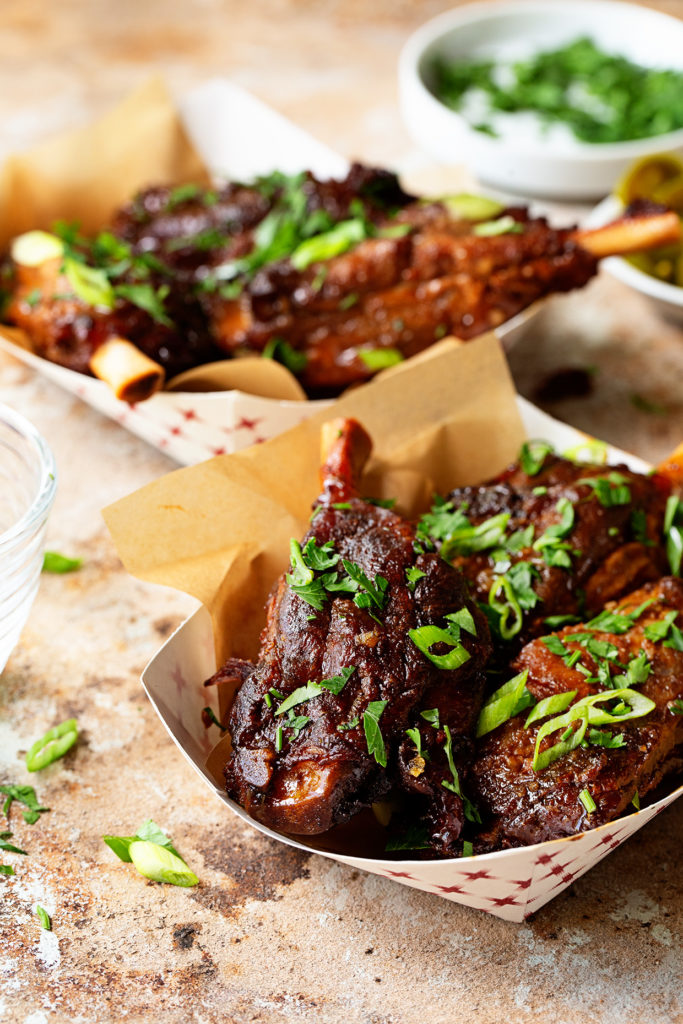 Epic Dry-Rubbed Pig Wings
This recipe for pig wings coated in homemade dry rub is epic and easy. Juicy and tender, these hog wings are game day food at its finest.
Ingredients
Dry Rub
1 cup ancho chili powders
1/4 cup smoked paprika
2 tablespoons coriander
2 tablespoons brown sugar
1 tablespoon kosher salt
1 tablespoons freshly ground black pepper
1 tablespoon garlic powder
1 tablespoon onion powder
BBQ Sauce
1 cup BBQ sauce (your preferred)
1 cup ketchup
1/3 cup butter warmed
*optional: 1/3 cup hot sauce
Instructions
Preparation: Heat grill to 275 degrees F.
To make dry rub: In a bowl, mix all ingredients. Cover pork wings with rub. Transfer to the grill and cook for about, 30 minutes. Checking half way through to rotate and flip as needed.
In the meantime, make the BBQ sauce by mixing together the ingredients; set aside until ready.
Remove wings from the grill after 30 minutes and brush on the BBQ sauce. Return wings back to the grill for another 10 minutes. Wings are ready when the thickest part of the meat reaches 140 degrees F.

For even more game day recipes check out: