Well football season has officially started. Woo-hoo! And to kick things off I'm sharing my Killer Beef Kebabs.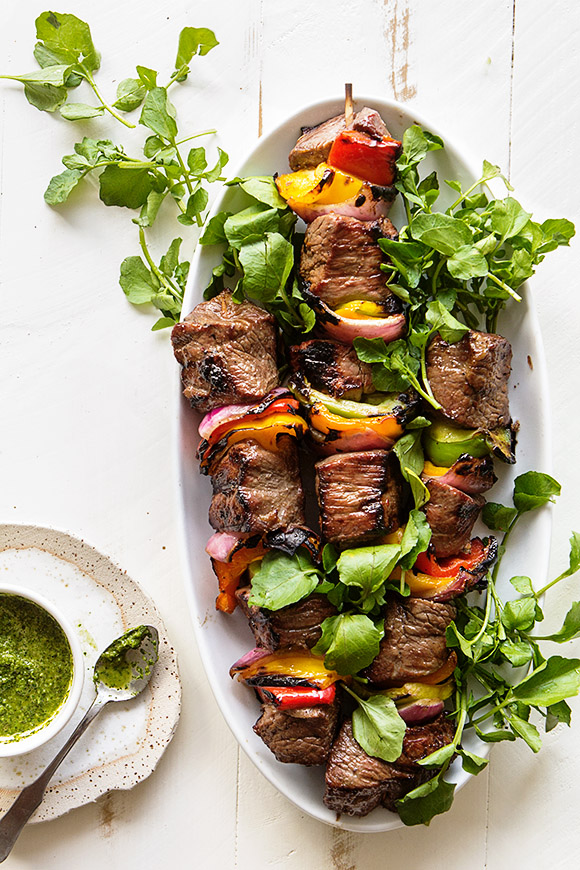 I don't know when or how it happened, but every time there is a get-together, I'm the official griller. And I love it.
And if it's up to me solely, I much prefer grabbing for the charcoal rather than turning on the gas. To help me along, I prefer Kingsford Charcoal. It's fast-starting and clean-burning. An important thing if you want the meat to taste like meat and not full of chemicals.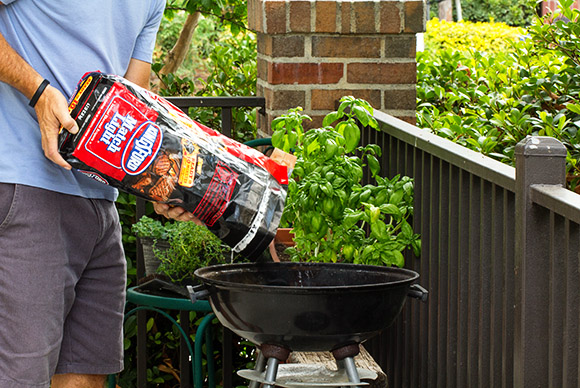 Along with that, since it requires more hands-on grilling than a gas grill. I'm generally surrounded by those waiting to be fed. Which of course allows us to actually have a conversation that runs longer than the commercial breaks. That's a good thing though, right?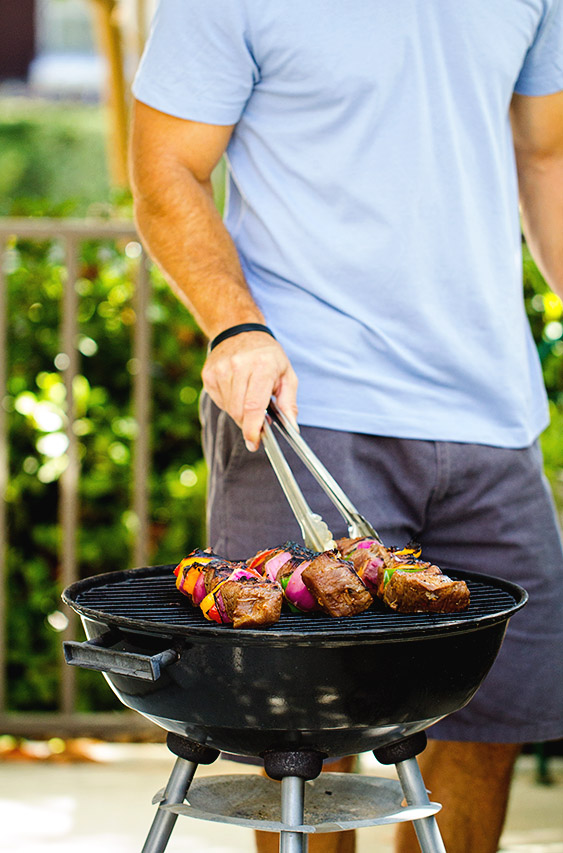 So sure, I love the football season for the games, but I enjoy it more because it's a vehicle for gatherings that are food-centered. Nothing beats that.
Yield: Serves 8
Killer Beef Kebabs
Ingredients
Chimichurri Sauce
1/2 cup red wine vinegar
1 teaspoon kosher
2 garlic cloves, thinly sliced or minced
1 shallot, finely chopped
1 jalapeno, finely chopped
1/2 cup minced fresh cilantro
1/4 cup minced fresh flat-leaf parsley
2 tablespoons finely chopped fresh oregano
3/4 cup extra-virgin olive oil
Kebob
1 lb beef sirloin, cut into 1 inch cubes
1/4 cup plus 2 tablespoons extra-virgin olive oil
1 tablespoon Worcestershire sauce
2 teaspoons garlic powder
1 tablespoon chopped fresh rosemary leaves
1 large red onion, cut into 1 inch pieces
1 large red bell pepper, cut into 1 inch pieces
1 large yellow bell pepper, cut into 1 inch pieces
Vegetable oil, for grill
Coarse salt and ground pepper
Instructions
To make chimichurri sauce: Combine all ingredients and set aside.
To make kebobs: In a medium bowl, combine first five ingredients until meat is well coated. Cover and refrigerate for at least 4 hours or overnight. Remove beef from refrigerator and let sit room temperature for 30 minutes.
In a second medium bowl, combine onion, both bell peppers and 2 tablespoons olive oil; toss to coat and season with salt and pepper. Drain and discard marinade from beef. Season beef with salt and pepper. On metal or soaked wooden skewers, alternately thread meat and vegetables. Lightly cover grill rack with nonstick spray. Grill kebabs, turning every 4 minutes until beef is medium-rare and vegetables are tender, about 12 minutes total.

This conversation is sponsored by Kingsford Charcoal. All text and opinions are my own.