Meat Lovers' Queso Dip ~ Hot melt-y cheese topped with crumbled sausage, ribbon cut pepperoni and green onions. It may not be Texas-style queso, but it's queso and that is always hit!
Football season may not be same in terms of the how we are use to seeing it, but at least the idea of game day eats remains the same.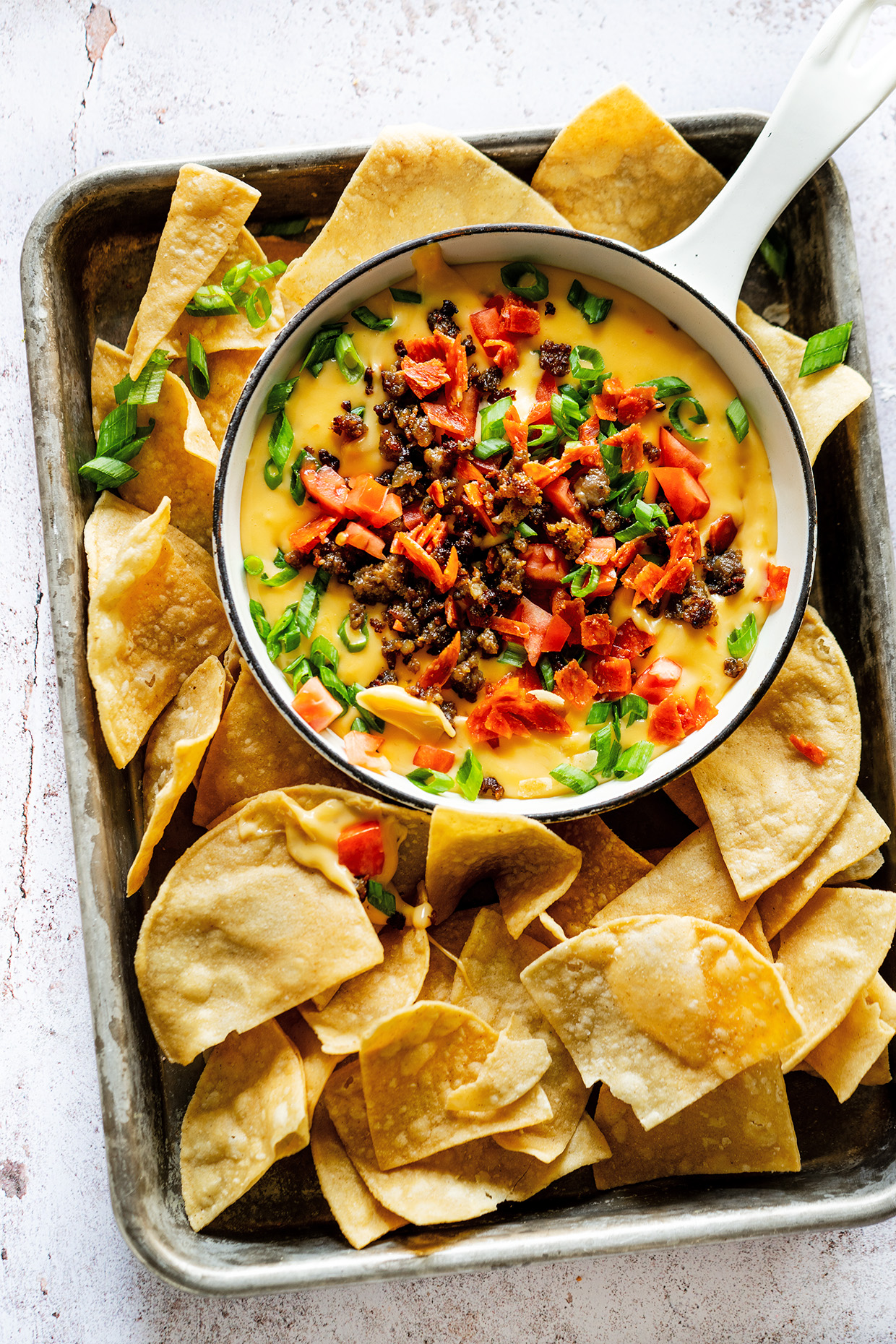 Today I'm sharing a hot queso dip for all the meat lovers out there. It's your standard queso made with: Velveeta, American, Pepperjack cheese and untraditionally leveled-up with a few extra flavors.
There are some people out there with real strong feelings about what goes in it is what determines if it's queso or not. I'm not one of them. Give me a hot, melt-y cheese sauce and I'll be too busy stuffing my face and watching football to say anything but pass the chips.
Here are a few tips for success when it comes to making this Meat Lovers' Queso Dip:
What kind of cheese is used for queso?
It's traditionally made with Velveeta cheese. Yes, it's processed, but it melts smoothly and that's what you need for queso. For the version here, I used a combination of Velveeta, American and Pepperjack cheese.
Do I really need to saute garlic and shallots?
You don't, but it definitely gives the queso a flavor boost.
How do I keep this smooth and velvety?
It's best to keep this warm, so use a crockpot or something of a sterno.
What can I do to thin the queso out a bit?
Add milk until desired consistency is achieved.
Check out these fun game day recipes for more tasty bites: Chorizo Queso Fundido, Buffalo Chicken Fries, Baby Back Ribs with Cola BBQ Sauce.
Yield: 6 servings
Meat Lovers' Queso Dip
Prep Time 15 minutes

Total Time 15 minutes
Ingredients
1/2 lb. sausage
2 shallots, finely diced
1 garlic cove, finely diced
2 cups mik
1/2 lb. Pepperjack cheese
1/2 lb. American cheese
1 lb. Velveeta cheese
1/2 cup ribbon-cut pepperoni
1/2 green onions
Instructions
In large skillet, over medium-high heat, cook and stir until sausage is no longer pink, about 8 -10 minutes. Transfer the sausage to a plate.

Keep reserved oil and add garlic and shallots to the pan Cook and stir until shallows are translucent, about 2- 3 minutes. Add the milk and bring to a simmer. Reduce heat to low and add the cheeses in one handful at a time. Whisk constantly until cheese is fully melted.

Remove from hea and transfer queso to a crockpot or warming plate. Top with cooked sausage, pepperoni and green onions. The queso needs to stay warm to stay melted. Serve with chips.