I swear, the more I work on this blog, the more I'm learning about myself. Lots of good things, such as no longer being terrified of being in the kitchen, getting joy out of seeing others smile after eating a creation of mine, sharpening my photography skills, etc. However, I have also learned that I am a bit obsessive about things, especially once I make a recipe that goes well. Since the blog has only been up for almost 2 months, you don't have to look far to see some of my obsessions – pudding pops, pizzas, stuffed food, Mexican food, breakfast and my favorite, brinners!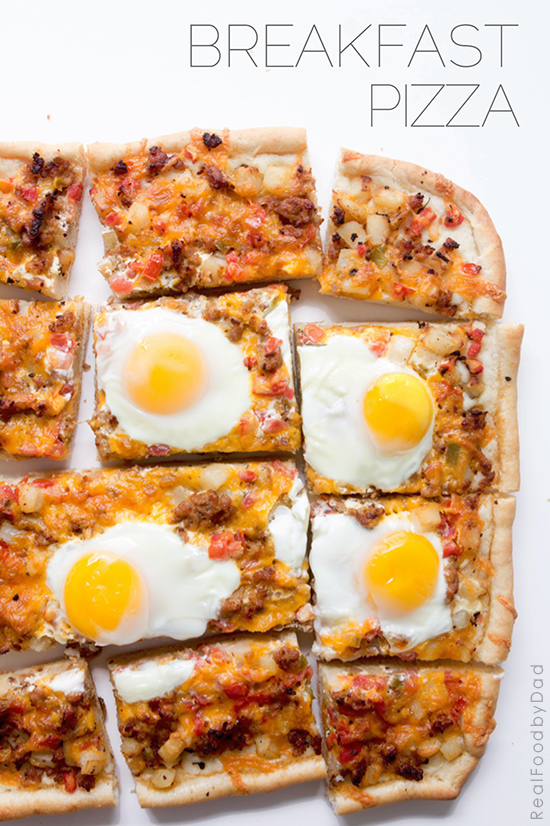 So this morning I figured I would stick with the plan and combine two of those obsessions by making a super easy-to-make, Breakfast Pizza. Out of all of my recipes, this one may actually be the easiest to make. Seriously, homemade pizza dough (which I find therapeutic to make for some strange reason), sweet Italian sausage, diced hash browns, cheese, salsa and eggs. That's it. A perfect little breakfast for summer. And not only was this easy, it is one of my favorites so far. The flavors were subtle but pronounced, which is how I like my breakfasts.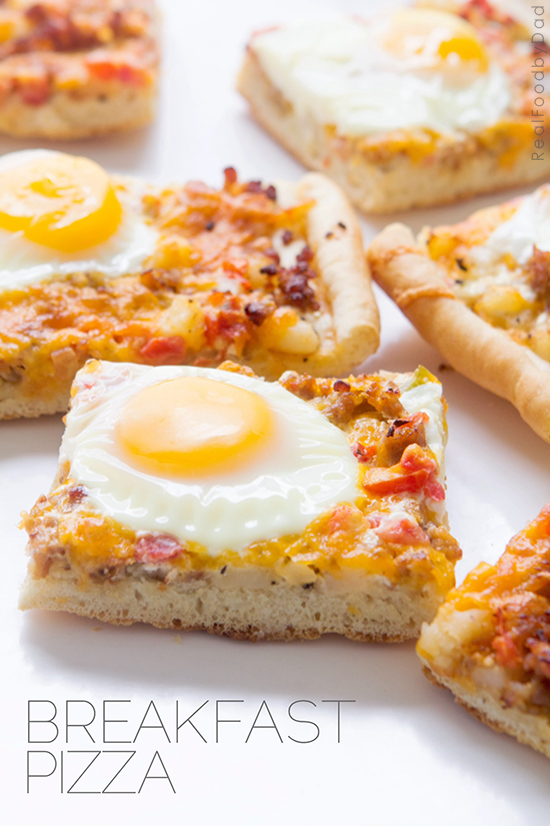 It was so good in fact, that it ended up being my dinner as well. Which brings me to another issue around here – leftovers! Not something I particularly enjoyed growing up, but I don't really have a choice anymore. Living in a house of 2 food bloggers, our refrigerator is busting at the seams with them. Pizzas, pudding pops, Rice Krispie treats, pies, cakes, cupcakes, cookies…the list goes on and on. We've only got so many neighbors who are probably a little over us knocking on their doors with a plate or a tray full of food.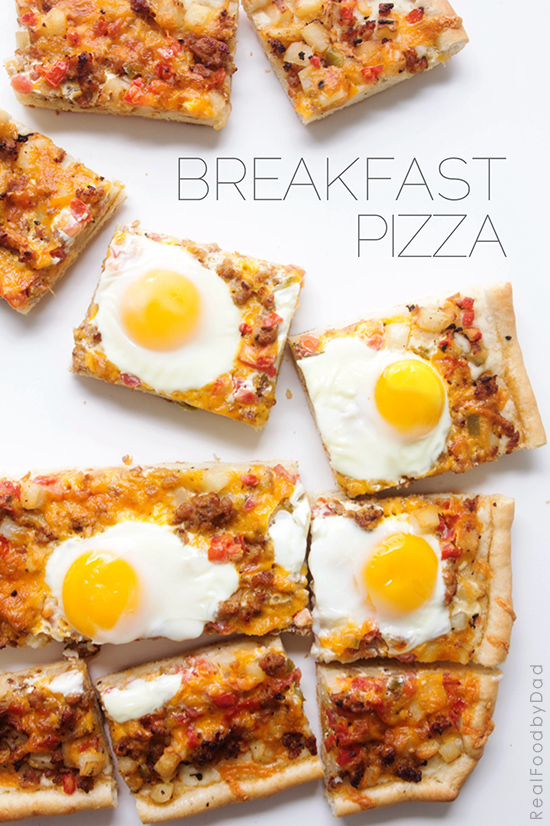 So before you head out to the beach, the park or a pool this summer, instead of the usual cereal, pancakes, french toast, muffins, bagels or eggs, get the day started on the right note by making this quick and easy Breakfast Pizza. And if there is any left, you've got something good to come home to.
Yield: 4
Breakfast Pizza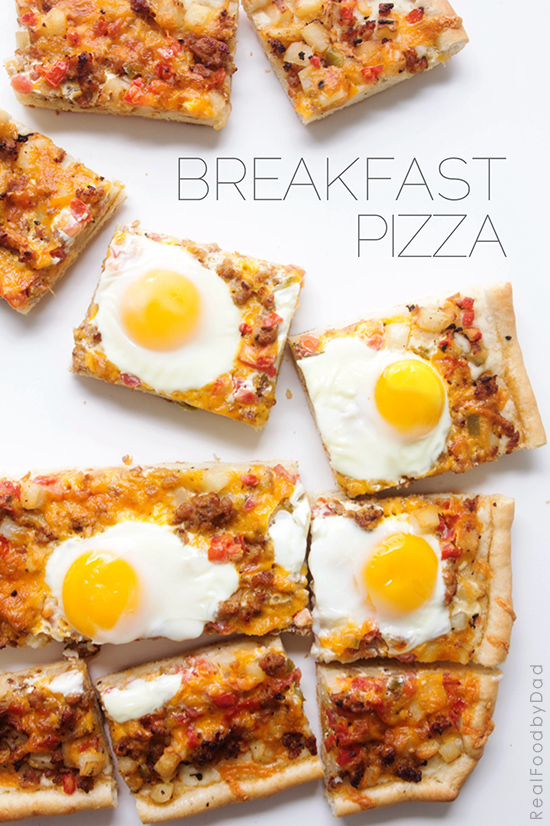 Ingredients
1 pizza crust , (recipe here: https://realfoodbydad.com/homemade-bbq-chicken-pizza-2/ )
2 3 oz. sausage links, casing removed, crumbled and browned
2 cups diced hash browns, cooked
1 cup cheddar cheese
1/2 cup chunky salsa, drained
4 eggs
Instructions
Preparation: Heat oven to 500 degrees F. Place pizza stone on lower middle rack. Lightly grease a sheet of parchment paper with olive oil. Transfer ball of dough to parchment. Stretch out dough by hand as much as possible, then lightly brush with olive oil, cover with another piece of parchment. Use a rolling pin and work from the middle of the dough outward to flatten dough to ¼ inch thickness. Peel off top parchment paper. Note: Dough can be made ahead of time and refrigerated for up to three days.
Assembly: Sprinkle down browned sausage, hash browns, cheddar cheese and salsa. Break eggs on top of pizza. Slide the pizza (with the parchment underneath) on to the hot pizza stone. Bake for 3-5 minutes until pizza crust starts to turn golden. Rotate the pizza once and remove parchment, continue to bake for another 3 minutes or until eggs are cooked but still runny. Remove from oven.