Nachos are one of my favorite things to make and eat. It's like an open canvas for all kinds of sauces, toppings, drizzles and sprinkles. I'm really departing from the usual chips, fries and tots for a chicken skewer base.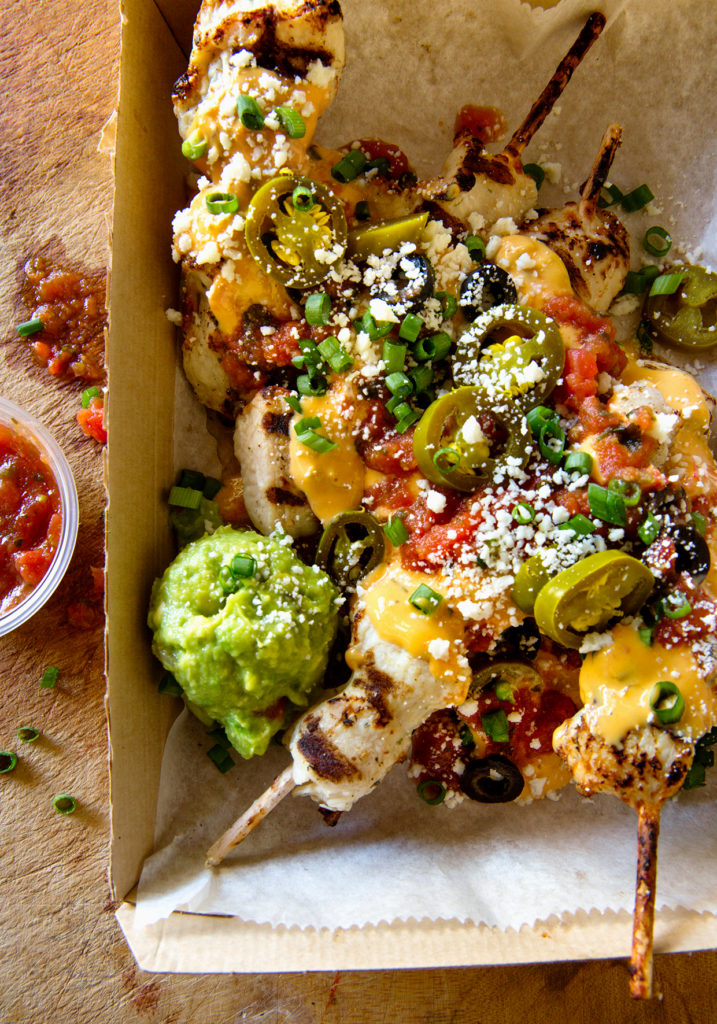 Why not, right? Sure, it's different and unconventional, but as many of you know, Naomi started a game day series a while back and I've been on board since the day I started this blog. When I joined in on the fun we decided to make a competition that included a weekly theme and then our kids voted on "Who did it better".
She's fiercely competitive and so am I. This year we decided to bypass the competition and just do it side-by-side. Boring. That lasted all of 5.879 seconds. We are back at it. 
This week's Game Day Eats Series theme is nachos. These Chicken Skewer Nachos are my entry. You def need to jump over to Naomi's site and check out her nachos. Then when you are done there, head on over to my IG Stories where we are taking a poll for "Who Did it Better".
I need your vote! Loser has to do a game of Russian Roulette with Bean Boozled. Go vote and make me a winner because I want to see Naomi eat the spoiled milk flavor (apparently last time Naomi and Cole played he had it and cried while she laughed).  
Vote here.


Yield: Serves 4
Chicken Skewer Nachos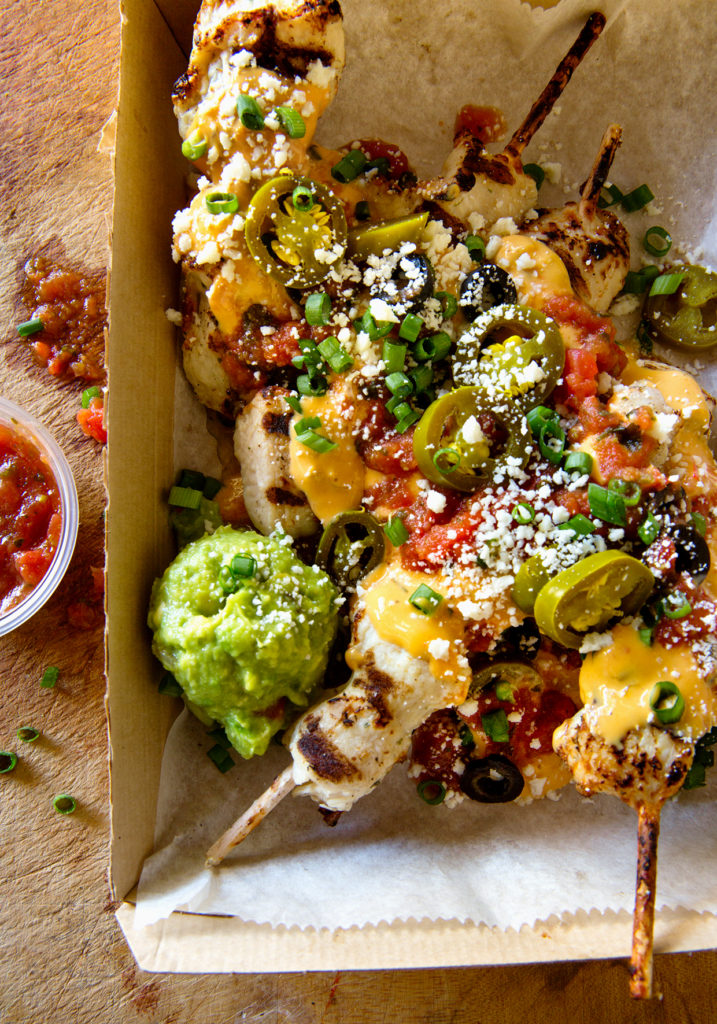 Ingredients
2 boneless, skinless chicken breast (about 8 oz. each), thinly sliced lengthwise into 8-10 strips
vegetable oil
salt and pepper
1 1/2 cup salsa con queso
3/4 cup fire-roasted salsa
1/3 cup olives
1/3 cup jalapeños
3 tablespoons chopped green onions
3 tablespoons queso fresco
Instructions
Heat grill to medium-high. Leave every other burner off. Close grill and allow to heat for 10 minutes.
Thread each chicken strip lengthwise onto a skewer. Brush with oil. Season with salt and pepper. Grill chicken skewers, turning every 4 minutes or until chicken is cooked through.
Layer chicken skewers with queso and salsa. Sprinkle on olives and jalapeños. Finish with green onion and queso freseco.
*Recipe can easily be multiplied as needed to serve more.