Pumpkin Bread ~ A no-fuss, supremely moist pumpkin bread that's perfect to eat as is or toasted and slathered with butter.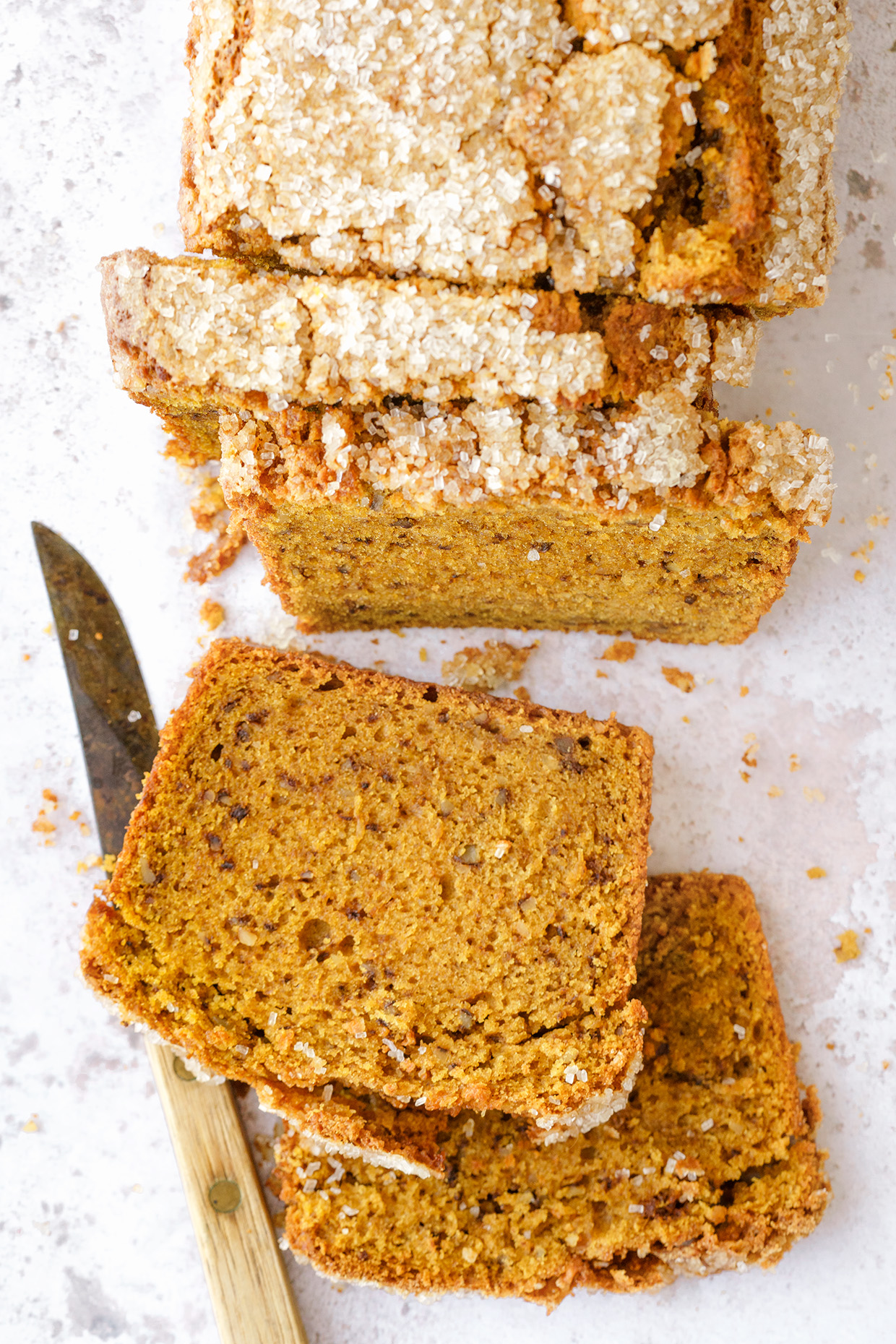 Don't worry, the topping does fine in the toaster. This ultimate crunchy topping is a result of playing around with various options like glazes and streusel. My boys thought the glaze didn't add enough to the recipe, while coarse sugar was perfect in terms of adding texture without intruding on the flavor. The streusel, no matter how I spun it, resembled crunchy sand.
I'm laughing and loving my kids' food description. They are little food critics, but with most exaggerated and animated faces to go with each thought.
It may have taken me a few turns to find their preferred topping, but the body of this has remained the same: tender, spiced just enough for warm fall flavors and rippled with toasted walnuts for an added boost in taste and texture.
Before getting started on this recipe, make sure to read the tips and notes below:
Can I just use pumpkin spice rather than all those individual spices?
Yes, you can. But I prefer to customize the spices to my liking.
Does it matter if I use pumpkin pie filling vs. pumpkin puree?
Yes, pumpkin pie filling is pre-spiced whereas pumpkin puree is not.
How should pumpkin bread be stored?
Since this pumpkin bread is supremely moist, this will keep for three days covered at room temperature.
Looking for fall recipes? Check out these: Pumpkin Pie Bars, Hot Apple Cider with Buttered Rum, Slow Cooker Chili.
Yield: Serves 10
Pumpkin Bread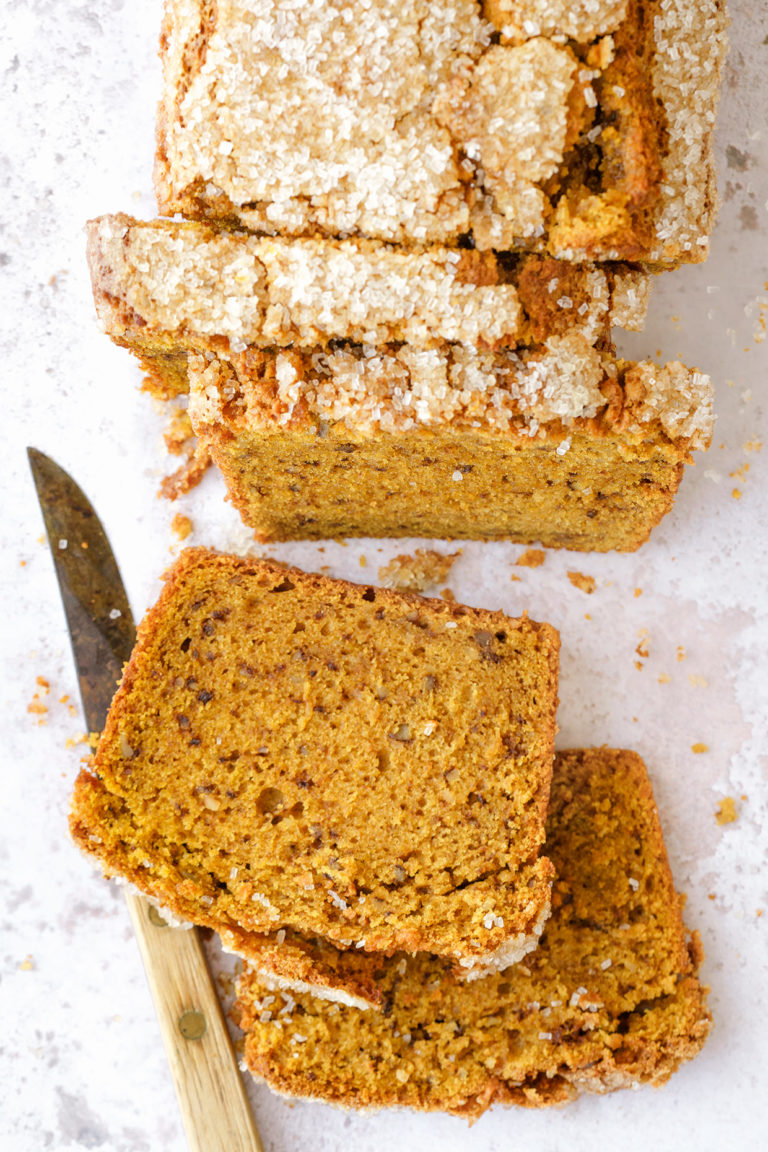 Cook Time
1 hour
16 minutes
Total Time
1 hour
36 minutes
Ingredients
2 cups all-purpose flour
1 1/2 teaspoon baking powder
1/2 teaspoon baking soda
1 tablespoon cinnamon
1 teaspoon all-spice
1/2 teaspoon nutmeg
1/4 teaspoon ground cloves
1 (15-oz) can pumpkin puree (about 2 cups)
3/4 cup vegetable oil
1 2/3 cups sugar
1/2 teaspoon salt
3 large eggs
1/2 cup toasted walnuts, finely chopped
2 tablespoon coarse sugar
Instructions
Heat oven to 325 F. Lightly cover a 9x5 inch pan with baking spray.

In a large bowl sift together, flour, baking powder, baking soda, cinnamon, all-spice, nutmeg, gloves and salt.

In a second bowl, beat together pumpkin puree, oil, sugar and salt. Beat in one egg at time, making sure each one is combined before adding the next one.

Scrape down sides of bowl, add the flour mixture and beat until no flour streaks remain and mixture is smooth. Do not over mix. Fold in walnuts.

Pour batter into prepared pan. Sprinkle with crunchy sugar. Bake for about 60-75 minutes, or until toothpick inserted in center of loaf is free of wet batter when removed.

Remove from oven and transfer to a rack to cool slightly, about 20 minutes before inverting out of pan. Pumpkin bread will keep for up to 3 days at room or in the refrigerator for up to 7 days.