Slow Cooker Bone Broth Chili. An easy chili recipe for those busy nights made with better-for-you cooking via Imagine® Chicken Bone Broth.
I love their products because they are made with real, wholesome ingredients with no artificial ingredients or preservatives. And because all Imagine® products contain non-GMO ingredients, no added MSG and unique, nutrient-packed ingredients, it's raising the bar for soups and broths.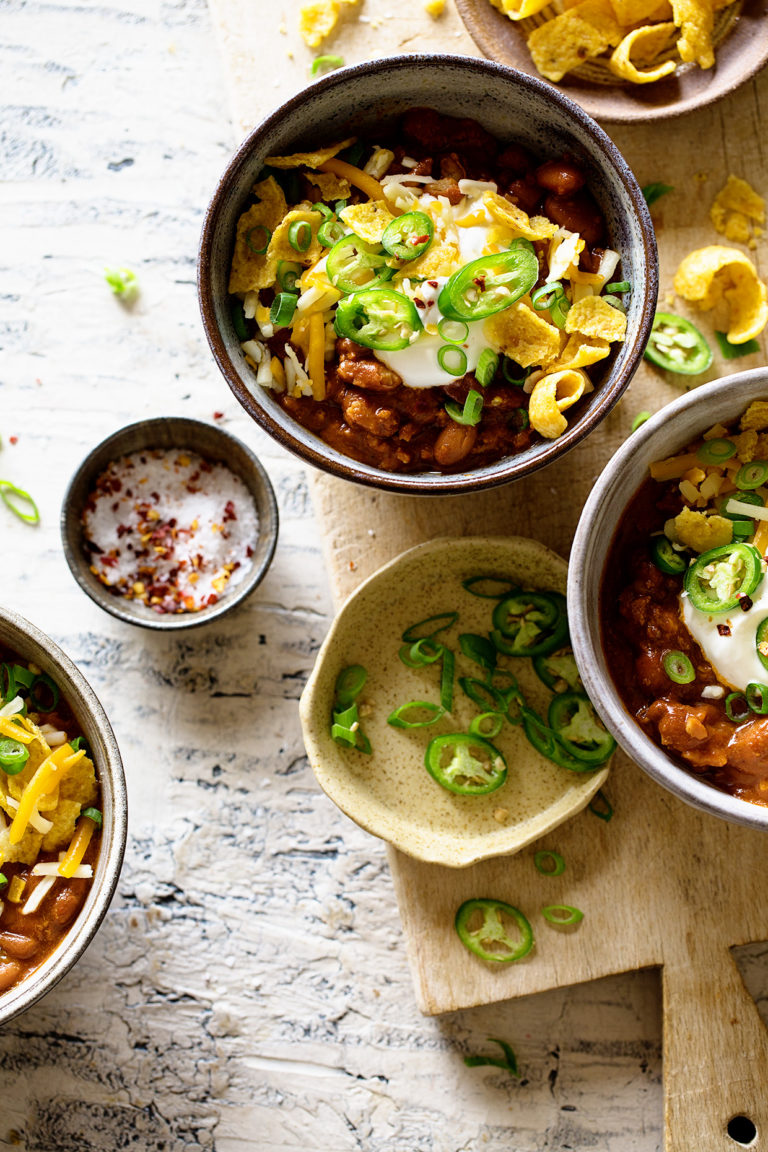 Of course the Bone Broth is gluten-free, dairy-free and I'm so glad to know is made with non-GMO ingredients. It's readily available at natural and conventional retailers nationwide, check here to find the nearest one by you and grab one so we can do this easy chili recipe.
Don't worry, you'll still find belt-busting comfort foods, but I'm giving a few classics a makeover with some ingredient-proud items, since I freed up some time. After 10 years of coaching, I'm taking a break this year. Somehow even with the break I'm still managing to stay almost as busy with baseball now that Cole is playing two leagues and Blake is coaching.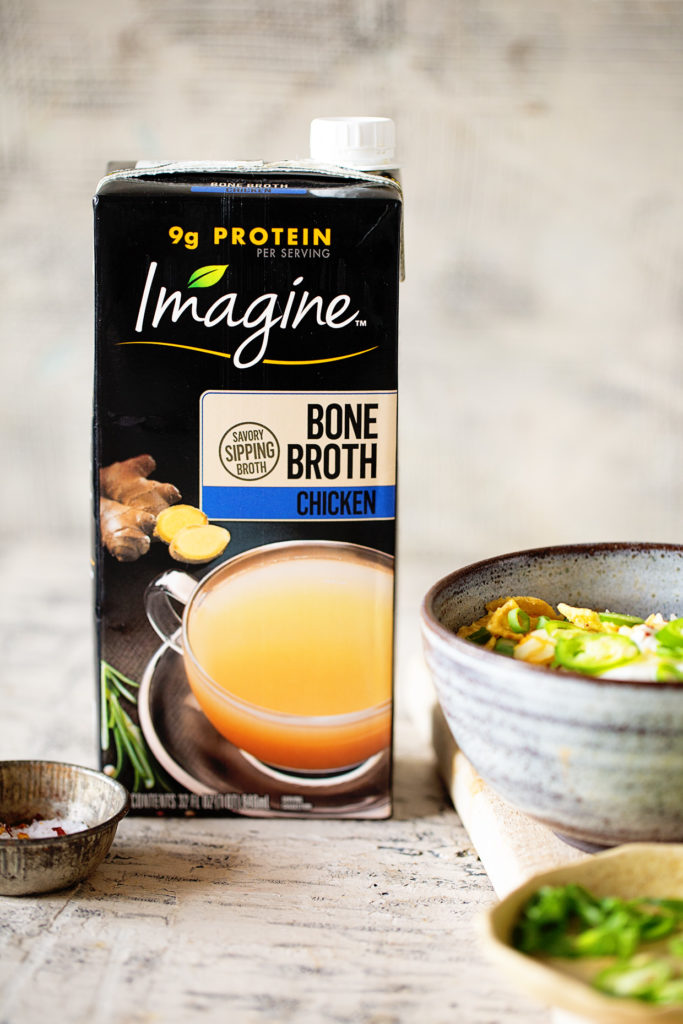 Between shuffling back and forth between their two games, I still somehow find myself on the field training. What was once time spent training a team is now spent training Cole. I have this incredible way of picking up two things for every one thing I shed. In addition to picking up more intensified one-on-one training for Cole, I've also taken up yoga.
Something Naomi has been begging me to do with her and seized on when she noticed free time on my daily calendar. There aren't any regrets, but there is a lot of laughter and me trying to stifle a few during class, that is unless Naomi and I look at each other, then it's all over. The harder we try to stop laughing, the more we explode into it. Luckily it's a beginner's class and everyone is understanding as I try to find my zen between laughter.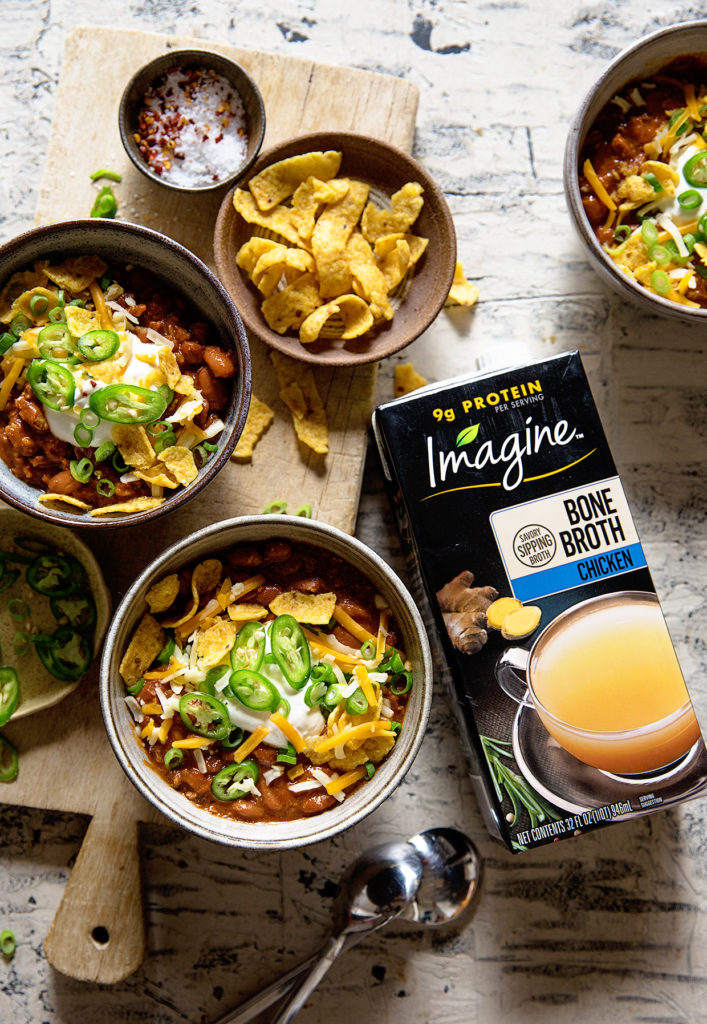 And you know what works best after yoga? Chili – bone broth chili to be exact. Okay, so I might be the only one to think this, but a smoothie after an hour of playing contortionist doesn't cut it for this yoga greenhorn.


Yield: Serves 6-8
Slow Cooker Bone Broth Chili
Ingredients
2 red bell pepper, diced
2 yellow onion, diced
2 jalapeno, diced
1 4oz. can green chilis
2 tablespoon olive oil
2 16oz. can pinto beans, with juice
1 14.5oz. can diced tomato, with juice
1 6oz. can tomato paste
2 cups Imagine® Chicken Bone Broth
2 teaspoons coriander
2 teaspoons cumin
2 teaspoons garlic powder
2 teaspoons onion powder
2 teaspoons smoked paprika
2 teaspoons chili powder
2 teaspoons cayenne pepper
2 teaspoons fresh cracked pepper
2 teaspoons kosher salt
1½ teaspoons chili powder
1 teaspoon cayenne pepper
2 lbs. ground beef
1 lb. sweet Italian sausage
Instructions
Heat oven to 425 degrees. Toss bell peppers, yellow onion and jalapeno in olive oil and spread onto bake sheet. Roast for 20 minutes or until vegetables start to brown. Remove from oven and set aside.
Place all ingredients but the meat in the slow cooker and stir to combine. Add in roasted vegetables and stir to combine. Add in meat and submerge in juice (Do not break up ground beef, it will fall apart on it's own and you can break it up further at the end). Cook on low for 8 hours or on medium for 5 hours.