Like many of you, when it comes to tradition, pumpkin pie is a must every holiday season. It's my little guy's favorite flavor and Naomi's favorite pie. Sometimes I make it the traditional way and other times, I make it like you see here—in bar form.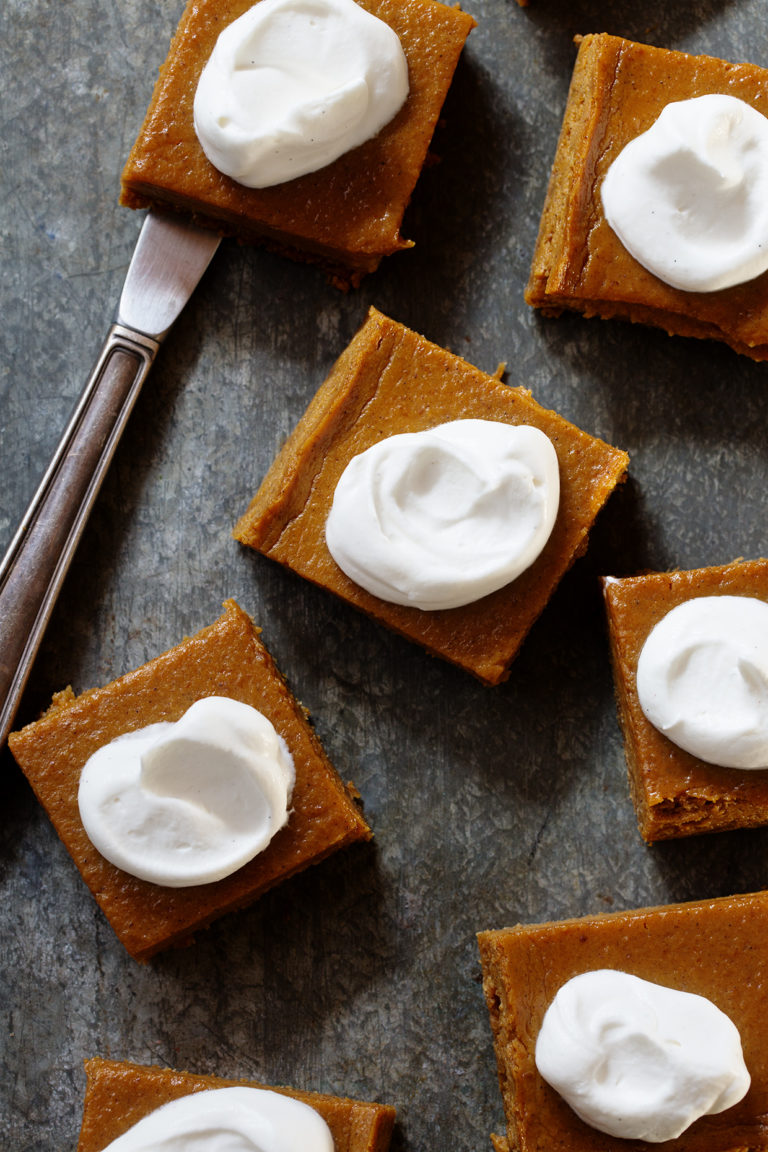 This year, I decided to switch up the recipe and swap out evaporated milk for whole milk. Not just any whole milk but Fairlife® ultra-filtered milk. Not only does Fairlife® milk taste better, it's also twice as creamy—an important factor when making these pie bars. The added benefit is Fairlife's one-of-a-kind cold-filtration process, and that it contains 13 grams of protein and half the sugars typically found in other milk.
So how did it turn out?
. . . Awesome! Fairlife's extra creamy consistency yielded such a rich and silky pie, that I'm thinking this is going to be my new swap out for pretty much anything that calls for evaporated milk. I'd like to say Naomi and Cole ate this for days, but it lasted two. She has a big sweet tooth so she was having some with every cup of coffee, while Cole was throwing his back with every glass of Fairlife milk. So that's 5 cups of coffee for Naomi and 4 cups of milk for Cole—you can see how this didn't last.
The only person who really had to elbow his way into some portions was me. Even the baby got in on the action with a few more bites than I managed just by merely hovering around me. I'm a sucker for a two-year-old, "More, plea-sh, Dadee".
Thankfully this is easy to make, so this holiday I'll be making two pans: (1) one for the big Thanksgiving dinner (2) for the family to tear apart before the big dinner.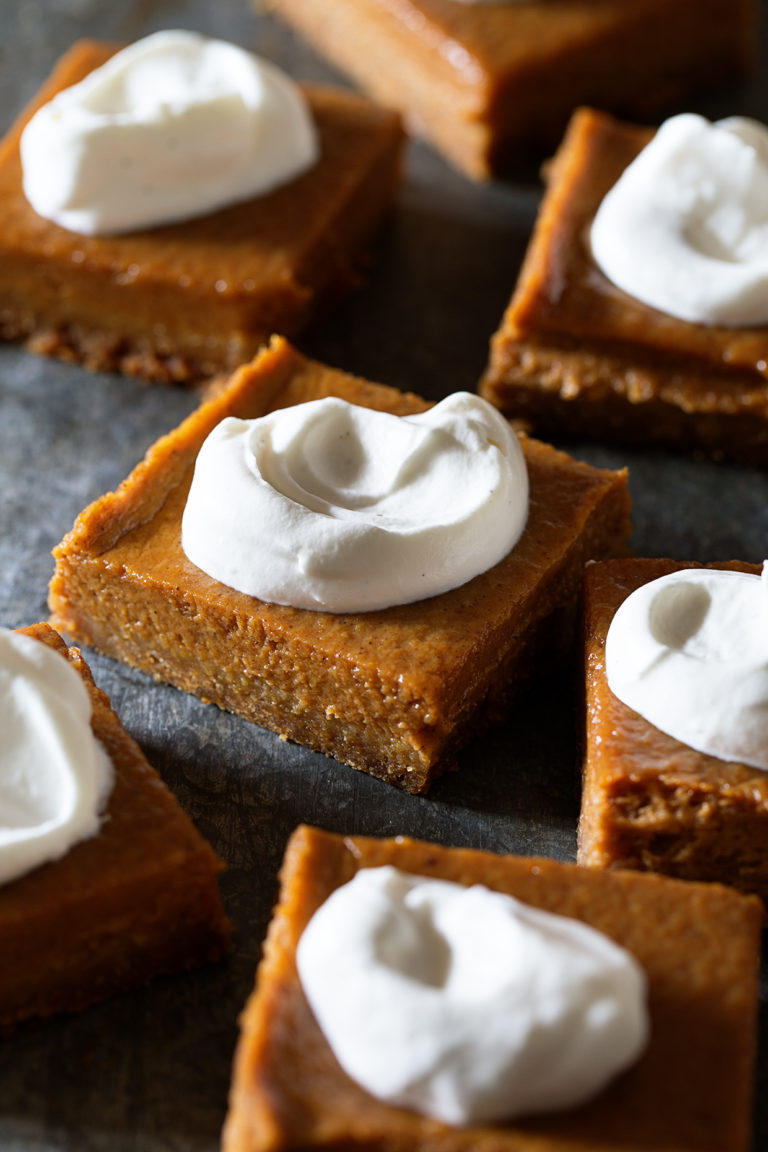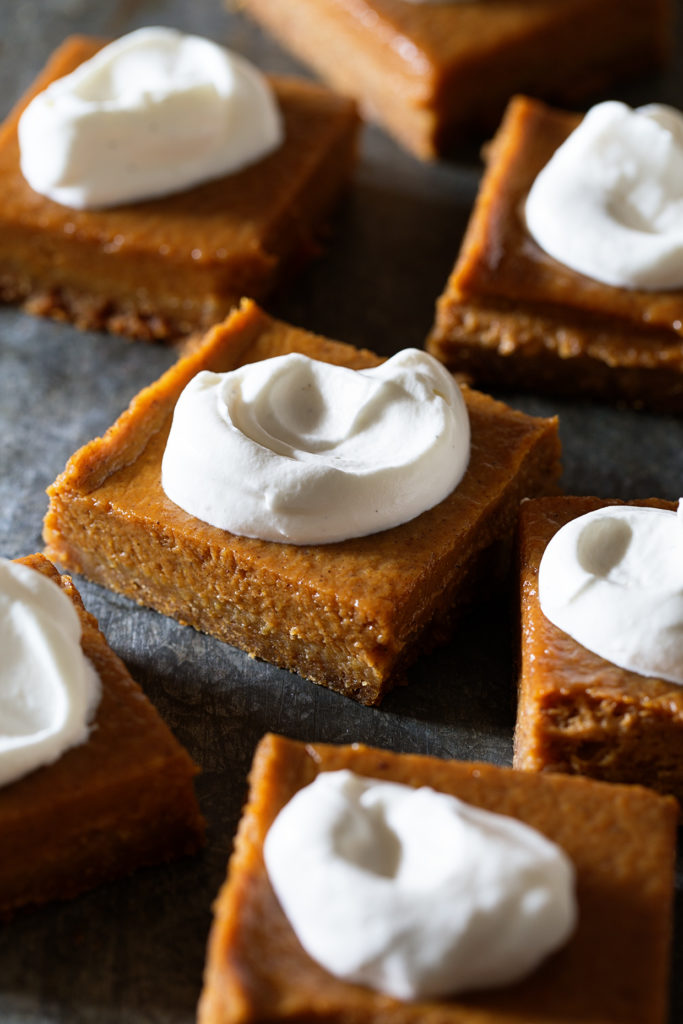 **This post is in collaboration with Fairlife®. All thoughts and opinions are my own.


Yield: Yields 8-10 servings
Pumpkin Pie Bars
Ingredients
Crust
1 ½ cup graham crackers crumbs
7 tablespoons butter, melted
Filling
¼ cup brown sugar
2/3 cups granulated sugar
1 ½ teaspoon cinnamon
¾ teaspoon kosher salt
¼ teaspoon all-spice
¼ teaspoon ginger
¼ teaspoon cardamom
2 large eggs
1 ½ teaspoons vanilla extract
1 cup fairlife whole milk
1 15 oz. pumpkin puree
Whipped Cream
1 1/2 cups heavy cream
¼ cup granulated sugar
1 ½ teaspoon vanilla bean paste
Instructions
Heat oven to 375 degree F. Line a 9-inch square pan with parchment paper.
In a large bowl, combine and mix together graham cracker crumbs and melted butter. Press mixture into pan. Bake at 375 degrees F and bake for 10 minutes.
In the meantime, make the filling by whisking together sugars, cinnamon, salt, all-spice, ginger and cardamom. Whisk in eggs and vanilla extract. Add milk and pumpkin puree and whisk to combine. Pour filling into crust. Bake for 40 minutes or until center no longer jiggles when side of pan is tapped. Remove from oven and let cool for 15 minutes. Transfer pan to refrigerator to set for 2 hours before slicing.