I love when I see something on sale, especially when it's buy one get one free, or to put it another way, 2 for 1. And why shouldn't that apply to food too? It worked so well with my meatloaf a couple of weeks ago that I decided to give it a go again by mashing together two classics with these Mac-n-Cheese Stuffed Meatball Sandwiches. And they turned out awesome!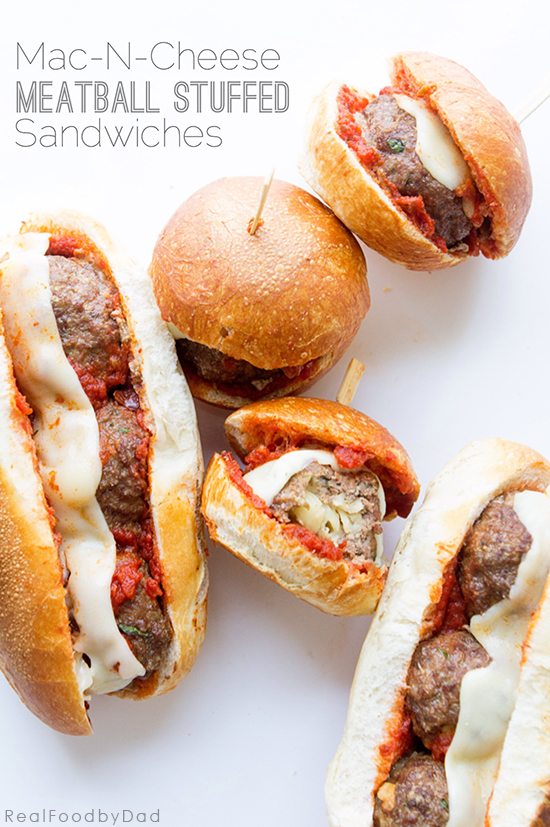 It's never easy satisfying everyone here. A couple of us are in the mood for something meaty, the others in the mood for something cheesy, and me, in the mood for a sandwich. So I figured why not try to satisfy kids and adults alike by combining these two favorites? And at the same time, something I don't need to devote an entire afternoon too. This one covered everything – quick, easy, meaty, cheesy, and between two slices of bread. Done.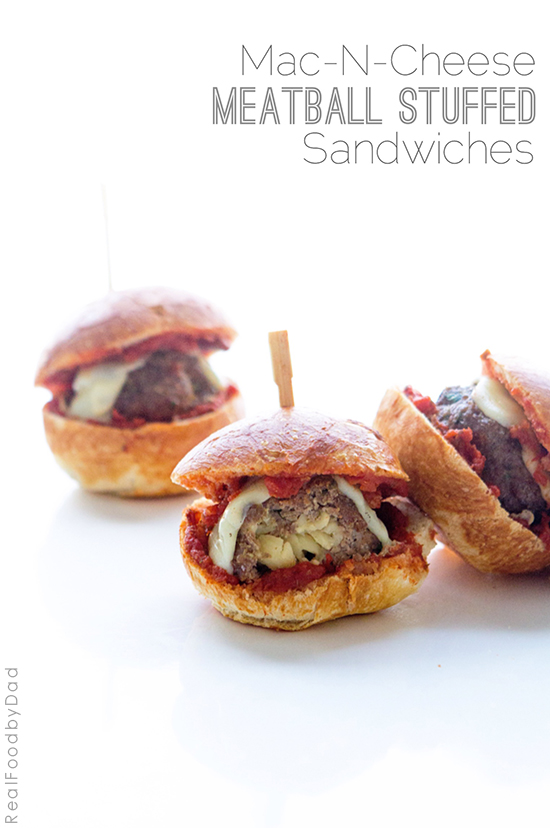 And with the baby here and time being a commodity, I am all about quick & easy meals lately, and this one certainly was. Everything mixed together in one bowl, easily prepared, cooked, then smothered in a tasty marinara sauce. Now the only issue is that I have become obsessed with stuffing and combining food. I don't know why but I have so much fun with that. Yeah, I'm sure it's all been done before, but doing it my way keeps cooking entertaining for me, and at the same time, fills the growling bellies at the table.
Yield: 4
Mac-n-Cheese Stuffed Meatball Sandwiches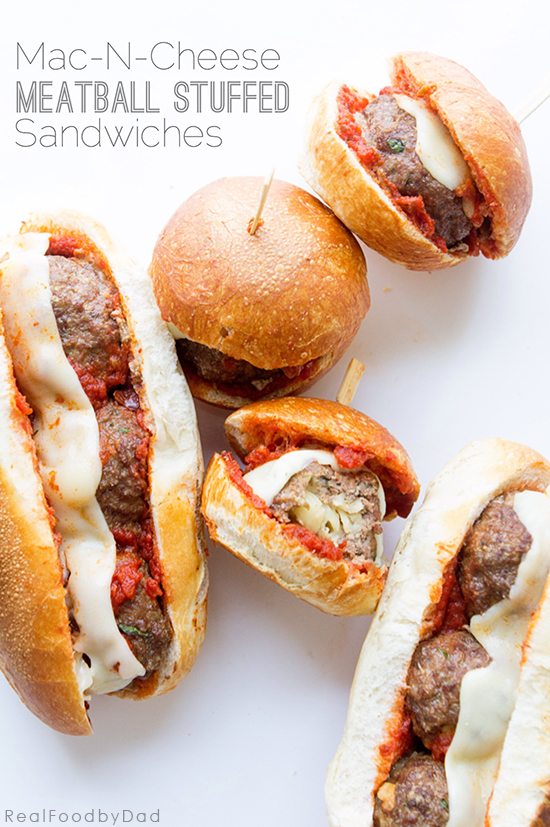 Prep Time 10 minutes

Cook Time 30 minutes

Total Time 40 minutes
Ingredients
1 lb 90% lean ground beef
2 large eggs
1/4 cup milk
1/3 cup parmesan
1/4 cup bread crumbs
1 tablespoon fresh Italian parsley leaves
1 1/2 -2 cups prepared macaroni cheese
2 cups marinara sauce, store bought or homemade
4-6 loaves crrusty bread (your preferred kind)
6-10 slices provolone cheese
Instructions
Heat oven to 350 degrees F. Line a bakesheet with parchment paper.
Mix all ingredients, with exception of the macaroni and cheese until well blended. Place 2 tablespoons of mixture into the palm of your hand and then flatten it into a patty. Place a small amount of macaroni and cheese at the center. Fold patty around the macaroni and cheese, pinch and cover as needed to make sure the stuffing is completed covered. Place on parchment paper an inch apart, bake for 35 -40 minutes.
Spread marinara sauce inside of bread and fill with cooked meatballs and cheese. Place assembled sandwiches under broiler for 2-3 minutes or until cheese melts. Serve immediately.
[wpurp-searchable-recipe]Mac-n-Cheese Stuffed Meatball Sandwiches – – 90% lean ground beef, eggs, milk, parmesan,, bread crumbs, fresh Italian parsley leaves, prepared macaroni cheese, marinara sauce, store bought or homemade, crrusty bread (your preferred kind), provolone cheese, , Heat oven to 350 degrees F. Line a bakesheet with parchment paper.; Mix all ingredients, with exception of the macaroni and cheese until well blended. Place 2 tablespoons of mixture into the palm of your hand and then flatten it into a patty. Place a small amount of macaroni and cheese at the center. Fold patty around the macaroni and cheese, pinch and cover as needed to make sure the stuffing is completed covered. Place on parchment paper an inch apart, bake for 35 -40 minutes. ; Spread marinara sauce inside of bread and fill with cooked meatballs and cheese. Place assembled sandwiches under broiler for 2-3 minutes or until cheese melts. Serve immediately.; ; – – Lunch – Dinner – Cheese – Beef – Sandwiches – Easy – Savory – Pasta – meatball sandwiches – mac-n-cheese stuffed meatballs – stuffed meatballs[/wpurp-searchable-recipe]