When I was a boy, a regular meal at dinnertime was meatloaf. I always loved the flavor, but as a picky kid, I probably spent more time picking out the onions than I did eating my meal. I'm sure it drove my parents crazy, but since I was one of nine kids, no way was I getting a meal specifically made to my liking. So today, I am taking things up a notch and updating this classic, with my Epic Meatloaf Stuffed with Mashed Potatoes.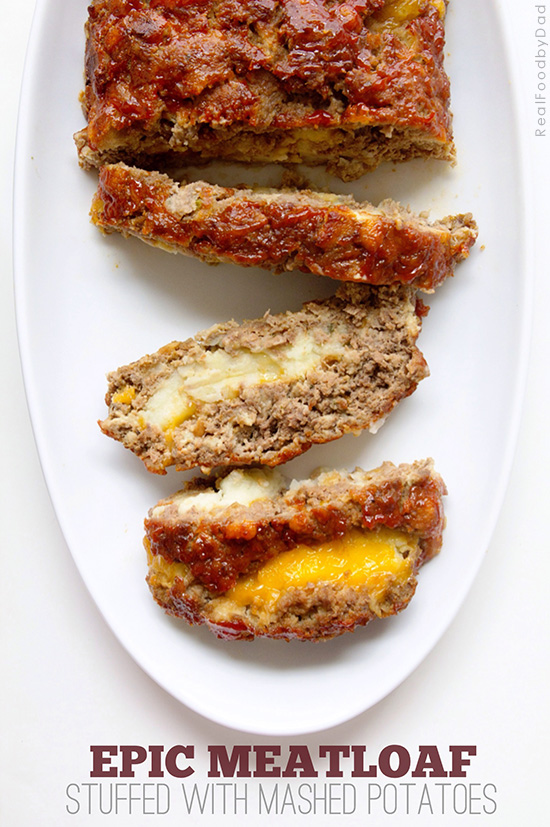 As I mentioned, I was and still am a big fan of meatloaf, I simply have an aversion to onions in certain dishes. Love the flavor, hate the texture. No idea why but that has always been the case. Growing up, ours was always served with mashed potatoes, and I am sure that ended up being the biggest part of my meal. So I simply changed the recipe a bit and decided to stuff the meatloaf with mashed potatoes. And that onion flavor that I like? I kept it there by using onion and chive cream cheese, mixed in with milk, to soak the bread in it.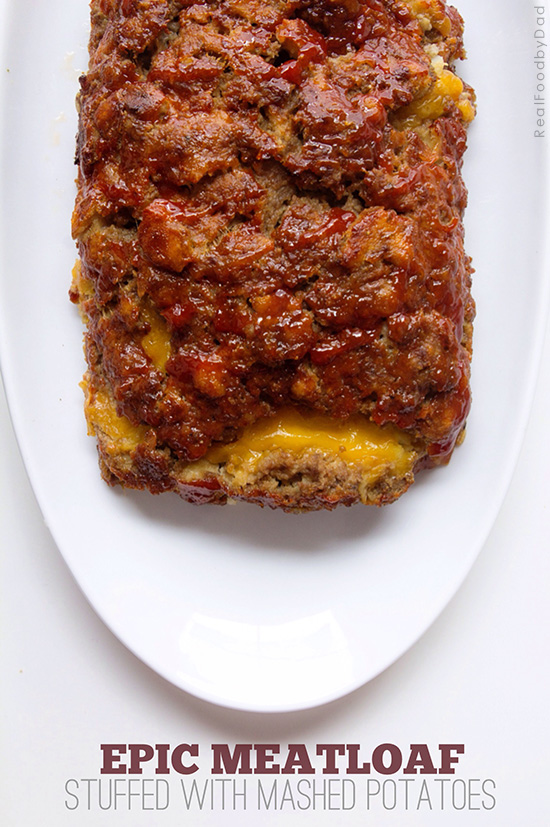 But it didn't end there. That ketchup that I always loved on my meatloaf as a kid? I enhanced that too by adding apricot jam, mixed it in with the meat and smothered all over before tossing it in the oven. This really gives every bite an added burst of sweet flavor that makes it tough to stop eating bite after bite.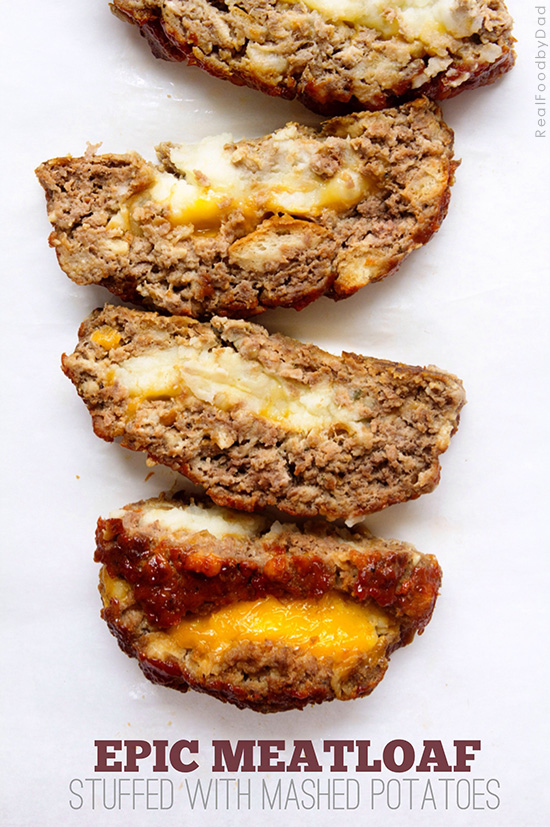 The best part of this was the fact that my mom and sister came by today to visit our new baby and loved the meatloaf. I know them so well and would know instantly by the looks on their faces if they liked it or not. And they loved it. Smiles all around.
Yield: 6
Epic Meatloaf Recipe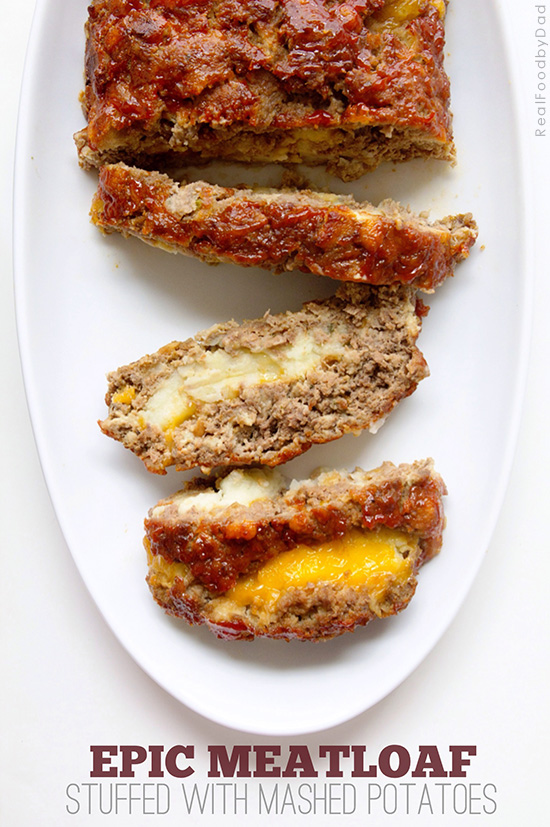 Prep Time 20 minutes

Cook Time 40 minutes

Total Time 1 hour
Ingredients
2 oz. French bread (or 3 slices of bread)
1/4 cup grated Parmesan
4 oz Onion and Chive Cream Cheese
1/3 cup milk
1/2 cup ketchup
1/4 cup apricot jam
1 large egg
1/2 teaspoon kosher salt
1/4 teaspoon pepper
1/4 teaspoon ground mustard
1 lb. 90% lean ground beef
1 1/2 cup mashed potatoes
4 slices extra sharp cheddar cheese
Instructions
Preparation: Heat oven to 375 degrees F. Line a bakesheet with foil. Place bread and parmesan in a food processor and pulse until coarsely crumbed; transfer to a bowl. Whisk milk and cream cheese until combined, then pour it over the bread crumbs and stir to combine; set aside. In a separate bowl, combine and thoroughly mix together ketchup and apricot jam. Halve mixture into separate bowls; set aside.
Place egg, salt, pepper, ground mustard in a bowl and beat until combined. Add in half of ketchup mixture and mix to combine. Add in ground beef and mix to combine. Fold in bread mixture and mix to combine (do not over mix).
To assemble: Halve the meat mixture and place one half on the bake sheet. Form into a loaf and create a well with a 1/2 inch wall along the perimeter of loaf. Fill well with mashed potatoes. Place cheddar cheese slices on top. Place remaining meat mixture on top of cheese slices and smooth out to an even finish making sure the center stuffing is fully covered and sealed in. Brush remaining ketchup mixture all over the outside of meat loaf. Bake at 375 degrees for 40-50 minutes. Remove from oven and let rest for 15 minutes prior to slicing.
**Notes** (1) Almost any type of white bread will work, so use what you have on hand. (2) Use plain cream cheese or your preferred flavor.