If you haven't guessed by now, I'm a huge sandwich fan. You can find some of my standbys here, here, here and here. So while I could have stuffed these Chicken Parmesan Meatballs in a sandwich, I left them as is.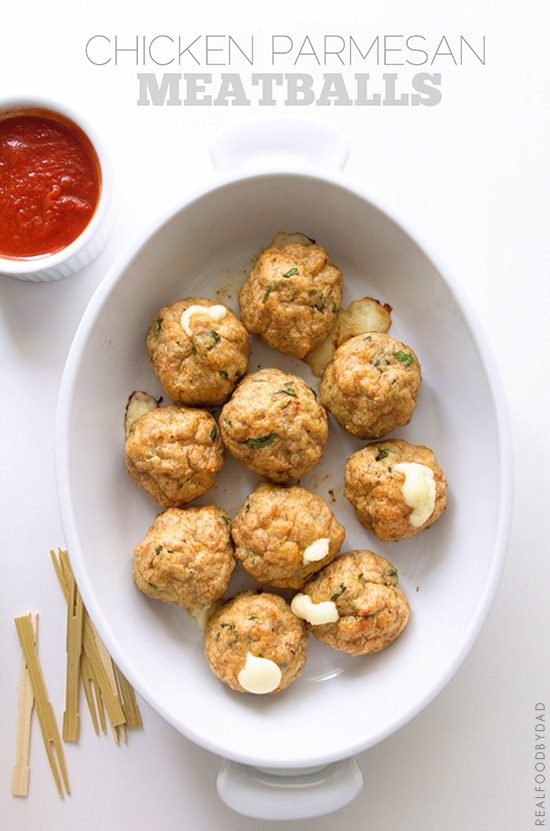 This way, we could eat them over pasta, on polenta, or in a sandwich. Although they were so good, we ate most of them on sticks dipped in marinara. The whole "making something else to go with it" is great when you have time and aren't running on only breakfast at 4 pm.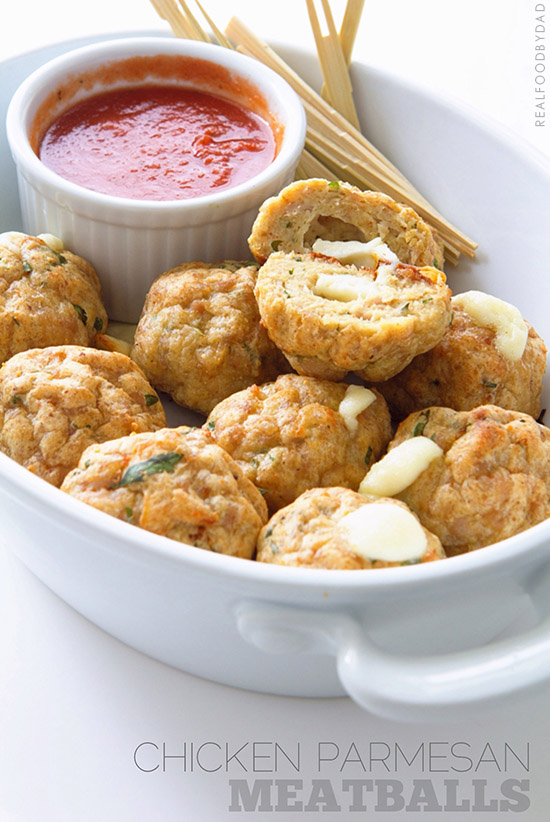 Luckily, these came together fast—that's under 30-minutes fast. Gotta love that right? And you'll love it even more when I tell you, you can throw this all in the food processor—push the button, scoop some out into the palm of your hand, stuff it with some cheese and roll it. Done.
Along with how fast and easy these are to make, they can also pull double-duty as a fun appetizer. There you have it, a fast, easy and versatile recipe you should bookmark. Enjoy!
Yield: 16
Chicken Parmesan Meatballs
Ingredients
3/4 cup finely grated parmesan cheese
1/2 cup plain bread crumbs
3 tablespoons Italian parsely, chiffonade
2 tablespoon thyme
1 teaspoon sweet paprika
1 1/2 teaspoon kosher salt
1 1/2 teaspoon fresh cracked pepper
2 large eggs
1 lb. ground chicken
4 1 oz. sticks of string cheese (cut each stick into four pieces)
Instructions
Preparation: Lightly cover bakesheet with olive oil; set aside. Place parmesan, breadcrumbs, parsely, thyme, paprika, salt and pepper in a food processor bowl and process until combined. Add in eggs and chicken and process until fully combined .
Scoop out approximately two tablespoons of mixture and flatten in the palm of your hand. Place one piece of string cheese at the center and fold edges towards the center, then roll the mixture into a ball. Place each meatball a 1/2 inch. apart on a bakesheet. Bake for 20 minutes at 350. Remove from oven and serve with marinara sauce