Grilled Philly Cheesesteak Pizza ~ The iconic sandwich flipped to a pizza so that we can now have more ways to enjoy thinly sliced pieces of beefsteak rippled with melt-y, provolone cheese. Say hello to your new favorite way to pizza . . Grilled Philly Cheesesteak Pizza.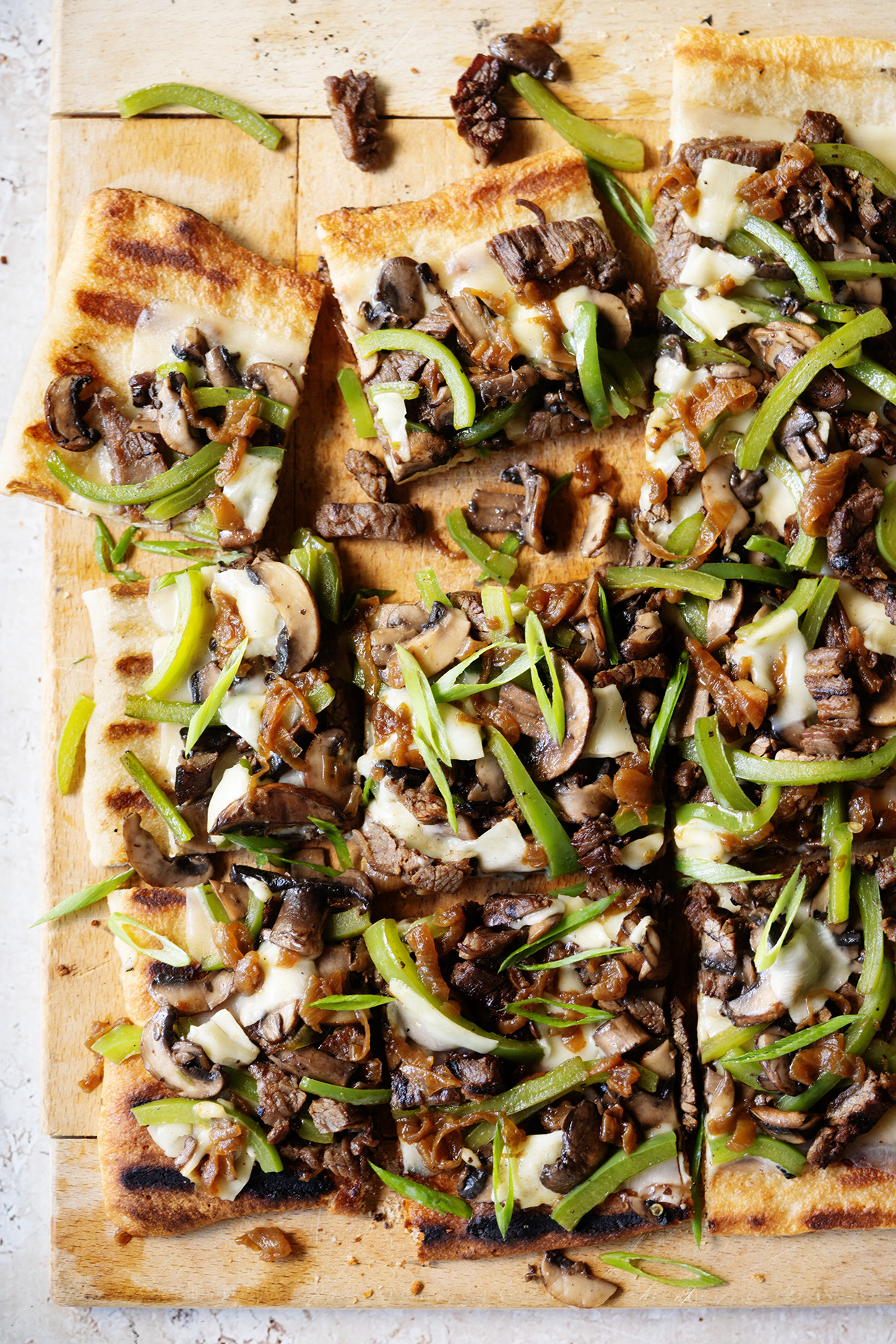 To level this up another notch, I made it a grilled pizza. Speaking of grilled pizza, here's another popular one: Grilled Everything Bagel Pizza. You now have choices when it comes to easy, grilled pizza.
But back to this one at hand. Let's checkout what we need to get started.
What kind of crust works best of for grilled pizza?
Any kind will work. For this one I used Pillsbury's Thin Crust. It's ready-made and all you need to do is unroll it.
What type of meat is used for a Philly Cheesesteak Pizza?
Preferably one that is a well-marbled cut, like ribeye, or for a more economic choice grab a sirloin.
What's the best tip for thinly slicing the meat?
Make sure to par freeze the meat. All that means is throw it in the freezer for 30-40 minutes (time will vary, depending on thickness of the meat and how full your freezer is). Once it is about the hardness of an apple, it's ready to slice more easily.
What cheese goes in a Philly Cheesesteak?
Provolone or Cheez Whiz. I'm not even going to attempt to enter this debate and side with which is the proper cheese. But what I use is what I prefer and that's provolone.
What else goes in a Philly Cheesesteak sandwich?
Mushrooms, bell peppers and onions are the most common. Sure, you could add a few more things, but don't expect to call it a Philly Cheesesteak. If you add mushrooms, use fresh mushrooms. Nothing ruins a good Philly Cheesesteak sandwich like canned mushrooms. For the onions, I always use my homemade caramelized onions because I like the added sweetness. Pan seared, or sauteed onions work just as well.
Yield: Serves 4
Grilled Philly Cheesesteak Pizza
 The iconic sandwich flipped to a grilled pizza.

Prep Time 20 minutes

Cook Time 20 minutes

Total Time 40 minutes
Ingredients
2 tablespoons olive, plus more
1 green bell pepper, thinly sliced
8 oz. mushrooms
1 12 oz. pizza crust
8- 10 slices provolone
1 lb. sirloin steak, thinly sliced
Instructions
Heat olive oil in a skillet over medium high heat. Add the peppers and mushrooms. Stir and cook until tender. Transfer to a plate and set aside.

Prepare the grill for two zone grilling. To do so, turn the grill on high with the lid closed for 15 minutes. Open the lid and let the grill cool for five minutes. Once slightly cooled, turn off the middle burner(s). Lightly mist the grates with non-stick spray. Take care to stand back as this will induce the flames to flare up.

Close the lid on the grill and prepare the crust.

Lightly brush olive oil onto parchment sheet. Roll pizza dough onto oiled parchment. Brush olive oil on top of crust and sprinkle with kosher salt. Slide parchment onto back side of baking sheet.

To transfer the pizza crust onto the grill, tilt the baking sheet and slide crust with parchment onto grate. Close the lid and grill for 2 minutes.

The crust is ready when grill marks are visible and the crust is a golden in color on the bottom and bubbly on the top. Remove the grilled crust by using tongs and sliding it back onto the back side of the baking sheet.

Close the lid to keep the grill hot while pizza is layered with toppings.

Flip pizza crust so the grilled side is now up. Layer with toppings. Slide the topped pizza back onto the grill. Grill for 2-3 minutes or until the bottom of the crust turns golden and grill marks start to show and cheese is melted.