**This post is made in collaboration with Weber Grill.  All content, ideas, and words are my own.
Grilled Everything Bagel Pizza ~ Think your favorite bagel sandwich flipped to a pizza. It starts with a grilled pizza crust, then layered with a spread of cream cheese, topped with grilled onions for that caramelized sweetness, grilled avocado to pull out the natural oils that flavor it, grilled tomatoes for more added sweetness, lox for the smoky protein, capers for that briny mix that goes so well with lox and of course a heavy sprinkling of everything bagel seasoning.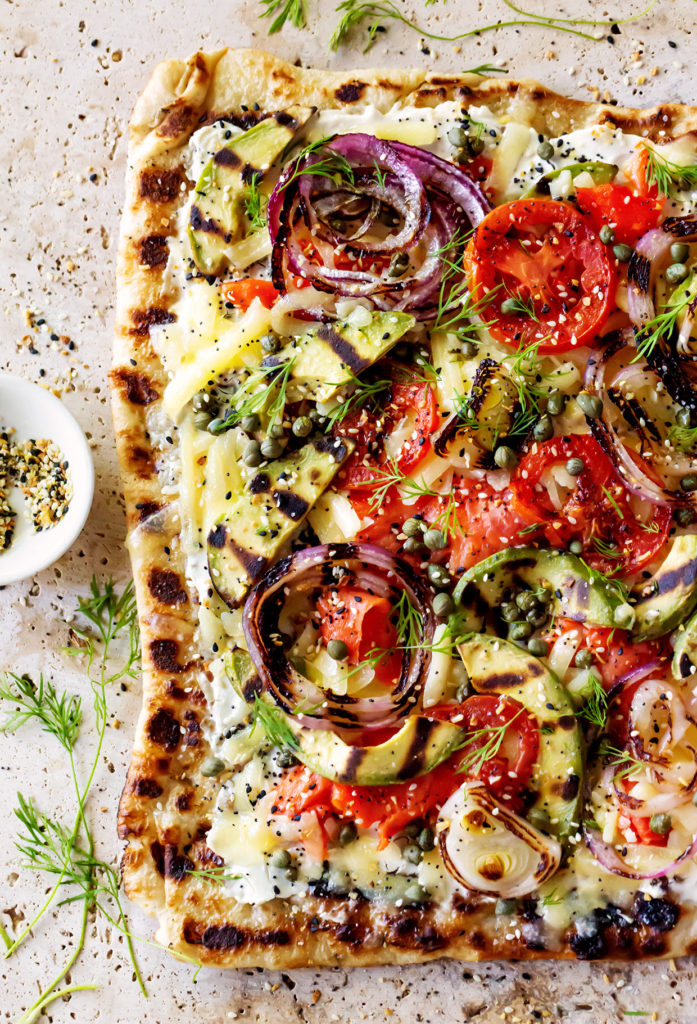 Grilling season is here and I'm already hitting it hard with all the grilling recipes. Given that, let's start with some primers. The biggest one being: why grill? I'm a big grilling fan because first and foremost, it's minimal effort with maximum flavor. Along with that, I love backyard BBQs. It brings everyone together around the grill. There's no TV to distract us and most times everyone is so busy being social, rarely anyone is on their phone—move them in the house and things quickly start to take a turn: the kids run upstairs to play video games, adults flop on the sofa and start to check emails and the TV invariably becomes background noise. Outside, everyone stays connected to each other and checked in to the surroundings and those around them.
Now let's talk grilled pizza. It's easy to make, but there are definitely a few tips and pointers you want to be mindful of for maximum success. Let's start with the most important thing you need: a grill, a good one like a Weber Grill.
While this may be a post in collaboration with with Weber, I've been a Weber Grill user for as long as I've been grilling. It never disappoints and since Weber is purpose-built and has all the features needed for great results, things like:
The well thought out porcelain-enameled, cast-iron grates that hold their heat, resulting in the prefect sear with the coveted grill marks that bring out all the caramelized flavors.
Precision control at any temperature for even heating.
Patented tapered burners to promote a consistent and stable flame pattern, which provides reliable results every time you grill.
Theirs is even a Weber Grill app—an amazing resource. It has everything from setup and assembly instructions to tried and true recipes that have been tested, so you know the results will be good. Along with that, the app also features step-by-step grilling instructions and custom timers that correspond to what you are grilling.
For this recipe, I have the Weber Spirit II. It's a three-burner gas grill that is a mid-size grill with big performance.
Now that we have the necessary equipment down for your summer grilling, let's talk about grilling pizza. You will need to make sure everything is in place. Once the dough hits the grates things move fast, so you don't want to be fumbling around looking for what you need. For those wondering if grilled pizza is worth the effort—yes, without a doubt—your grill gets so much hotter than your oven, so it ultimately yields a better pizza crust that's crispy on the outside with a little chewiness on the inside. And with the Weber gas grill, the even heating ensures you won't have any hot spots that result in scorched pockets.
With the why(s) covered, let's do the how(s):
Have everything in place and ready to go: toppings and tools.
Tools you will need: a pizza peel, or you can use the back of baking sheet like I do, long tongs and heat-proof mitts.
It should go without saying, but just as a friendly reminder:  avoid wearing anything dangling or blouse-y near the grill. Don't text or be distracted in any way. Avoid leaving the grill unattended—again, this is a fast moving recipe, so the times in the recipe are an approximation and a guide. Your best gauge of readiness will be sight and smell.
Make sure you lightly brush the crust with olive oil. This will prevent the pizza crust from sticking to the grates and give it a little more flavor.
You are now fully armed. Have fun and let me know you what you think of grilled pizza. I know it's nothing ground breaking but so many people avoid it because they think it's hard, when it's really not. Once you have this down, imagine all the possibilities—pizza without heating up the whole house and pizza made better with the high heat of a grill for that crispy crust.
Yield: Serves4
Grilled Everything Bagel Pizza
Ingredients
olive oil
1 red onion, sliced ¼ inch thick
1 firm avocado, peeled, pitted, sliced ¼ inch thick
2 firm Roma tomatoes, sliced ¼ inch thick
salt and pepper
1 package of store bought pizza dough or homemade
1 cup cream cheese
5 oz. lox
3 tablespoons capers
1-2 tablespoons dill
1 tablespoon everything bagel seasoning
Instructions
To heat the grill: Preheat grill with the lid down to 500 degrees F for 15 minutes. Open the lid and use a stainless steel grill brush to remove any food particles from the cooking grates.
Place the sliced red onions, avocado and tomato slices on a baking sheet and brush with olive oil. Sprinkle on salt and fresh cracked pepper to taste. Using a spatula, transfer onions onto the grates and grill for 8 -12 minutes with the lid down. Lift the lid and remove the onions and transfer to a baking sheet. Add the avocado and tomato slices onto the grates, grill for 2-3 minutes with the lid down. Lift the lid and remove the avocado and tomatoes and transfer to a baking sheet. Set aside.
Cover the pizza peel or the back side of baking sheet with parchment paper. Work the pizza dough into your desired shape. Brush the top with olive oil. Flip the pizza dough onto the grill, oil side down, and peel back the parchment paper from the top side. Grill for 2 minutes with lid open. Using tongs, pull the pizza off the grate (at this point the dough will have enough structure from the grilled bottom it can easily be moved this way). Brush the top of the crust with olive oil and return it to the grill with the oil side down; grill for another 2-minutes.
Remove the crust from the grill to add the toppings. Spread cream cheese on top and layer with grilled onions, avocado, tomatoes, lox and cheese. If you the bottom of the crust is well browned, place a piece of foil the size of the pizza onto the grates (this will prevent the bottom of the pizza from further browning). Transfer topped pizza back to the grill and close the lid. At this point you are just melting the cheese. Remove pizza from the grill, top with capers, dill and everything bagel seasoning. Serve immediately.