Caramelized Onions are onions that are cooked low and slow to draw out the natural sweetness while turning it a deep brown in color. Most recipes take anywhere from 40- 60 minutes. This fast and easy caramelized onion recipe takes a fraction of the time.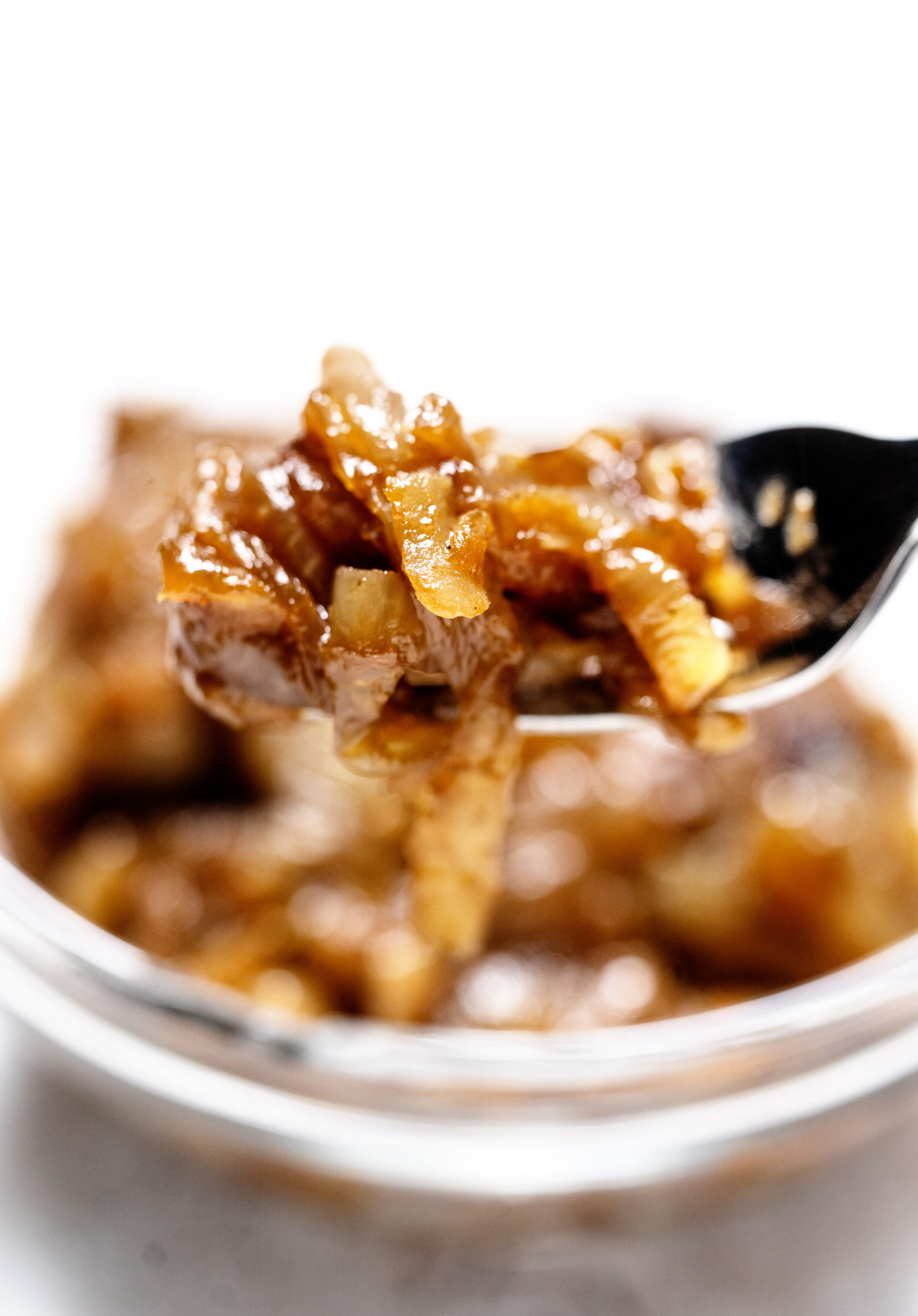 When I was a kid, you could not put an onion near my food—much less in it or on it. As I've gotten older, things that I once objected to are now coming around. Onions being one of them. But honestly, had someone introduced me to the flavor boosting power of caramelized onions, a lot of things would have infinitely and instantly tasted better.
How to make caramelized onions is one of those things everyone should know how to do, but we don't all love to do. I think most us can agree that cutting 2-3 pounds of raw onions is a tortuous task. Then in addition to that, you're tethered to the stovetop for an hour long cook-and-stir session.
At least that's how I use to make caramelized onions. Nowadays, my preferred way is to use Cook Illustrated's method. It cooks in nearly half the time and breaks away from what many other recipes do.
The method begins with pan boiling the onions in water and salt to quickly soften the onions and finishes with adding in baking soda + water at the end to draw out the last bit of sweetness. Cooks Illustrated says the " . . . added baking soda, speeds up the reaction that converts flavorless inulin (a polysaccharide present in onions) to fructose."
Now let's get started. Keep in mind, all the hard work is in the slicing. The rest of time is nearly hands-off. By hands-off, I mean drop in the sliced onions, stir to combine and then stand back and give it a stir every few minutes.
What is the best onion for caramelized onions?
If you follow Cooks Illustrated recipe, they prefer yellow or Spanish onions. For me, I use what I have on hand. This batch contained a Vidalia, Spanish and a red onion.
Should I add sugar when caramelizing onions?
You certainly can and lots of recipes include it. For this recipe, the baking soda does all the work. See paragraph 4 that explains this.
What do caramelized onions go best with or on?
They work great on grilled sandwiches, pizza, soups, frittatas, burgers and in dips.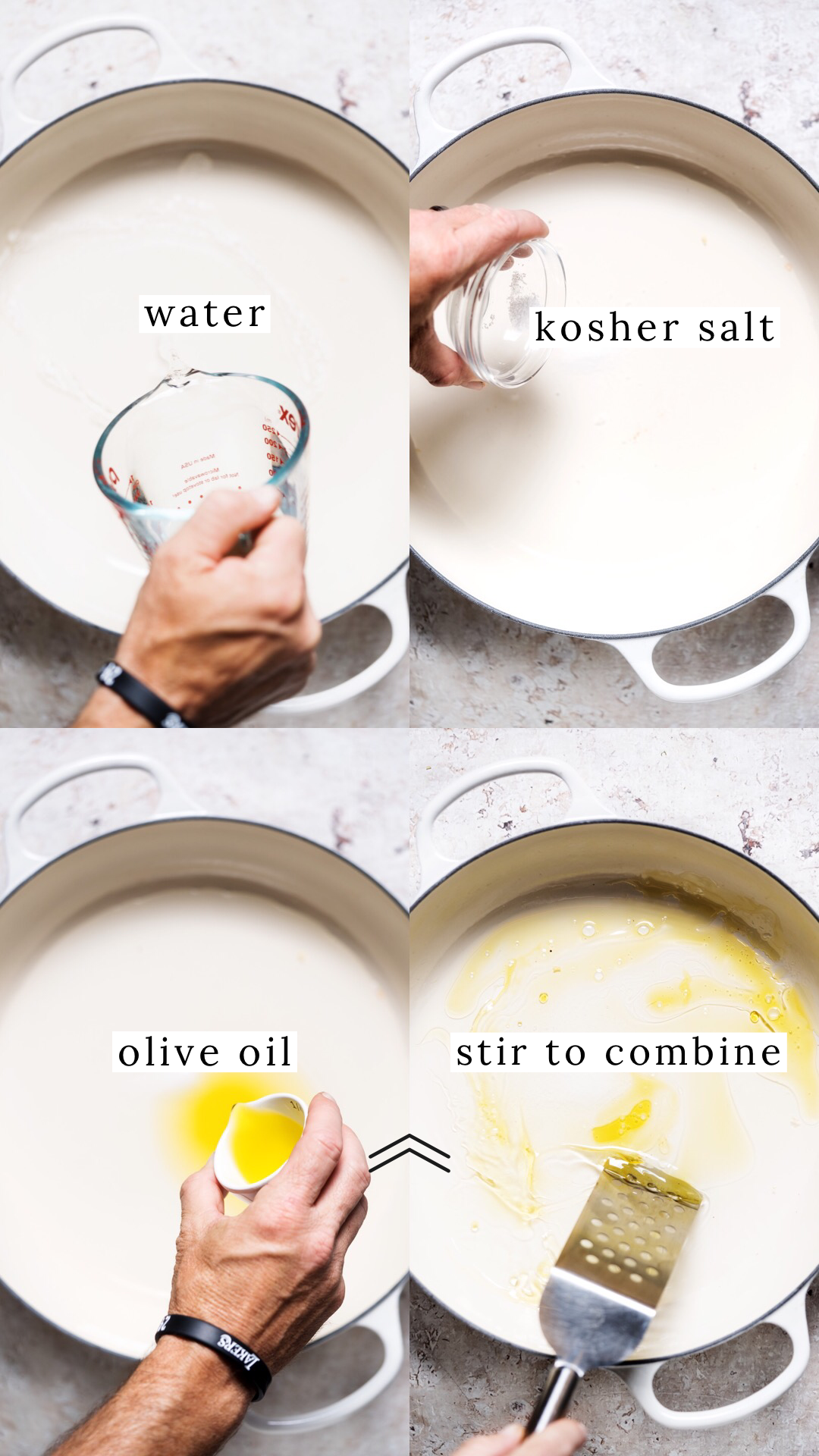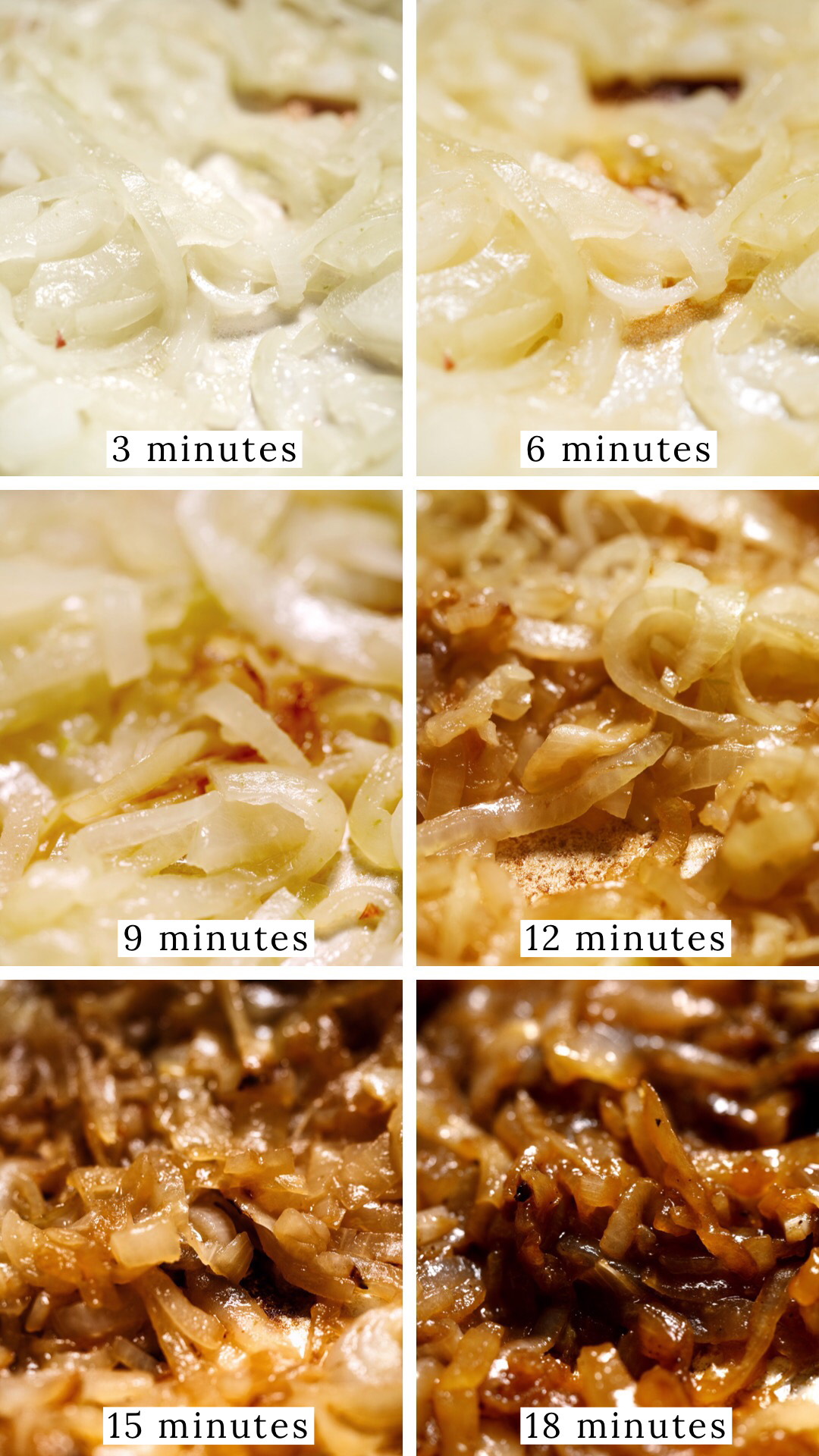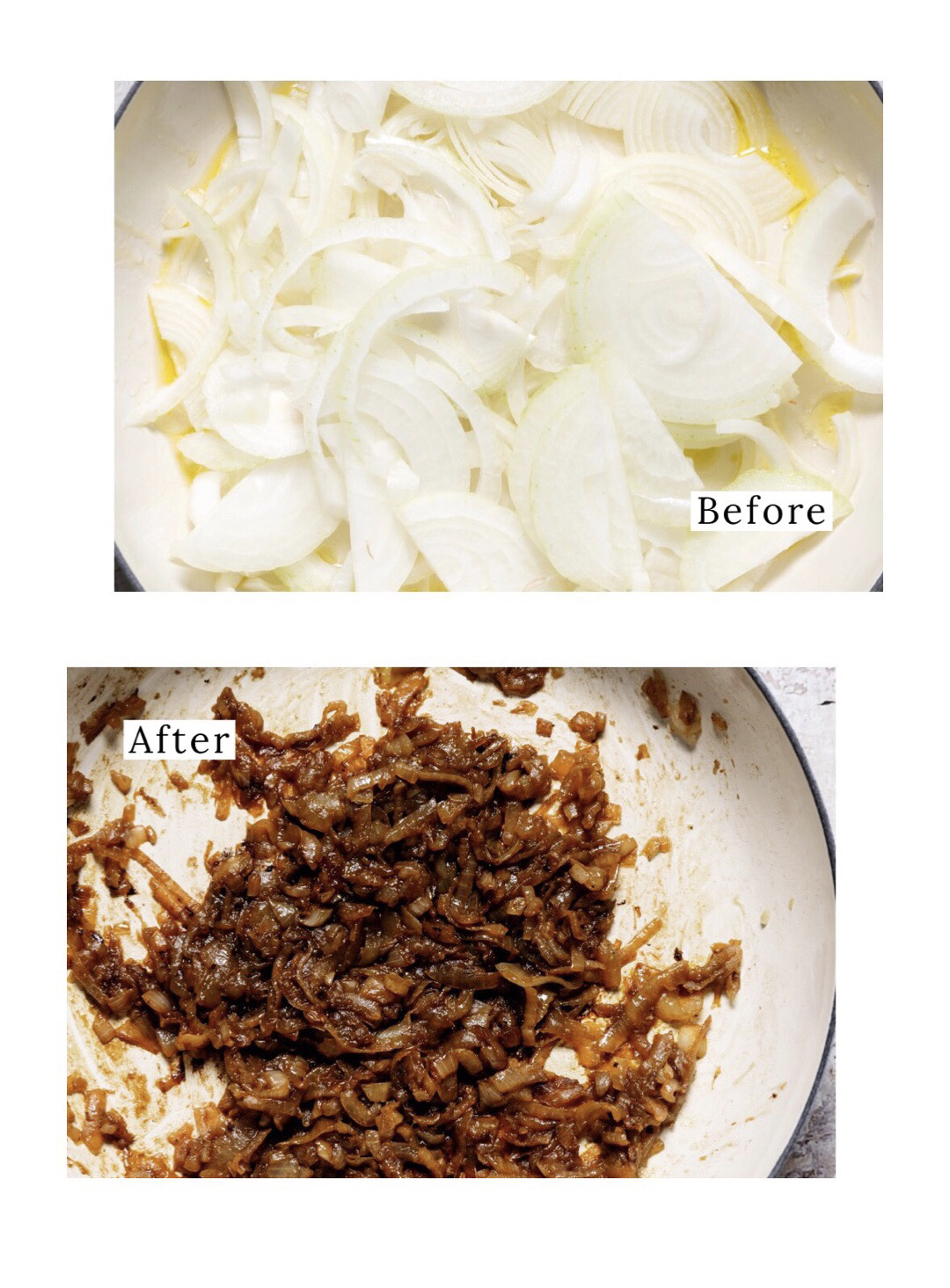 Yield: 2 cups
How to make Caramelized Onions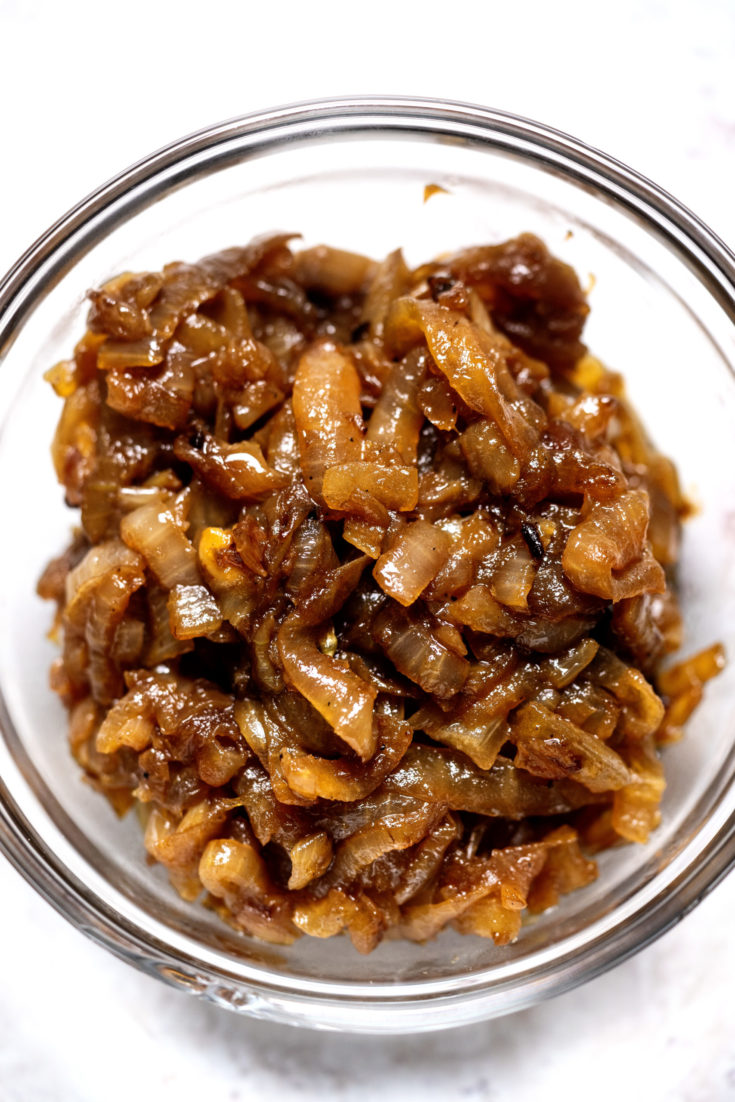 A fast and easy caramelized onion recipe that takes nearly half the time of most recipes.

Prep Time 5 minutes

Cook Time 30 minutes

Total Time 35 minutes
Ingredients
3 pounds onions, halved and sliced
3/4 cup plus 1 tablespoon water
2 tablespoons olive oil
¾ teaspoon salt
⅛ teaspoon baking soda
Instructions
In heavy bottom pan, bring onions, 3/4 cup water, oil, and salt to a boil. Cover and cook until water evaporates and onions start to sizzle, about 10 minutes.

Remove cover, reduce heat to medium-high. Use a spatula to spread onions out into a flat even layer as best as possible. Cook and stir every 3 minutes for about 15-20 minutes or until onions are softened, well browned and slightly sticky.

Combine baking soda and remaining 1 tablespoon water in bowl. Stir baking soda solution into onions. Cook and stir constantly, until solution has evaporated, about 1 minute. Transfer onions to bowl. Onions can be refrigerated for up to 3 days or frozen for up to 1 month.