Yield: Serves 4
Mango Slaw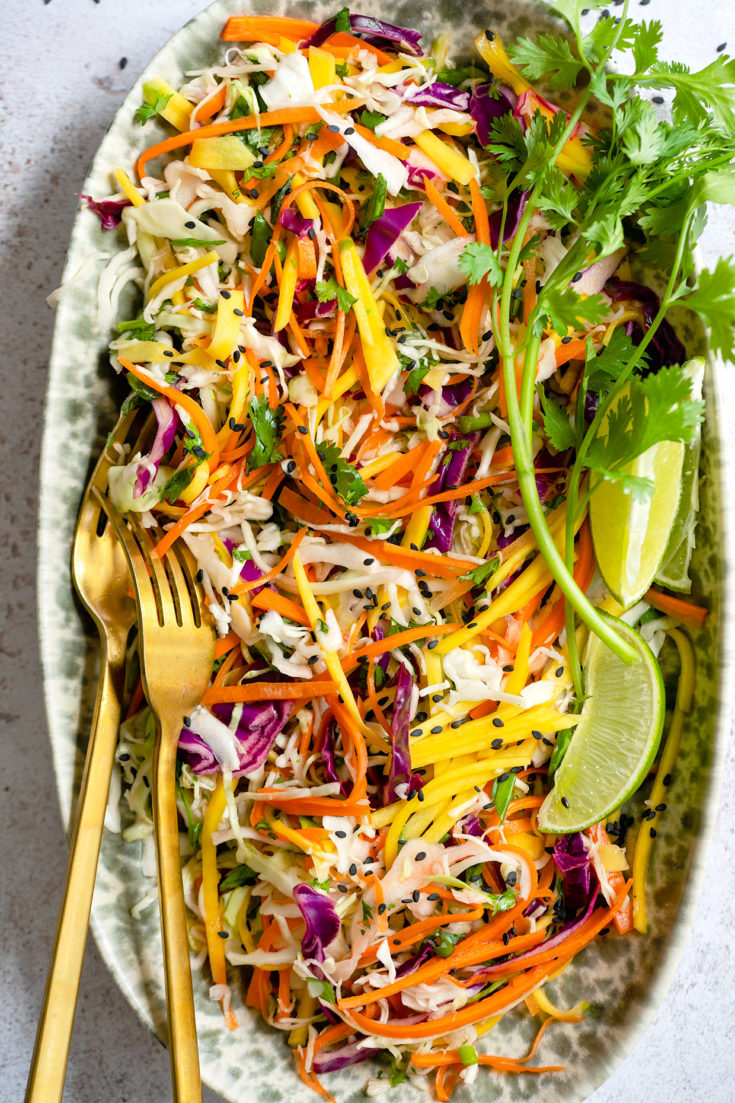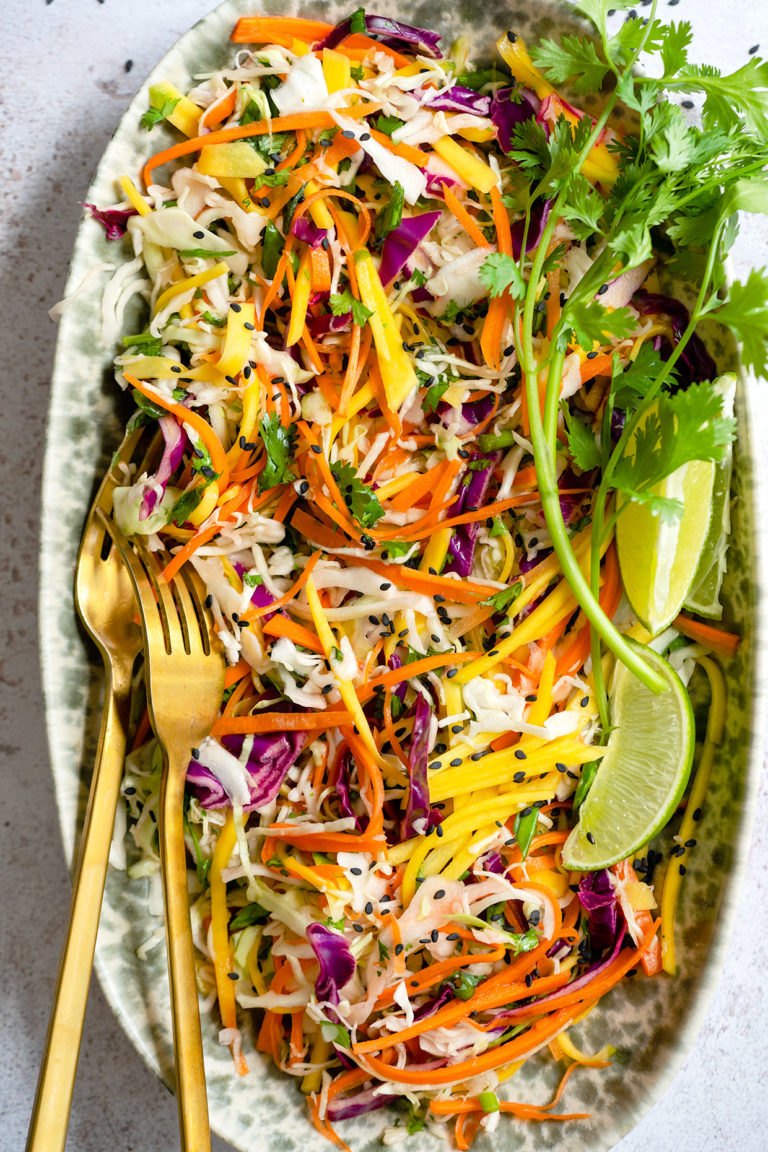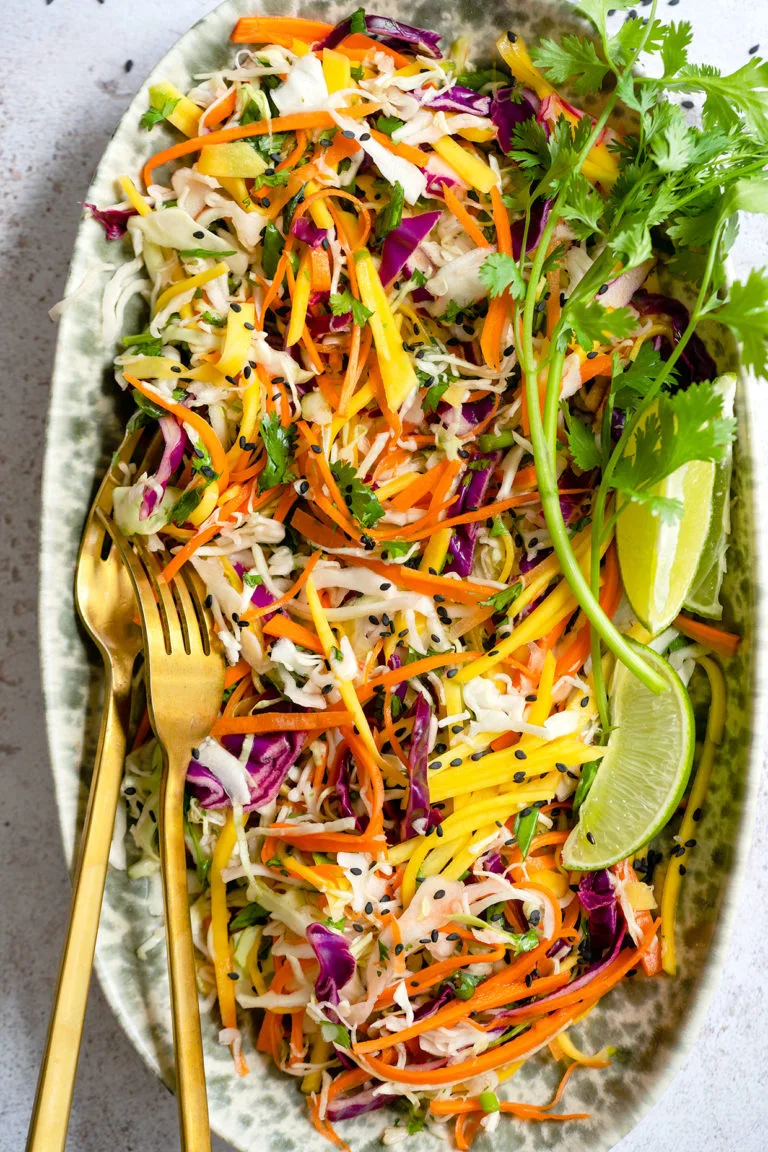 Prep Time 15 minutes

Total Time 15 minutes
Ingredients
1 (8-ounce) bag angel hair cabbage
2 cups thinly sliced mangos, about 2 large, firm mangos
1 cup thinly sliced carrots, about 2 medium carrots
1 cup thinly sliced purple cabbage
1/3 cup chopped fresh cilantro
1/4 cup chopped scallions
Dressing
2 tablespoons freshly squeezed lime juice
1 tablespoon honey or agave syrup
2 teapspoons rice vinegar
Instructions
In a large bowl combine all ingredients and toss to combine. Serve immediately.
Summer is calling, so I answered it with this Easy Mango Slaw. It's sweet, refreshing and goes well as a side dish or as topping to grilled chicken sandwiches, burgers and more.
It almost seems impossible that as kid I would have given this the big snub. Thankfully, this recovering picky eater is all about trying to make up for those lost years.
In between that I'm teaching my littlest how to be an omnivore. As it is now, he's not as bad as I once was, but now and then, I see him carefully moving his fork around his plate, like it's filled with landmines.
Like this current recipe, he was not wild about the purple cabbage, not because of the taste or texture, but because he doesn't like the color purple. So while the rest of us ate this as normal people do—one big forkful at a time—he was over there using his fingers like tweezers to pick out the offensive color.
I just looked at him and winked – noted, Son. Thankfully, there aren't too many purple foods in the world.
A few notes before you get started on this Easy Mango Slaw:
Can I use another fruit?
Yes, peaches and apples work well in this recipe.
Is there store bought dressing I can use?
In a pinch this works with store bought Poppy Seed Dressing. But if you are using peak fruit, the simple dressing in the recipe works great. (Sometimes I add some heat to this and throw in diced jalapeños for a little kick.)
Can I swap out the honey?
Agave works well in place of honey. If you don't have either on hand, stir together the lime juice and 1 tablespoon sugar. Then heat the mixture in the microwave for about 1 minute or until the sugar is dissolved. Set that aside to cool before tossing it into the mango slaw.
Lastly, here are a few more summer salads to work into your salad routine.
Grilled Cobb Salad
,
Ultimate Salad Bowl,
Grilled Cesar Salad