Grilled Caesar Salad ~ Your classic salad leveled up with a little grilling action on the romaine hearts and hand-torn croutons.  I threw in some bacon, a very un-classic move, but a riff that I think adds a lot to it.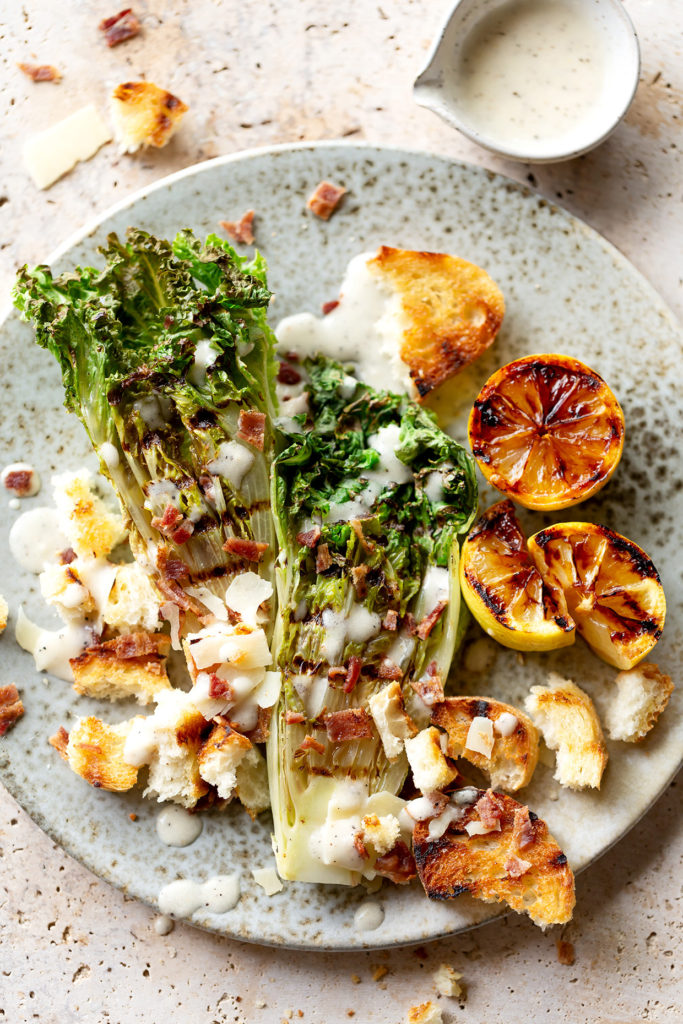 Most times, I add grilled chicken to give this a little more protein if for dinner. I wish all my dinners were this easy, especially with summer coming up. Does anyone else find grilling way easier than cooking in a hot kitchen?
Sure, you are in front of a hot fire and you might be under the sun, but the clean up seems so much easier–minimal prep, little to no pans, no counters or stove tops to wipe down. I'm trying to figure out how to grill for every meal for every day of summer because I seriously hate kitchen clean up.
For now, yay to this meal and more grilling to come, so stay tuned.
Yield: Serves 4
Grilled Cesar Salad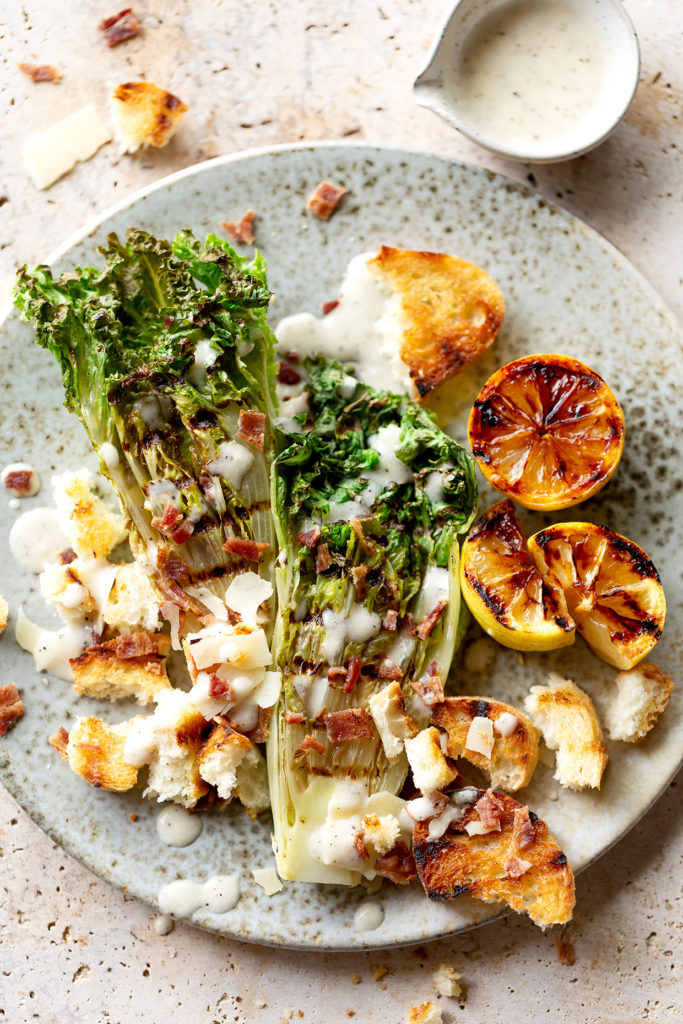 Ingredients
4 tablespoons extra-virgin olive oil
4 heads romaine lettuce, tops and bottoms trimmed, the heads halved
1/2 of baguette loaf, sliced into 1/2-inch thickness
2 lemons, halved
2 tablespoons sugar
4 slices cooked bacon
1/2 cup grated Parmesan
Litehouse Organic Caesar dressing
Instructions
Preparation: To heat a gas grill, turn all burners to high and close lid for 10 minutes. Open the lid and turn the heat down to medium and let stand for 2 minutes before using. To heat a charcoal grill, heat coals until ashed over and the temperature is medium. You should be able to hold your hand 5 inches above the coals for 5 to 7 seconds.
Brush sliced bread with olive oil and grill for 3 to 4 minutes or until bread is lightly browned. Remove from heat and set aside. Once cooled tear bread into pieces.
Brush halved romaine with oil and grill for 20 to 30 seconds or until lightly browned. Place lemons cut-side down into sugar and grill for 30 to 45 seconds or until just charred. Remove lettuce and lemons from heat and transfer to a plate.
Layer grilled romaine with torn pieces of the grilled baguette, Parmesan and bacon. Lightly squeeze charred lemons throughout, sprinkle with Parmesan cheese and drizzle Litehouse Organic Caesar dressing all over.