Let's go big today with this Ultimate Breakfast Burrito. Admittedly, I over-stuffed mine and the burrito you see in the picture below came in at over 1 1/4 pounds, probably enough to serve two.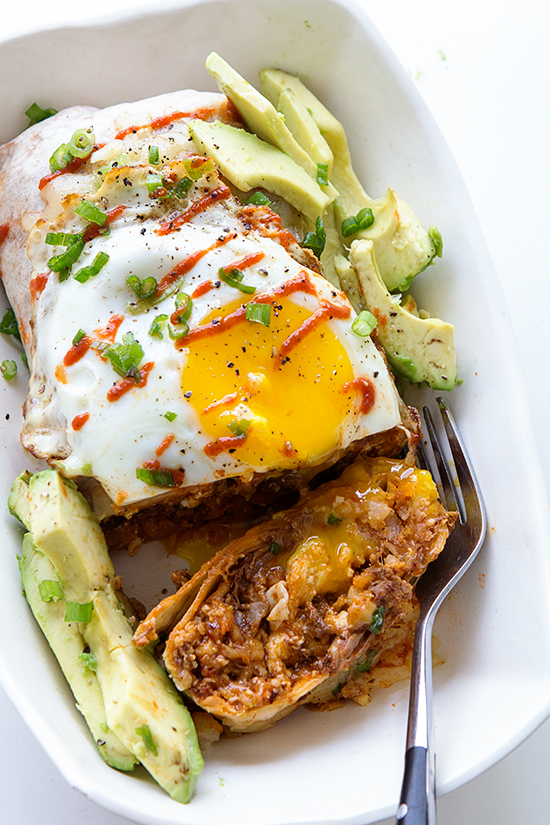 In fact, I stuffed mine so much that the tortilla started to tear as I was rolling it. But that just gave me a good excuse to put on an egg on it.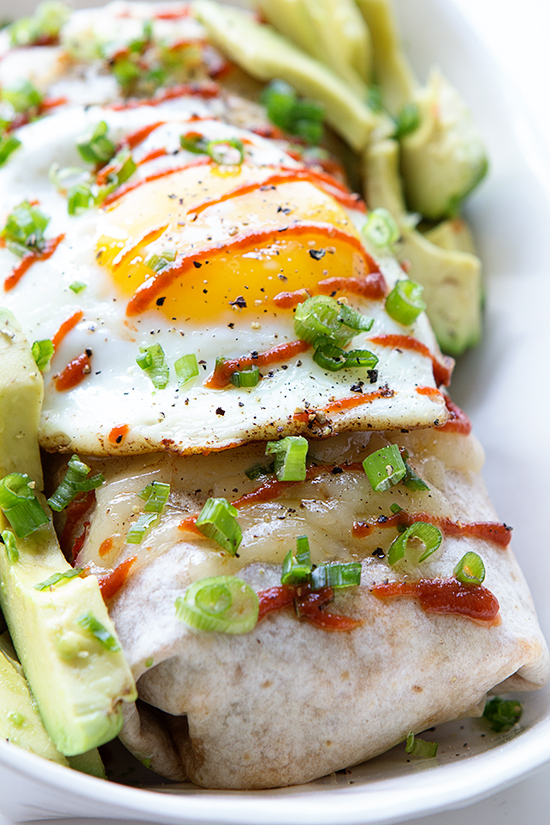 As for the rest of the family, they scooped their's into a bowl—okay, breakfast bowls are good too. However you decide to plate this, make it! But if you make burritos, you can wrap it in parchment paper and foil, then freeze them for a make-ahead breakfast that can be reheated in the microwave—gotta love that!
Yield: Serves 4-6
Ultimate Breakfast Burrito
Ingredients
Shredded Chipotle beef
2 tablespoons butter
1 tablespoons vegetable oil
2 medium garlic cloves, minced
1 medium yellow onions, medium dice
salt and pepper to taste
2 chopped chipotles in adobo sauce, plus 1 teaspoon sauce
3 teaspoons ground cumin
1 tablespoons smoked paprika
1 tablespoon chili powder
1/4 teaspoon cinnamon
1 pounds beef chuck roast
1 tablespoon kosher salt
1 16 oz. ounce can crushed tomatoes
3 cups scrambled eggs
3 cups cooked tater tots
1/4 cup chopped green onions
Instructions
To make shredded chipotle beef (can be prepared 2 days in advance)
Place oil and butter in a large heavy-bottomed pot (preferably and dutch oven) over medium-high heat until butter foams. Add the garlic and onions, season with salt and freshly ground black pepper, cook and stir until onions are translucent and starting to brown at edges, about 7 minutes. Add the chipotle, cumin, paprika, chili powder and cinnamon stir to combine. Cook 1 minute more or until fragrant.
Place roast, measured salt and crushed tomatoes in pot and bring to a boil. Lower heat, to lowest setting and cook covered for 4-5 hours. Remove roast, cool slightly and using two forks, shred beef.
To assemble burrito:
Place shredded beef, scrambled eggs, tater tots and green onions in a large bowl, mix to combine. Place desired amount of filling on tortilla and roll to close. *Optional - Fried egg on top.