I don't know about you, but I'm slowly coming out of the holiday haze. To ease back into the regular work week, I'm sharing a cocktail that I've been enjoying over the holidays.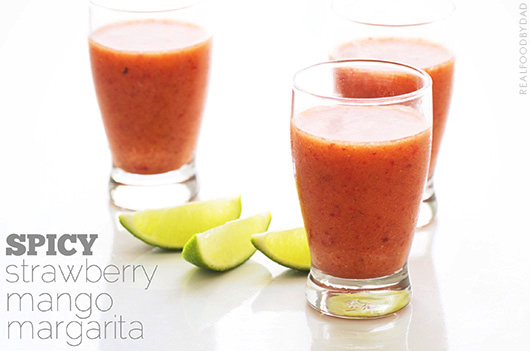 Yes, I know this really isn't a standard winter cocktail, but then why be standard when I can just enjoy what I like?
As I have mentioned before, fruit is a big thing in my house and being in Southern California, we have access to some of the best almost year-round. Strawberries and mango being a few of those things, so to kick those two things up a notch, I went for a spicy kick and added some Ancho Chiles into the margarita you see here. It pairs extremely well with a good tequila and gives it just the right amount of bite.
Enjoy and Happy New Year!
Spicy Strawberry Mango Margarita
Ingredients
4 tablespoons apricot jam
1 tablespoon lime juice
1/4 teaspoon Ancho Chili Powder
1 cup ice
1 cup strawberries (4 oz.)
1 cup mangos (4 oz.)
1/2 cup tequila
1/4 cup Cointreau
Instructions
Place all ingredients in a blender and pulse on high.