Spicy Frozen Watermelon Margarita ~ Frozen margaritas are nice, but a spicy frozen margarita is better. It adds a little heat to the sweet for balance.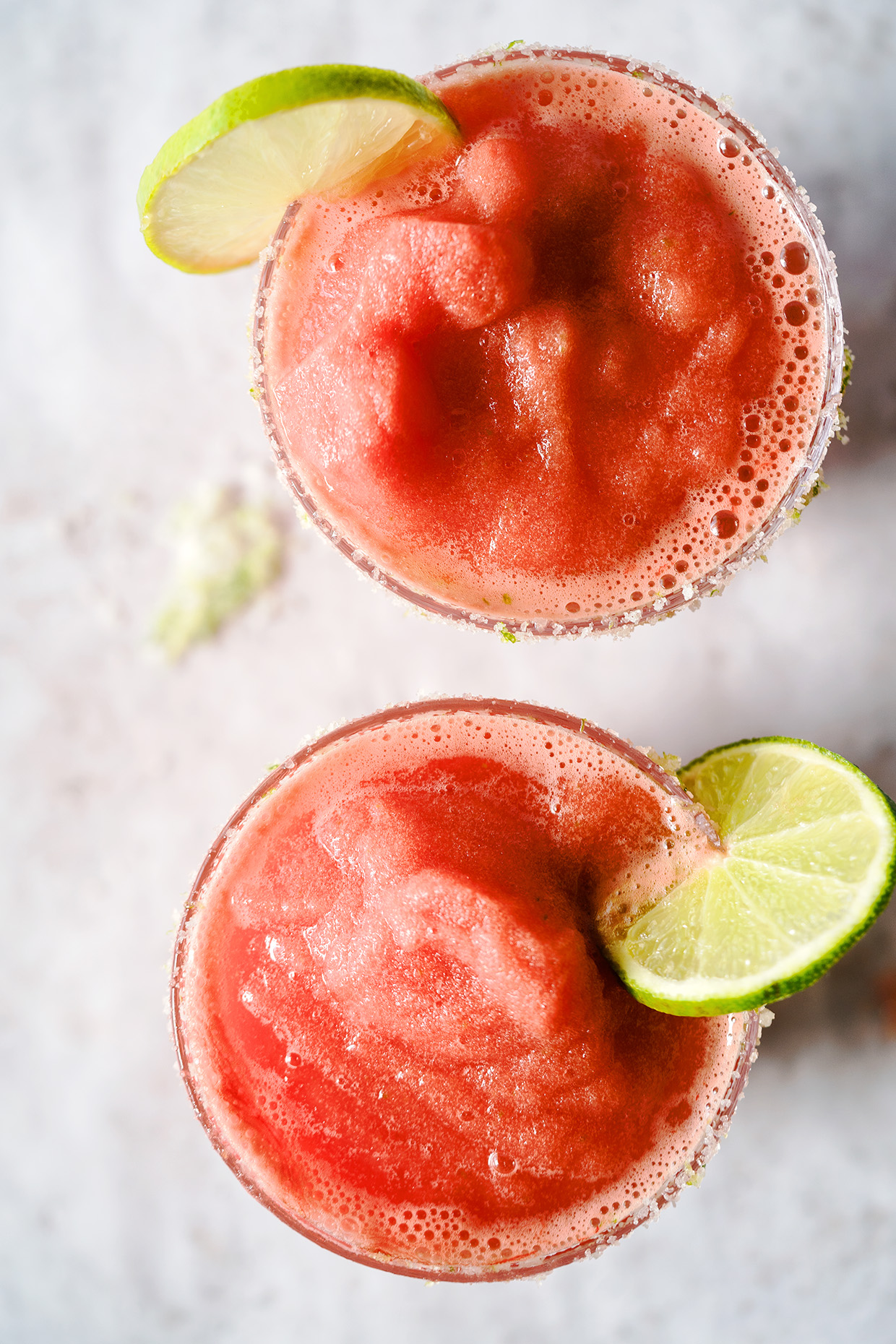 I know you are thinking frozen margaritas in September? Yes, because 2020 has been messy, so can anyone really object to extending good things and summer feels like this? I didn't think so. But if you want to get technical, we can go ahead and bill this as a way to close out summer.
A few notes for a successful Spicy Frozen Watermelon Margarita making session:
To keep this sweet and summer-y, get a ripe watermelon. This means pick one with a good yellow spot. That's usually a sign it's been sun-ripened.
A little planning is needed, so make sure to chop and freeze your watermelon for at least 4-6 hours, preferably overnight. Freeze time will depend on your freezer setting and how filled it is.
You can make the simple syrup or buy it. To make it, add equal amounts of sugar and water into a sauce pan. Cook and stir until sugar is completely dissolved over medium high heat. Let cool before using or storing.
For more summer cool-down treats check out these recipes: Blood Orange Margarita, Pineapple Serrano Margarita Popsicle, and Strawberry Jalapeno Gin Smash Popsicle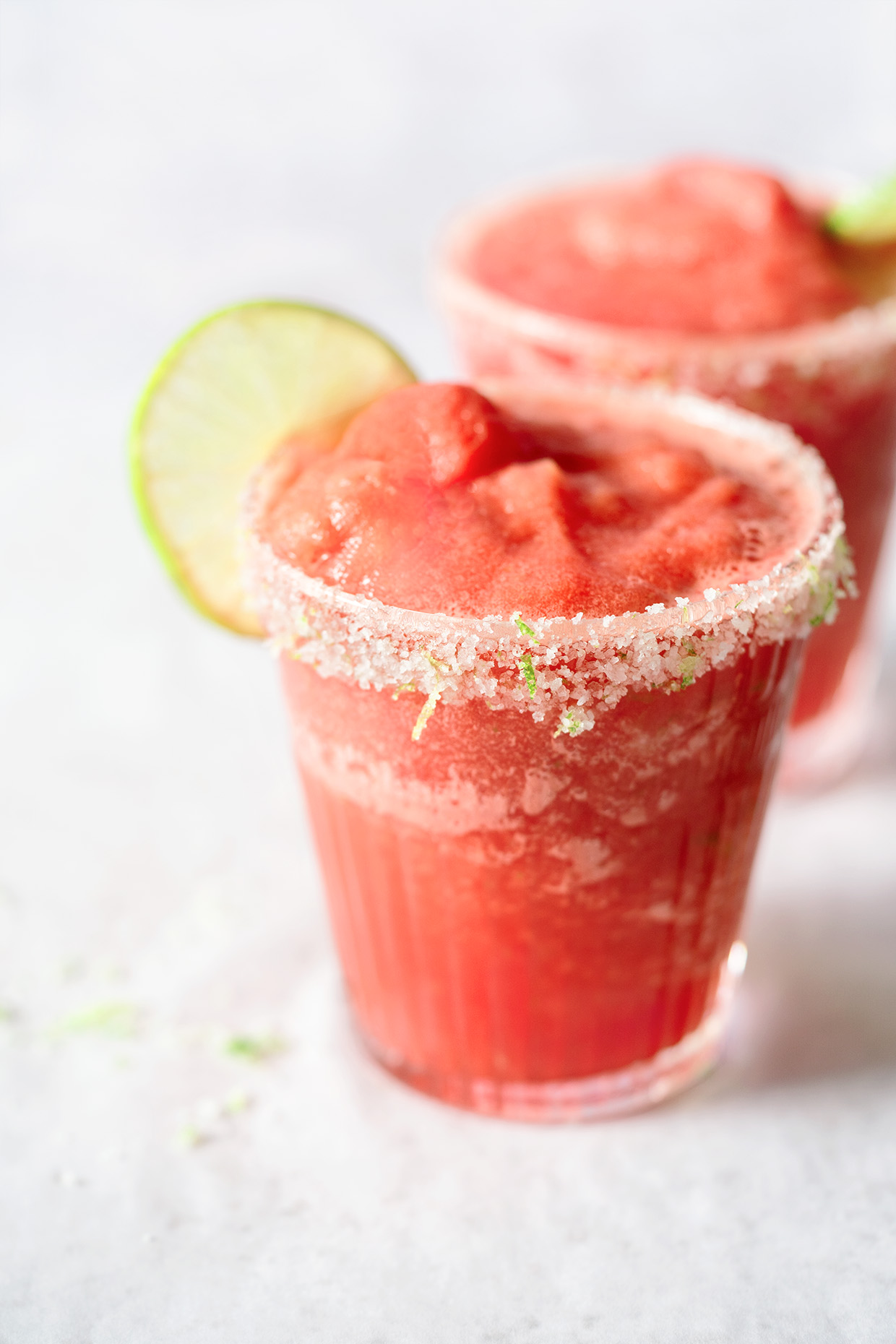 Spicy Frozen Watermelon Margarita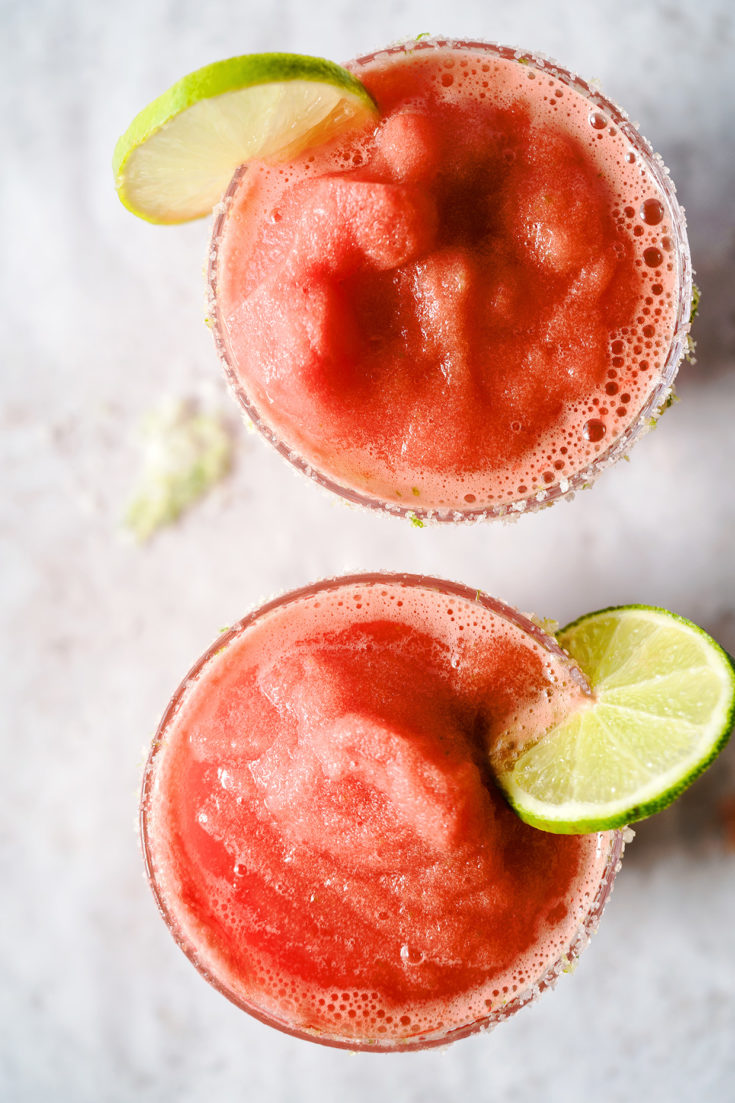 Total Time
4 hours
5 minutes
Ingredients
Rim
1 cup sugar
zest of 1 lime
1/4 cup lime juice
limes wheels
Drink
6 cups frozen watermelon
12 ounces blanco tequila
10 oz. lime juice
6 oz. triple sec
3 oz. simple syrup
1 jalapeno, coarsely sliced
Instructions
To make the rim: Pour lime juice onto a shallow plate and set aside. In a small bowl, whisk together sugar and lime zest; pour mixture ontl a second a shallow plate. Dip glasses in a lime juice and then dip in sugar and zest mixture. Set aside.

Place the watermelon, tequila, lime juice, triple sec and simple syrup into a blender. Process until slushy. Immediately pour into rimmed glasses. Garnish with lime wheel.