We are getting fancy today, or as fancy as I get with a slow cooker and some wine for this Slow-Cooker Beef Bourguignon. I know there are some slow-cooker haters out there, but who are you? And why?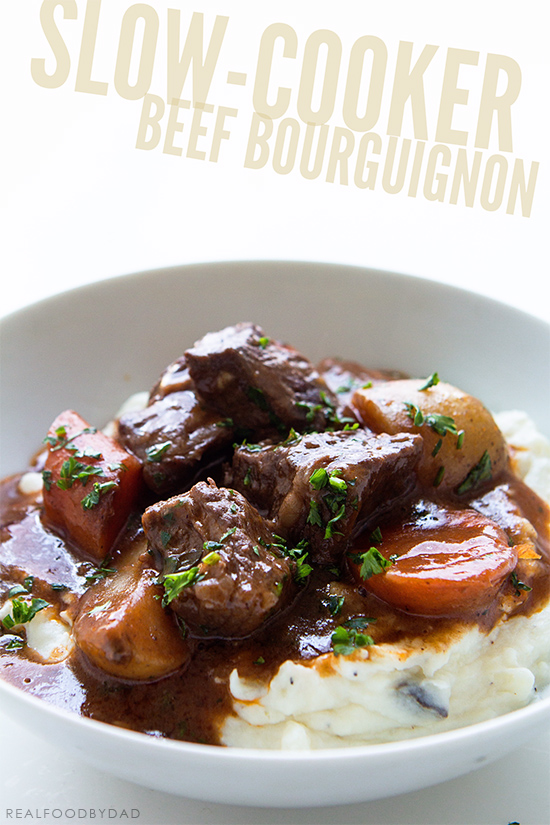 Maybe because I grew up with lots of casseroles and slow-cookers it's comfort food to me. Beyond that, it's just pure convenience.
What's not to love about throwing food in a pot and walking way to get on about your day, then coming back to a slow cooked meal? Of course, some slow-cooker recipes do call for browning the meat first to create a roux for maximum flavor extraction or for firing them up under a broiler after for a nice crisp browning. This is one of those recipes, I adapted from America's Test Kitchen Slow-Cooker book.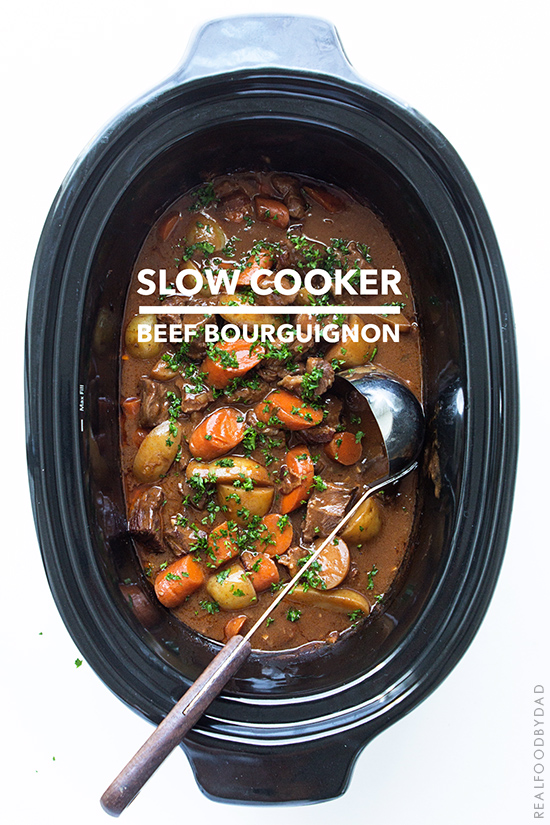 Of course the "browning" does give this dish a punch in flavor, but throw in all the ingredients at once to avoid the skillet and it comes out almost just as tasty. And sure you would notice a difference if you make it side-by-side or if you make it as many times as I have. But if you are strapped for time or want to throw this together before leaving to the office, skip the skillet and just drop it all in and go.
If you are wondering how I adapted this, here you go:
I reduced the beef from 5 lbs. to 2 lbs.; the garlic from 6 cloves to 3 cloves; reduced the wine from 2 1/2 cups to 1 3/4 cups.
I swapped out the onions for shallots.
Added in 4 more carrots to the one the recipe calls for and added new potatoes.
I mixed up the order of the second step by skipping browning the vegetables in the pan and just went from browning the bacon then transferring it to the slow cooker, reserving the bacon grease to cooking the shallots, garlic and thyme then adding in the tomato paste and flour.
I did keep the bacon and soy sauce ratios the same for a stronger flavor.
I skipped the bay leaves and the mushrooms.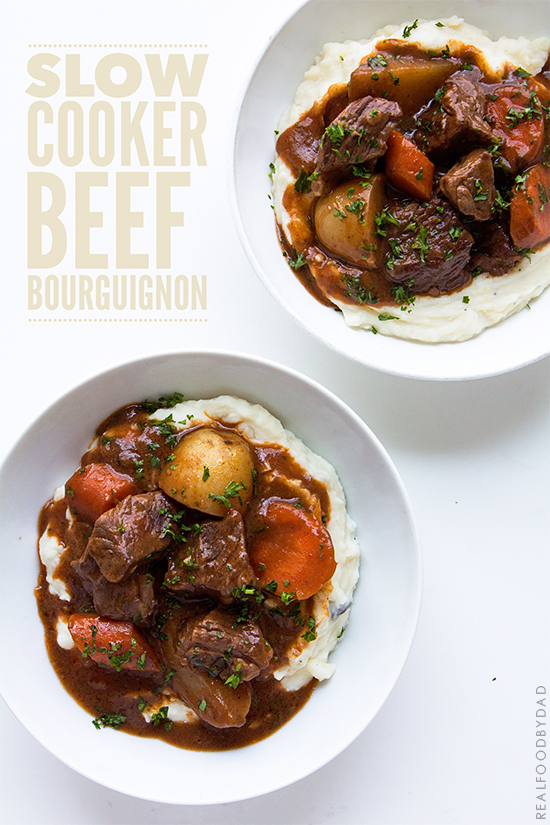 Slow-Cooker Beef Burgundy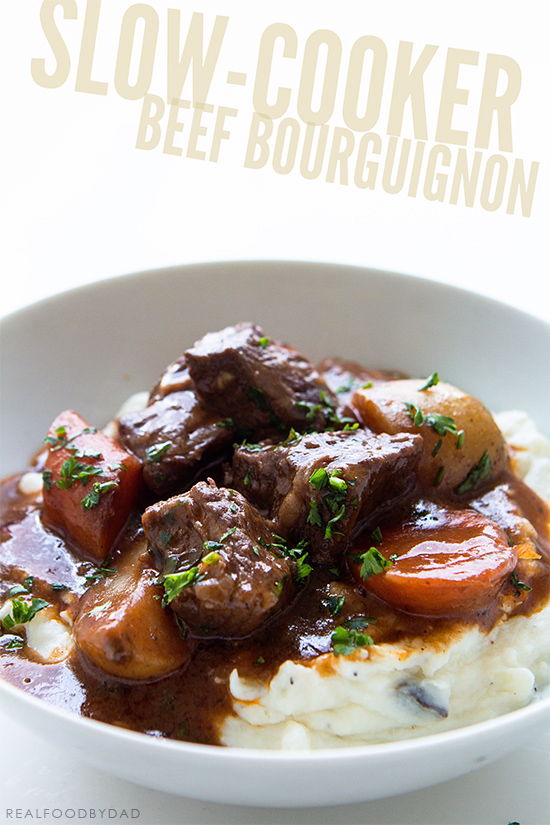 Ingredients
2 lbs. boneless beef chuck, cut to 1 inch cubes
1 tablespoon oil
4 slices bacon, finely chopped
2 large shallots, finely chopped
1/4 cup tomato paste
3 garlic gloves, finely chopped
1 tablespoon fresh thyme
1/2 cup all-purpose flour
1 3/4 cups Pinot Noir
5 medium carrots, sliced
8-10 medium sized new potatoes, halved
1 cup chicken broth
1/4 cup soy sauce
Instructions
Dry beef with paper towel and season with salt and pepper. Place half of it in the slow cooker. Heat oil in a 12 inch skillet over medium-high until just smoking. Brown remaining 1 lb of beef well on all sides, about 7-10 minutes; transfer to a slow cooker
Cook bacon in skillet over medium-high heat until crisp, about 5 minutes. Stir in shallots cook until translucent. Add in garlic and thyme and cook for 30 seconds. Stir tomato paste and flour; cook for 1 minute. Slowly whisk in 1 1/4 cups wine, scrapping up any browned bits and smoothing out any lumps; transfer to slow cooker. Add in carrots and potatoes to slow cooker.
Stir broth and soy sauce into slow cooker. Cover and cook until beef is tender 9-11 hours on low or 5-7 hours on high.