For the last few days we were in Nashville and all we did was eat out, so when we got home all I wanted was a home cooked meal—something simple and full of flavor.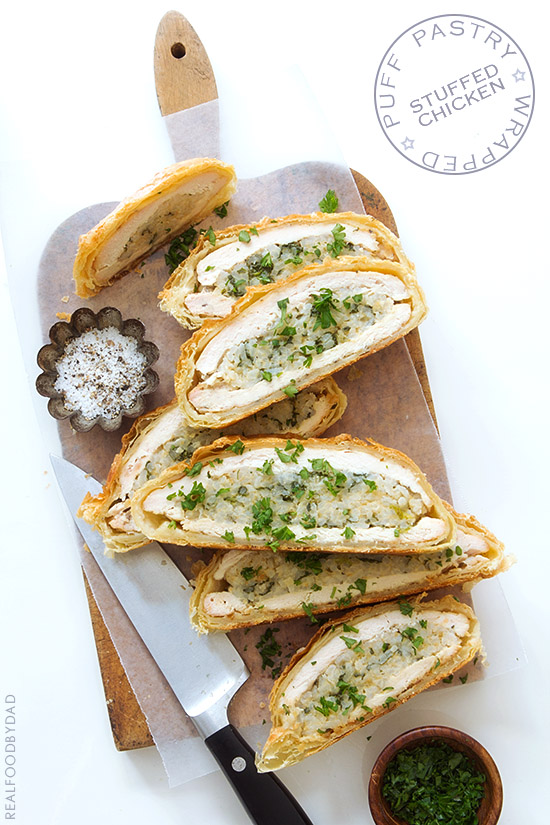 And of course something that wasn't complicated or fussy in design or prep. That's so not me.
That something is what you see here. The chicken is stuffed with a simple rice and spinach mix and I decided to encase it all in some puff pastry for added flavor and dimension.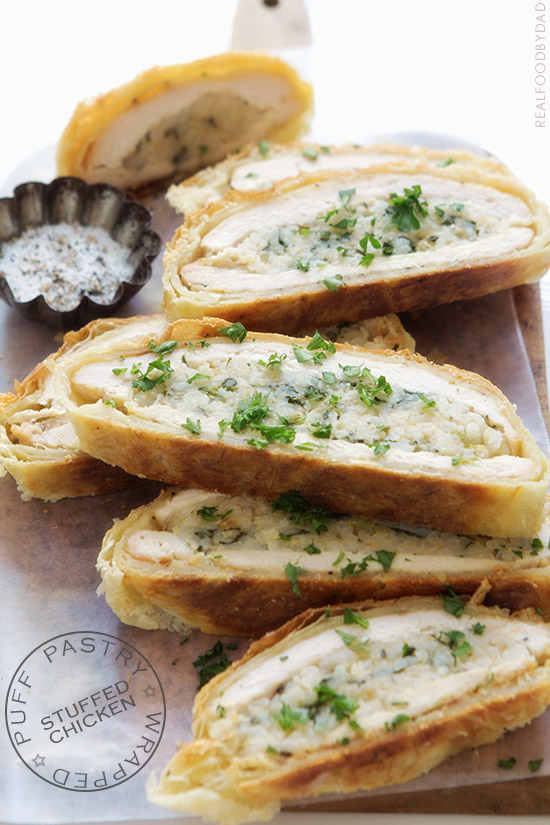 Now here's the best part, I didn't care to make these roulades. To avoid rolling and tying everything together, I just smashed two pieces of chicken flat, and then used an offset spatula to spread some of the rice stuffing on top of one piece of chicken and then placed a second one on top of that and sealed it all together. After some baking, I wrapped it all up in puff pastry. Done.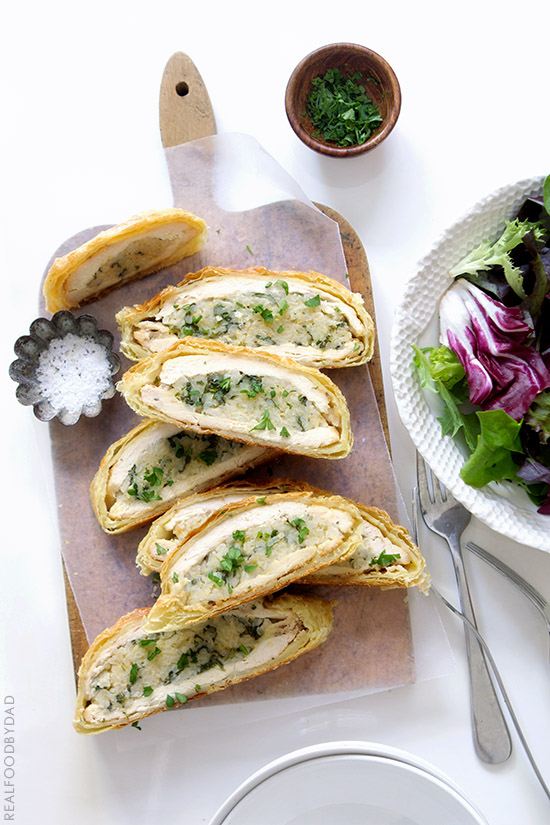 Puff Pastry Stuffed Chicken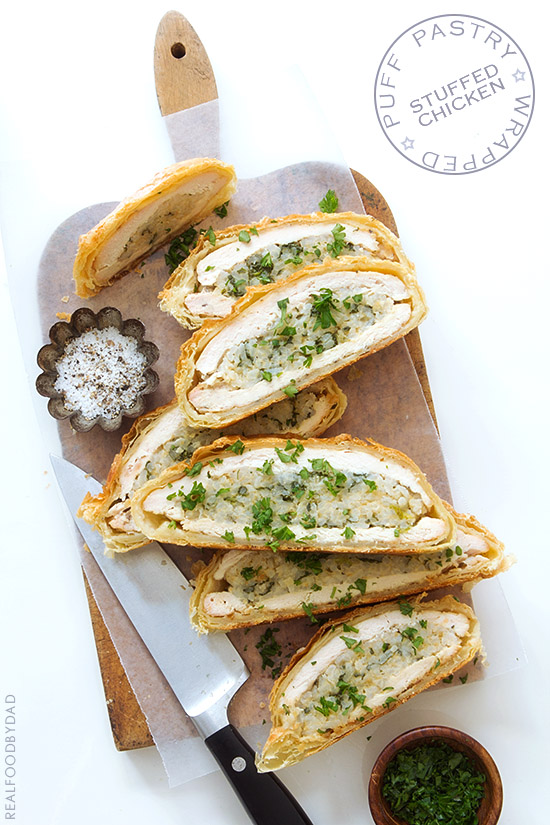 Ingredients
3 tablespoons unsalted butter
1/4 cup thinly sliced leeks
1/4 cup chopped onions
1 garlic clove minced
2 tablespoons flour
2 cups milk
1 cup fontina cheese
1 teaspoon ground mustard
salt and pepper to taste
8 oz. spinach
11/2 cups cooked rice
3 tablespoons chopped parsley
2 large chicken breast (9 oz. each), flattened to a 1/4 inch in thickness
1 puff pastry sheet, thawed according to instructions
1 egg wash (1 egg beaten with 1 tablespoon of water)
Instructions
Place butter in a large skillet and melt over medium high heat. Add in leeks and onion and cook until translucent, about 3-5 minutes. Add in garlic and cook for 1 minute. Add in flour and cook, stirring, for about 3 minutes. Whisk in milk and and simmer, stirring, for about 3-5 minutes or until thickened. Add in cheese and stir until melted and combined. Add in ground mustard, salt and pepper. Stir in spinach, rice and parsley.
Salt one side of chicken and layer with rice mixture, leaving a 1/4 inch border all around. Place second piece of chicken on top. Press chicken edges together to seal. Rub outside with olive oil and and lightly cover with salt and pepper. Turn assembled stuffed chicken over and repeat oil and salt and pepper rub. Bake at 375 degrees F for about 25-30 minutes, or until chicken is cooked through. Remove from oven and allow to cool on a wire rack for at least 15 minutes.
Wrap puff pastry all around chicken. Brush egg wash all over. Transfer to a parchment lined bake sheet and and bake for about 15-20 minutes or until golden brown. Remove from oven and allow to cool slightly before slicing.

Fork, knife and a coke – it was all gone in minutes. So make sure you make you make plenty or eat alone.