I have to say, I'm pretty excited to be sharing this Philly cheese steak pull apart bread with you. The idea of it is pretty ridiculous, so I knew it had to be made.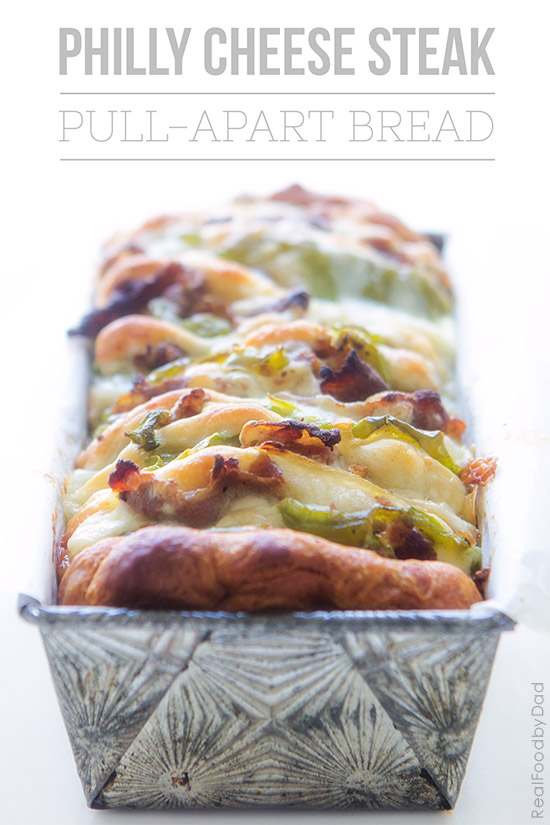 It's so simple in concept and design, I can't believe it pulled up no results when I Googled it. Now that is a good feeling. I was pretty certain this would be all over the place-one small victory for me.
Here's to being the first—I think. If I'm wrong, well, I'm not sharing it with my family because I got all kinds of "This is awesome."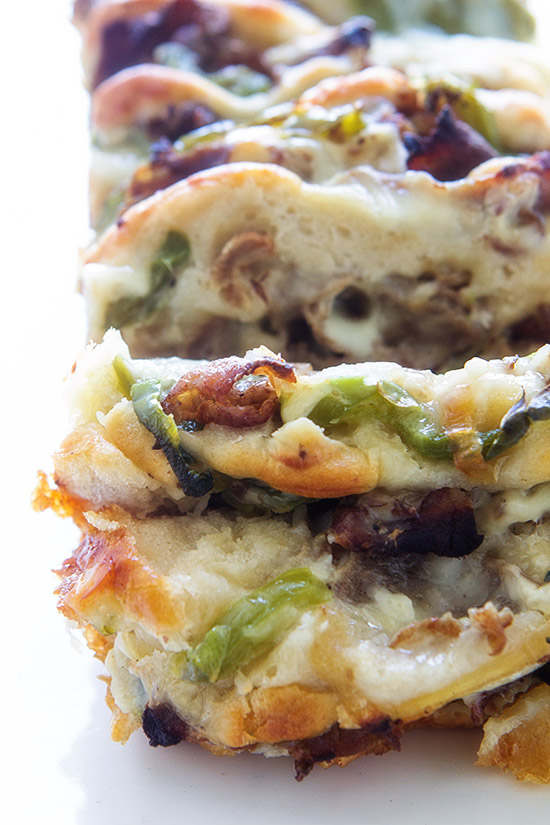 And as of late, I'm on a winning streak with my son, Cole. In fact, the combination of the recent "awesome" after-school snack (and a few others to come this week) and a lot of DVR'd Food Network's Chopped lately, he's really gotten into food and cooking. He even does his own little Chopped game at home. So cute.
Sure it's adorable and sure I love it—even when some of the creations are—well, interesting. But I eat it to keep him encouraged and curious about food. It's working. He offered to make breakfast the other day, but then the morning came and he was my little cartoon-watching, 8-year-old who decided Team Titans was way more interesting than cooking up breakfast.
Baby steps. I'm optimistic. I mean hey, maybe soon he'll offer to cook a weeknight dinner. And when that happens I'm hiding the TV remotes.
Philly Cheese Steak Pull Apart Bread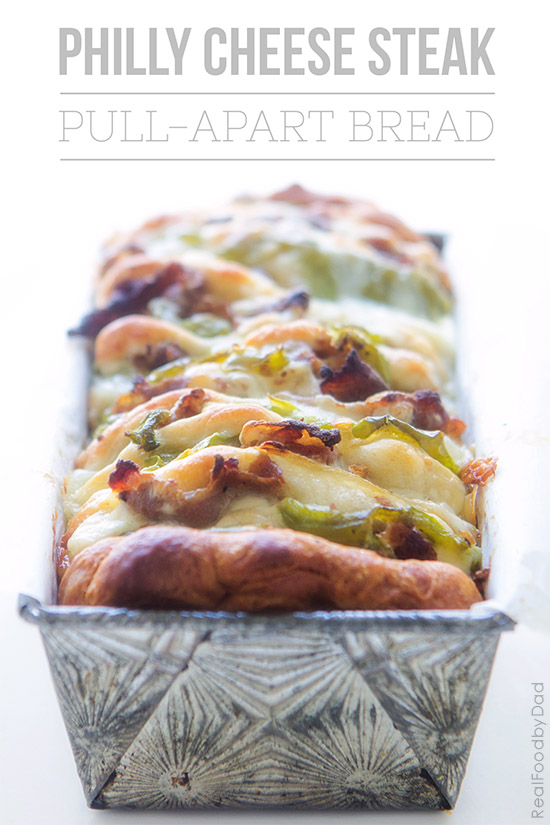 Ingredients
3 tablespoons butter
3 tablespoons olive oil
2 tablespoons sugar
2 onions, sliced
2 green bell peppers, sliced
1 lb. tri-tip meat, thinly sliced (or your preferred cut)
1/3 cup Rondele Garlic and Herb Spread (or cream cheese or a flavored cream cheese)
2 cups grated provolone cheese
2 14oz. Pillsbury Grand Biscuit can (not extra flaky)
Instructions
Preparation: Heat oven to 350 degrees F. Line a 9x5 pan with parchment paper.
To make Philly Cheese Steak Mixture: Heat 1 tablespoon of butter and 2 tablespoons of olive oil in a skillet over medium-high heat. Add in onions and sprinkle with sugar on top, stir and cook until caramelized, about 5-7 minutes. Stir in bell peppers and cook until tender . Remove from pan and set aside Add in remaining tablespoon of butter and olive oil. Stir beef and cook until browned, about 5 minutes. Stir in Rondele cheese and remove from heat.
To assemble: Divide biscuits and fillet each one in half. Turn pan on its side so that it sits up vertically. Place one biscuit slice down and layer with Philly cheese steak mixture and cheese. Continue to layer until all components are used and pan is filled. Bake at 375 degrees F until center is cooked, about 40-45 minutes. If top starts to brown too quickly, cover with foil.