Let's do an easy, one-pan chili and top it off with some biscuits for a chili cobbler. I'm all about easy cooking and fast meals. Although this isn't exactly 30 minutes-and-under, it's easy enough and well worth the extra few minutes.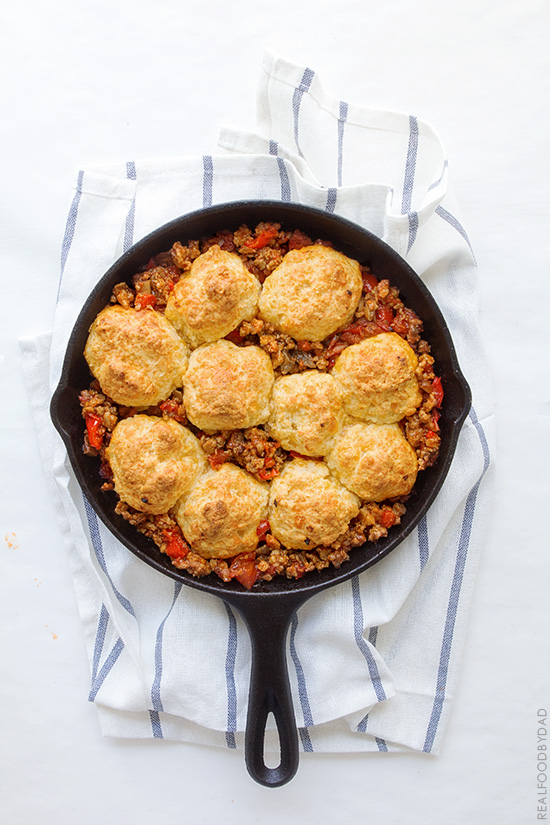 This recipe is adapted from Martha Stewart's new One-Pot book.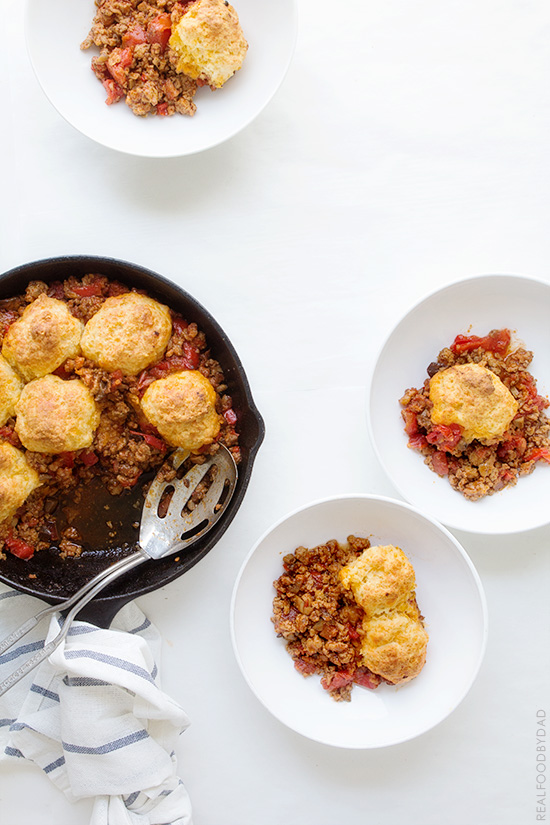 And by adapted I mean, I started with one of her recipes but then tweaked the flavors to make it to my preference by:
First cooking some bacon to render the fat and adding sausage for a boost in flavor, since I opted out of using dark turkey for regular turkey.
Then I added some dry spices like: cayenne, smoked paprika, cumin, and some brown sugar.
And finally more flavoring with Worcestershire sauce, Mirin Sauce (if you can't find this Japanese vinegar just sub it with apple cider vinegar).
As for the cobbler part, I stayed true to her recipe. I'm no baker, so I didn't mess around—besides, cheddar biscuits—no need to expand on that.
With all the tweaks, this really took on a chili flavor so I decided to change the name from Turkey Skillet Pie to One-Pan Chili Cobbler.
Now that we've gone through the tweaks, let's talk results—two words—make it. This is a new family favorite and we couldn't get enough of it.

One-Pan Chili Cobbler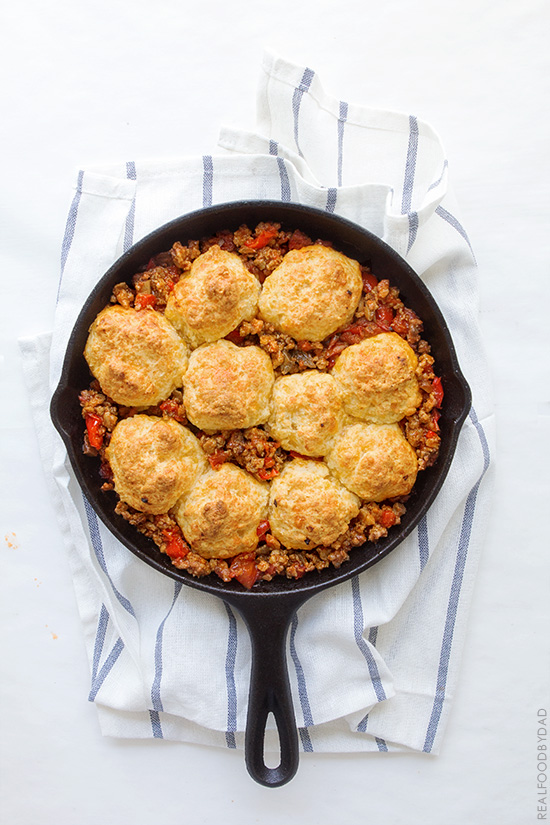 Ingredients
Chili
2 pieces of thick cut bacon
1 onion, sliced
2 red bell peppers, thinly sliced
8 oz. cremini mushrooms
1 lb. turkey
1/2 lb. sweet sweet sausage (about two links), casing removed
1/4 cup water
1 14.5 oz. diced tomatoes
2 tablespoons tomato paste
3 tablespoons Worcestershire Sauce
2 tablespoons Mirin Sauce
4 tablespoons brown sugar
2 tablespoons cumin
1 tablespoon chili powder
1 teaspoon cayenne pepper
1/2 teaspoon smoked paprika
salt and pepper to taste
Biscuits
1 cup flour
1 teaspoon baking powder
1/2 teaspoon baking soda
1/3 cup buttermilk
1 1/2 cup grated cheddar cheese (6 ounces)
Instructions
To make chili:
In large oven-proof skillet, over medium high heat, cook the bacon until browned. Add in onions, red bell pepper and mushrooms; cook and stir until tender. Add in turkey and sausage, cook and stir until meat is cooked through, about 7-10 minutes. Add in remaining ingredients; cook and stir until liquid is reduced by half. Salt and pepper to taste. Set aside to make biscuits.
To make biscuits:
In a large mixing bowl, add in flour, baking powder and baking soda; whisk to combine. Add in butter pieces and using two forks, cut butter into flour mixture until it resembles coarse meal. Stir buttermilk and cheddar cheese until incorporated and the mixture sticks together. Divide and roll batter into ten even balls; then place it on top of the chili. Transfer oven-proof pan to the oven and cook at 425 degrees F until biscuit tops are golden brown, about 20 minutes.