See that mixed berry crumble beneath that giant scoop of vanilla ice cream – I've earned it.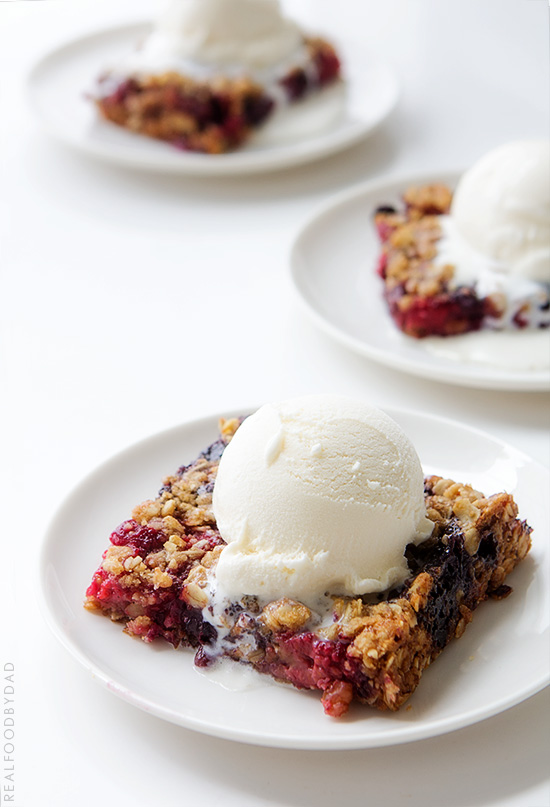 This easy crumble comes together in a matter of minutes and since it's filled with oats and fruit, consider this a power-starting breakfast, or a pick-me-up lunch and if you're Naomi, it's all of the above and dessert.
Clearly, it's a winner all the way around. Of course you can keep this on the skinny side (skinny being very loosely used here) by skipping the ice cream but I love the varying temperature of the hot crumble to the cold ice cream. Speaking of crumble, this is a tighter than usual crumble, and by tighter I mean you can slice it instead of scoop it.
Or crumble it, like I've been doing in the morning as the yogurt topper to my power breakfast before my workout and run to give me that added push. I'm pretty sure it's working.
Yield: Serves 12
Mixed Berry Crumble
Ingredients
Crumble
1 1/2 cup old-fashioned rolled oats
1 1/4 cup unbleached all-purpose flour
1 cup (2 1/2oz.) walnuts, chopped
3/4 cup brown sugar, lightly packed
1/4 cup granulated sugar
1 teaspoon kosher salt
3/4 cup unsalted butter, melted
Filling
12 oz. raspberries
12 oz. blueberries
1/4 cup sugar
2 tablespoons flour
1/2 teaspoon cinnamon
1/4 teaspoon nutmeg
1/4 cup lime juice
zest of 2 limes
Instructions
To make crumble: In a large bowl, whisk together all the ingredients until well combined. Set aside.
To make filling: In another large bowl, whisk together all the ingredients until well combined. Set aside
To assemble. Press half of crumble mixture into bottom of pan. Pour and spread filling on top and the layer with the remaining half of the crumble mixture. Bake at 350 degrees F until top is golden brown, about 50-55 minutes. Remove from oven and transfer to a wire rack to cool slightly. Optional: Serve with ice cream or cool completely to serve with yogurt.

This is a sponsored post in partnership with Jawbone; however all opinions are my own. Thank you for supporting the brands that help make running this site possible.