I made you dessert—healthy style—mixed berry cobbler, juiced. Crazy, huh? But trust me, you won't object once you taste it and when you realize it's made with mainly fruit.
To be honest, I really never thought of taking dessert and making it into a juice until Williams-Sonoma asked me to team up with them on this fun challenge.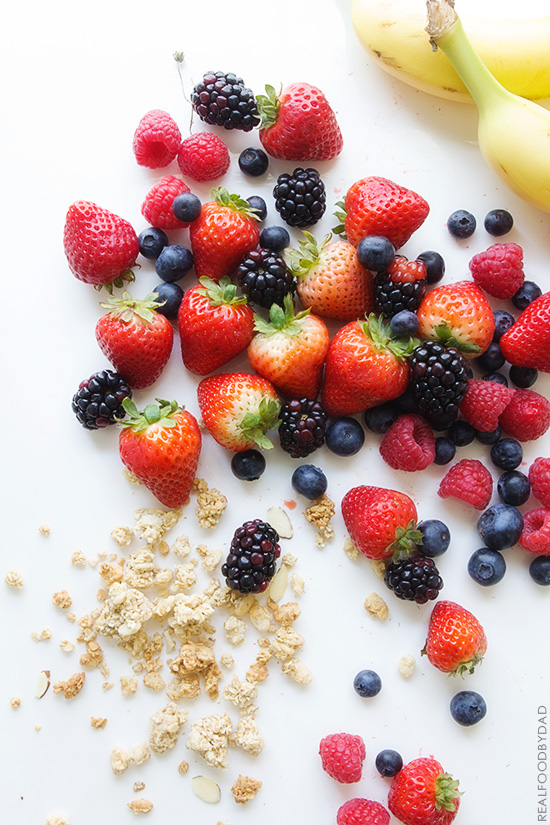 This juice is made of the fruit you see in the picture above and the granola, well—it gives the whole recipe the cobbler effect. It sweetens it and gives it that distinct, subtle, dessert-like sweetness. To warm up the tartness of the fruit, I added some cinnamon and half a banana. I used our Blendtec but be sure to check out some other awesome juicers at Williams-Sonoma by clicking here.
And hey, look at that, the baby is already learning how to photo bomb. It's funny how different male and female views are. Naomi will tell you he was curious about what we were doing. I'm pretty sure he was more instinctually-driven—food! Yes, the boy loves to eat. Can you tell by those awesome little, chunky hands?
Nowadays if he sees us eating, he will track the hand to mouth motion with a hard stare that doesn't break until all the food disappears. It's no wonder he wanted some of this fruit—I was popping the blackberries between shots and he wanted in on that action.
I don't blame him, this mixed berry cobbler juice turned out to be incredible.
Mixed Berry Cobbler Juice
Ingredients
6 oz. strawberries
3/4 oz. raspberries
3/4 oz. blueberries
3/4 oz. blackberries
2 oz. vanilla granola
8 oz. orange juice
1/2 oz. banana
1/8 teaspoon cinnamon
Instructions
Place all ingredients in a blender and process until smooth.
**Note: I used a Blendtec to make this juice. If your blender is not as strong, your drink may be slightly grainy from granola not being fully processed into the juice. Better yet, click here and go for an upgrade with some of these juicers from Williams-Sonoma.