We are a pretty darn simple family, in every way possible, and we wouldn't have that any other way. Sure, life is pretty chaotic and crazy at times, but who's isn't? From school projects, to baseball and basketball, to family gatherings, blogging, and now my wife's pregnancy, we don't have much free time to simply take a breath and relax. As parents, our favorite saying is "the days are long but the years are short", and that gives us perspective in all we do. We appreciate every minute.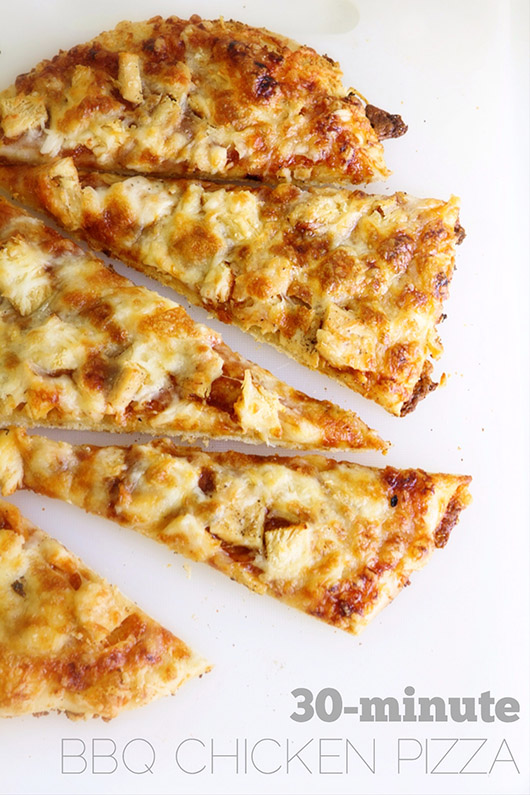 Staying with that theme, it becomes vital that we squeeze in quick, easy to make meals for the family. And this time, I knocked it out of the park with this Homemade BBQ Chicken Pizza. Our boys love the BBQ Chicken Pizza from California Pizza Kitchen, but the time and money involved doesn't make sense to me sometimes. So I figured I would do it myself. It literally took me 30 minutes to make from start to finish and while it is simple, it is the best pizza I have ever had. Half of us are extremely picky, so that's always got to be taken into consideration with every meal. And this one covered that. Super easy, super tasty, and super happy boys and wife. That made me Super Dad, at least for an hour or so.
The secret to this being one heck of a pizza lies in the addition of an ingredient to sweeten up the barbecue sauce – a tablespoon of apricot jam mixed in with the sauce. It gave it just the right amount of sweetness to balance out the barbecue sauce taste. Of course, I didn't tell the boys that.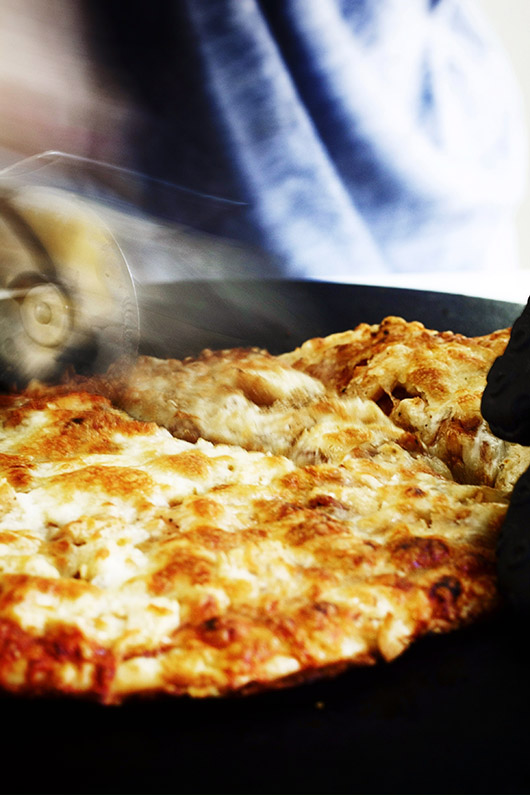 Homemade BBQ Chicken Pizza
By Matt Robinson Published: April 13, 2014
Yield:

2 pizzas, 8 big slices (8 Servings)

Prep:

15 mins

Cook:

15 mins

Ready In:

30 mins
A tasty, sweet BBQ chicken pizza made in under 30 minutes
Ingredients
Instructions
To make crust: Preparation: Place pizza stone on lower middle rack. Preheat oven to 500° F. 1. Combine and stir water and yeast in a mixing bowl until mixture resembles miso soup. Add flour and salt to mixture and mix until dough just comes together. 2. Turn the dough onto a lightly floured surface. Knead the dough until the flour is incorporated, about 5 minutes or until it is smooth and elastic. The dough should be moist and slightly tacky. (If it's sticky, add in more flour 1 tablespoon at a time until smooth). Evenly divide dough in half and refrigerated one half for another time or double the topping recipe to make two 10 inch pizzas. 3. Lightly grease a sheet of parchment paper with olive oil. Transfer ball of dough to parchment. Stretch out dough by hand as much as possible, then lightly brush with olive oil, cover with another piece of parchment. Use a rolling pin and work from the middle of the dough outward to flatten dough to ¼ inch thickness. Peel off top parchment paper. Note: Dough can be made ahead of time and refrigerated for up to three days.

Assembly: 1. Place BBQ sauce and apricot jam in a small sauce pan over medium heat and cook and stir until combined. Set aside to cool. 2. Pour and evenly spread cooled BBQ sauce over crust, leaving a ½ inch border. Top with chicken, fontina and mozzarella (red onions if using). Slide the pizza (with the parchment underneath) on to the hot pizza stone. Bake for 3-5 minutes until pizza crust starts to turn golden. Rotate the pizza once and remove parchment, continue to bake for another 3 minutes. Remove from oven. Optional: Garnish and with cilantro. Slice and serve.