More breakfast food. That is unless you eat with me in my home, then this Eggs in Cloud can be consumed for breakfast, brunch, linner or brinner. Can you tell I really like eggs, especially the drippy kind?
These Eggs in Cloud were completely new to me until I saw them at Rachel Ray's site. I knew I had to make them.
And you should too, here's why:
Only four ingredients
Easy to make
Comes together in just 15 minutes
Great breakfast for all of us who have kiddos in school for the exact reason #2 & 3 point out
Actually great for anyone who hardly has time to make breakfast
High in protein and full of flavor
Your belly will thank you
Your kids will thank you
Skipping breakfast is bad for your body (according to my mom who will swear to this and probably some doctors who won't swear to this for fear of being sued since their lack of professional research prevents them from doing so)
Lastly, because you can still have your Cap'n Crunch after this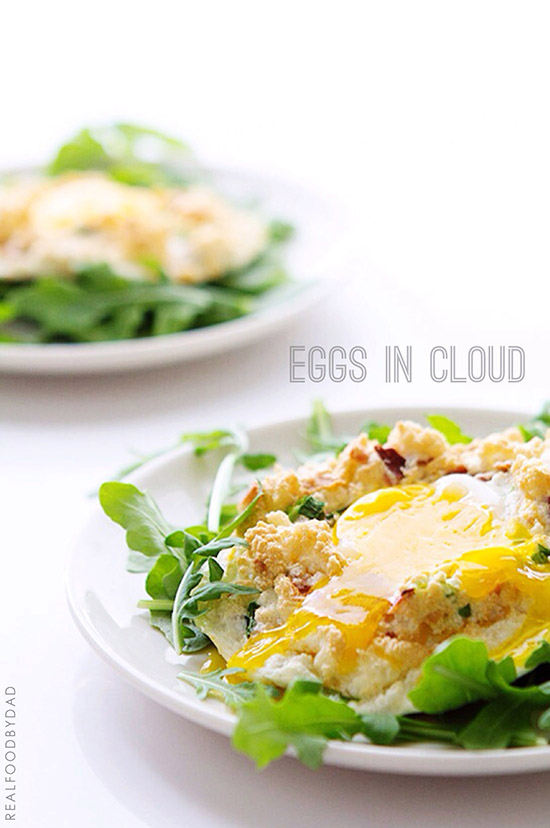 If anyone has any other reasons they would like to add to this list, please share it with rest of us in the comment section. For now, here's your recipe—get to it!
Yield: 4
Eggs in Cloud
Prep Time 5 minutes

Cook Time 7 minutes

Total Time 12 minutes
Ingredients
4 large eggs, separated
4 pieces pancetta, browned, drained and crumbled
3 tablespoons chopped green onions
1/4 cup shredded or grated cheese of choice (i used a combination of grated parmesan and shredded Mexican cheese
Instructions
Heat oven 450 degrees F. Line bakesheet with parchment. Add the egg whites to a bowl and beat until stiff peaks form (either by hand or with stand mixer or hand mixer). Gently fold in pancetta, cheese and green onions.
Use an ice cream scoop or spoon and drop egg white mixture onto parchment sheet in four equal portions. Create a well and bake for 2- 3 minutes or until browned. Remove from oven and carefully drop yolk into the well. Return to the oven and bake for 2-3 minutes. Keep a watchful eye on the yolk as it turns from soft cooked to hard yolk very quickly. Remove from oven and setrve immediately.
[wpurp-searchable-recipe]Eggs in Cloud – – eggs, separated, pancetta, browned, drained and crumbled, chopped green onions, shredded or grated cheese of choice (i used a combination of grated parmesan and shredded Mexican cheese, , Heat oven 450 degrees F. Line bakesheet with parchment. Add the egg whites to a bowl and beat until stiff peaks form (either by hand or with stand mixer or hand mixer). Gently fold in pancetta, cheese and green onions.; Use an ice cream scoop or spoon and drop egg white mixture onto parchment sheet in four equal portions. Create a well and bake for 2- 3 minutes or until browned. Remove from oven and carefully drop yolk into the well. Return to the oven and bake for 2-3 minutes. Keep a watchful eye on the yolk as it turns from soft cooked to hard yolk very quickly. Remove from oven and setrve immediately.; ; – – Breakfast – Cheese – Easy – Quick – Savory – Brunch – breakfast – egg – drippy egg recipe – egg recipe[/wpurp-searchable-recipe]