Let's do this, because it's crazy! Think pancake meets bacon and scallion biscuit gone loco, stuffed with an egg.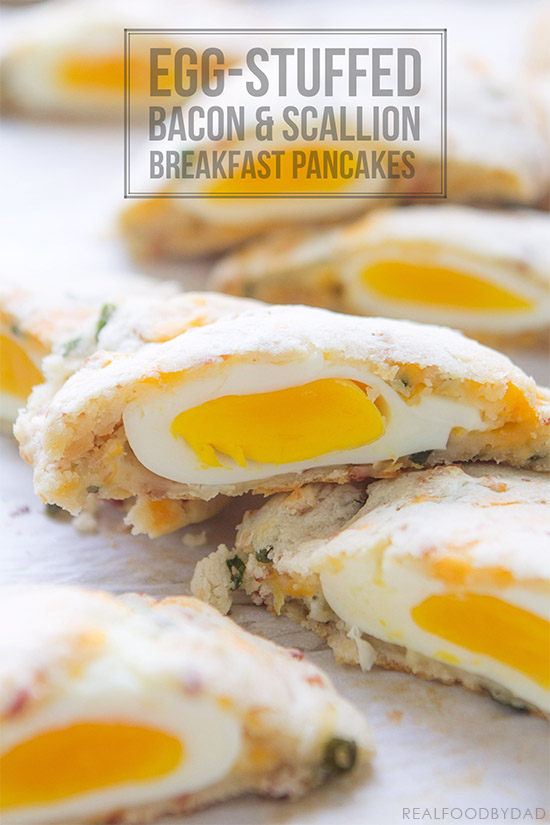 You are going to love this on-the-go breakfast treat. Okay, you don't have to be on-the-go, but seriously, how convenient are these?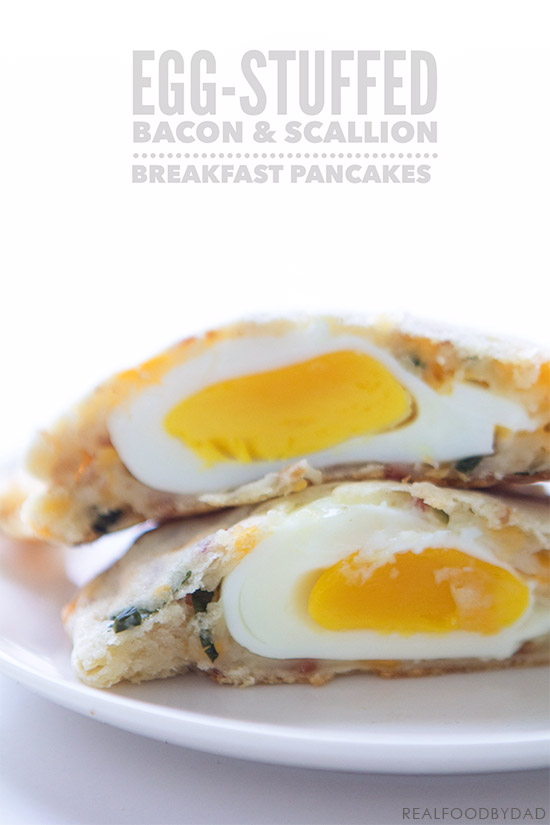 Generally, I like a drippy soft boiled egg, but the drip would prevent me from letting the boys eat these in our car. Have you ever smelled old eggs? Ugh. I wasn't even aware of the old-egg wretchedness until Naomi brought it to my attention. Now, it's something that I can hardly miss when it rears its ugly scent. So you see why the drippy egg in this had to be nixed if they were eating this in the car.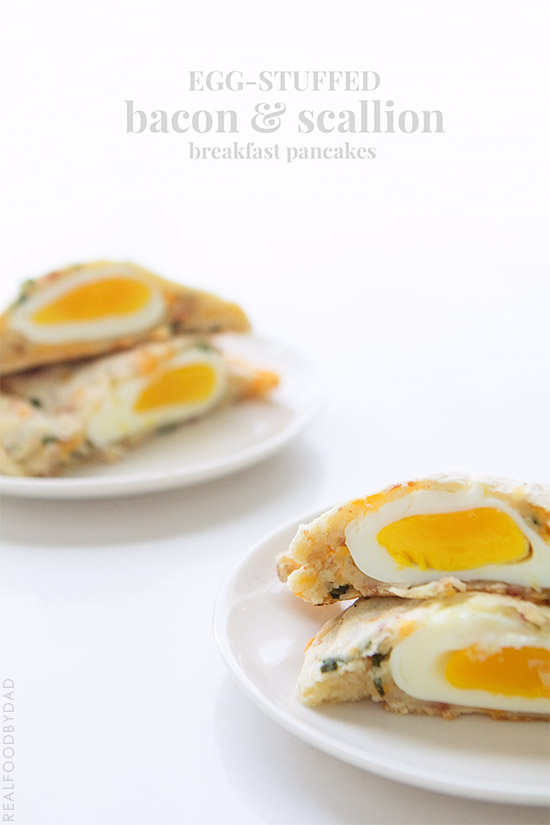 These are really easy to make, but I will admit getting the egg just right is a bit tricky. So let's go over it bullet point style:
Use a medium size pan and place 5 eggs in the pan and submerge the eggs with 1/2 inch of water. The eggs shouldn't be too crowded, think 1/2 inch around each egg.
Let the water come to a heavy simmer, not a boil–just before it reaches that point. Once it reaches that point, remove the pan from the heat and set it aside for four minutes.
Remove the eggs from the pan and transfer them to a large bowl filled with cold water to stop the cooking process. Set aside for 10 minutes.
Remove shells and set the egg aside to make the dough. To keep the very soft, jiggly egg from rolling around and breaking, place each egg on a spoon–this will cradle the egg.
Now that you have the tricky egg tips. Do this. You won't regret it.
Egg-Stuffed Bacon & Scallion Pancakes
Ingredients
5 large eggs
1 3/4 cups flour
1 teaspoon baking powder
1/2 baking soda
1 1/2 teaspoons kosher salt (if you use regular salt, reduce this to 1/2 teaspoon)
4 tablespoons cold unsalted butter
1 cup buttermilk
1/3 cup shredded sharp cheddar cheese
1/4 cup crushed bacon (about 3-4 strips cooked and crushed)
1/4 cup chopped scallions
Instructions
To make egg: Submerge eggs in a medium size pan under 1/2 inch of water. Bring to a heavy simmer (not boil) then turn off the heat and transfer pan to a cooling rack and let sit for 4 minutes. Remove eggs from pan and transfer them to a large bowl filled with cold water to stop the cooking process. Set aside for 10 minutes before peeling eggs. Place each peeled egg on a spoon to prevent it from rolling around and breaking.
To make biscuit: Place flour, baking powder, baking soda and salt in a food processor bowl fitted with a blade and pulse until well blended. Add in cold butter and pulse until mixture resembles crumbly sand. With the food processor on pulse, slowly add in buttermilk and pulse until just combined. Transfer dough to a mixing bowl and fold in cheese, bacon and scallions.
To assemble: Using an ice cream scoop (or a spoon), drop 3 tablespoon size dough onto a parchment lined bake sheet. Using the back of a spoon, create a well in the center. Place egg in the well and cover with second drop of dough on top, using your fingers make sure the dough encases the egg. Transfer the assembled pan to the oven and cook for 10 minutes at 350. Remove from oven and serve immediately.