So real men don't eat quiche? Who decided that? It's food. I love it. And how could I not? Especially prepared the way this one is – eggs, cheese, sweet Italian sausage, asparagus, broccoli, grape tomatoes on top of a puff pastry. While the crust doesn't have the traditional flakiness, the puff pastry is a whopp'n 60-minute time saver—no chilling, no rolling. This Easy Asparagus Quiche is a go-to meal here, whether it's for breakfast, brunch or heck, even dinner (we love brinner here!).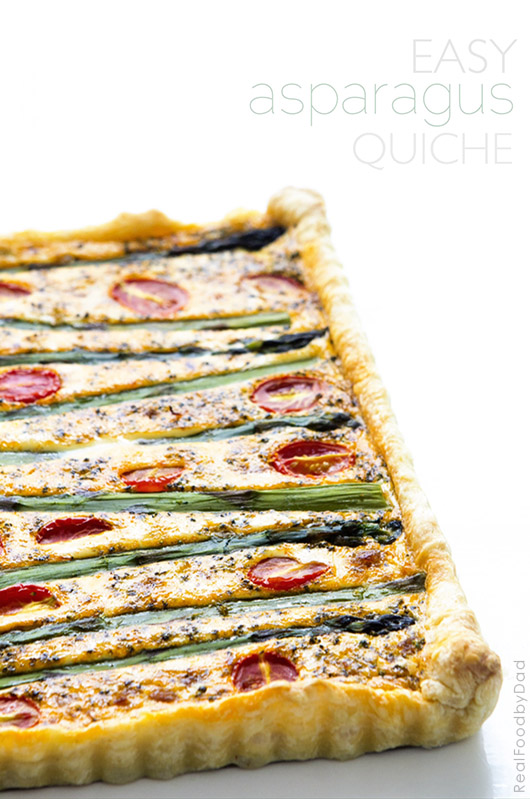 My little guy Cole was not too excited about it tonight for whatever reason, so for him, I made two slight changes. I removed a few grape tomatoes and renamed his meal especially for him – Breakfast Pizza. Seriously, the name change alone changed his mood instantly and he ate about a quarter of the entire dish. Play on words or manipulation, either way it worked.
My wife and I loved it as is. This really was so incredibly easy to make and full of flavor. The asparagus and especially the grape tomatoes add so much flavor to the eggs, you'll want to go back for seconds or thirds. Seriously. And this comes from a guy who likes things a little bland sometimes. Not this time.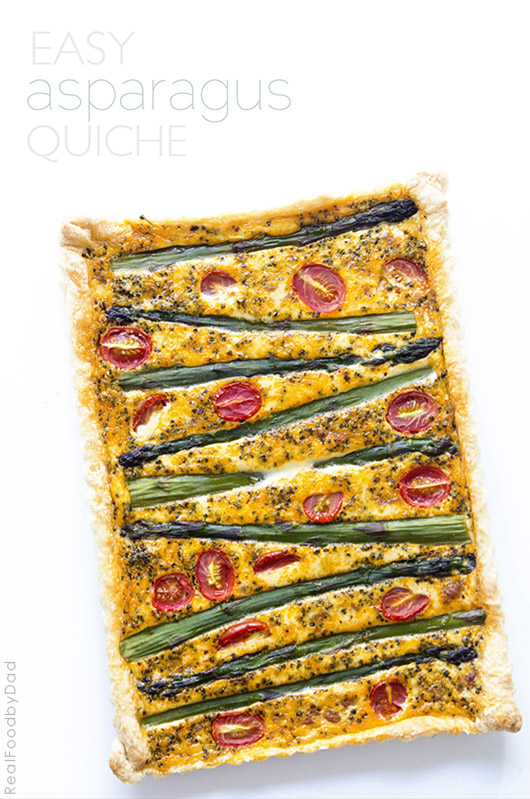 Yield: 4
Easy Aparagus Quiche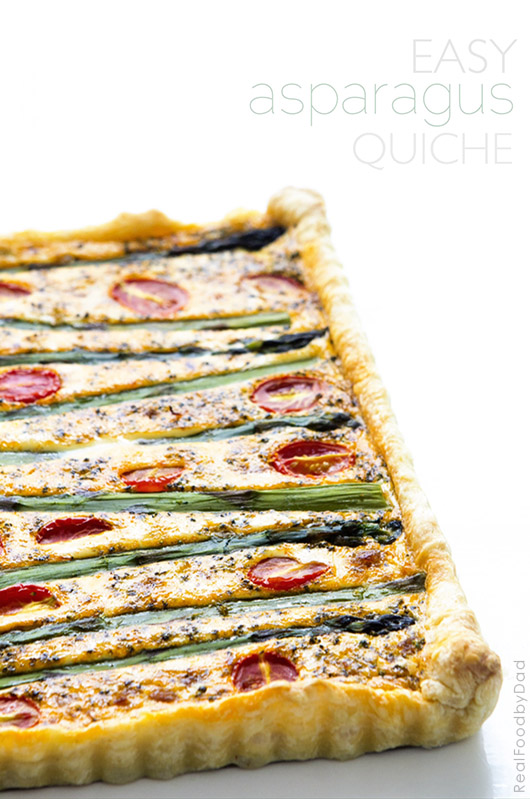 Prep Time 10 minutes

Cook Time 30 minutes

Total Time 40 minutes
Ingredients
1 sheet puff pastry, thawed according to package
1 3 oz. sweet Italian sausage link, case link removed, sausage cooked and cooled
1/2 cup heavy cream
1/2 cup whole milk
3 large eggs
1 cup sharp cheddar cheese
1 tablespoon sundried tomato, drained and chopped, optional
1 teaspoon kosher salt
1 teaspoon cracked black pepper
1 small head (.50 oz.) broccoli, florets finely chopped
10 stalks (10 oz.) asparagus, trimmed and blanched
8-10 grape tomatoes, halved
Instructions
Press thawed puff pastry into a 10.5" x 7.5" removeable bottom tart pan (as seen in the picture ) or into a 9" round removeable bottom tart pan; set aside.
Place sausage, eggs, cream, milk, cheese, sundried tomato, salt and pepper in a bowl and whisk to combine. Pour mixture into prepared pan. Sprinkle, sausage and broccoli on top. Place blanched asparagus into mixture and scatter grape tomatoes on top.
Bake at 375 degrees F. for about 30 minutes or until the center is firm. Let cool for about 10 minutes before serving
**Notes** (1) For a different flavor try using Gruyere or Fontina in place of the cheddar cheese. (2) To make this vegetarian, skip the sausage. (3) The sundried tomatoes are optional, but it does add a another layer of flavor.