Sure it's a mouthful: Chicken Fajita Tater Tot Breakfast Casserole, but if you have better name to capture all that this is, leave a comment. Until then, I'm sure once you take a bite the complaints will fade to a rhythmic forking of one bite after another.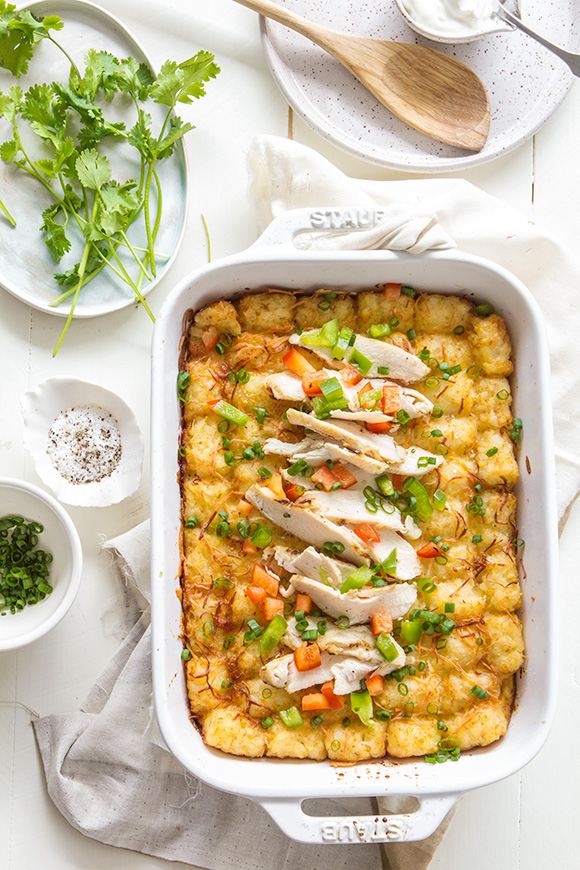 It's pretty addicting. But can how many ways of wrong can you go with tater tots? In my house, not many, and this proved no different.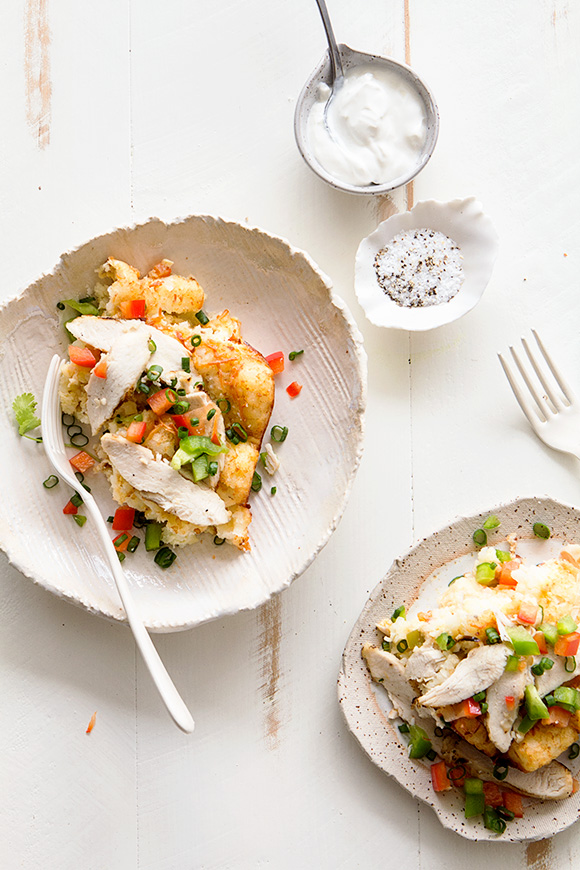 The boys love the combination of all the peppery sweet flavors of a fajita mixed in gobs of cheese, an overdose of tater tots and for a protein punch, lots of sliced, grilled chicken. Well, and because I couldn't in good conscience give the boys tater tots dripping with cheese—okay, who am I kidding? Admittedly, there are just some nights when "healthy" is not a factor. Lucky for me, we are pretty good about moderating and finding balance the next day.
See how that works, so go ahead and make this, guilt free—because it's totally worth it.
Yield: 8-10
Chicken Fajita Tater Tot Breakfast Casserole
Ingredients
1 1/4 cup milk
1/2 cup heavy cream
3 large eggs
1 1/2 teaspoon kosher salt
1 teaspoon fresh cracked pepper
1/2 teaspoon onion powder
1/2 teaspoon garlic powder
2 large grilled chicken breast (about 1 1/2 lbs.), thinly sliced or cubed to 1/4 inch pieces
1 cup diced red bell pepper, about 1 large pepper
1 cup diced green bell pepper, about 1 large pepper
2 cups sharp cheddar cheese
1 cup pepper jack cheese
2 lbs.f pounds frozen tater tots
1/4 finely chopped green onions
cilantro and sour cream
Instructions
Preparation: Heat oven to 350F. Lightly cover a 9x13 pan with non-stick spray; set aside.
In a large bowl whisk together first seven ingredients. Pour into prepared pan. Layer with chicken (reserving some for garnishing), both peppers (reserving about 2 tablespoon of each for garnishing), 2 cups of cheddar cheese, paper jack cheese and tater tots.
Bake at 350F until top is golden brown and liquid is set, about 35-40 minutes. Remove from oven and sprinkle remaining 1/2 cup of cheddar cheese on top. Bake for another 8-10 minutes or until cheese is bubbling and just turning golden brown. Garnish with remaining slices of chicken, green onions and peppers. Serve with cilantro and sour cream.