I am up to my ears in baseball lately. All-star practices, batting practices, scrimmages, team parties and dinners, you name it. And if you are a regular reader of this blog, then you probably know that I love every minute of it. The downside is, I am married to a ridiculously talented food blogger that can't quite bake, cook, style, or photograph with a baby in her arm while I'm at baseball. so we are constantly trying to stay on schedule with everything.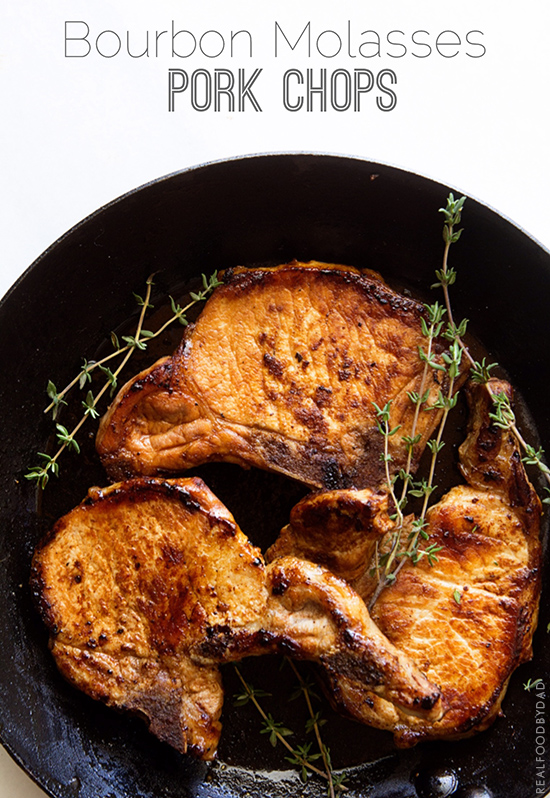 In with that, everyday things are getting put off lately. Cars need to be tuned-up, the house needs a deep scrubbing, and the gym needs to be visited more regularly. All in due time I suppose. Later this week. Yeah, right. One particular thing that I haven't gotten around to is cleaning our grill. As of yesterday, it is officially summer and that means BBQ time, right? Well, like everything else, I will get around to that, so until then, I adapted and made these tasty Bourbon Molasses Pork Chops in the kitchen. That's how things are going to get done around here until we find some time.
They ended up tasting fantastic. I pan seared these bad boys, then deglazed them with bourbon, giving them a nice, brown caramelized crust. and then finished them off with a quick roast in the oven.
Life is always about change and adapting to those changes, and that applies to everything, including cooking. If you don't have time, and you've got something specific in mind to make, well then, you'd better be flexible, cause things don't always cooperate. And that's what I did here. Otherwise, my neighbors might just see me out there when things are actually calm and quiet here, like 2AM, scrubbing that darn grill once and for all for summer. And that would look a little odd, don't ya think?
Yield: 4
Bourbon Molasses Pork Chops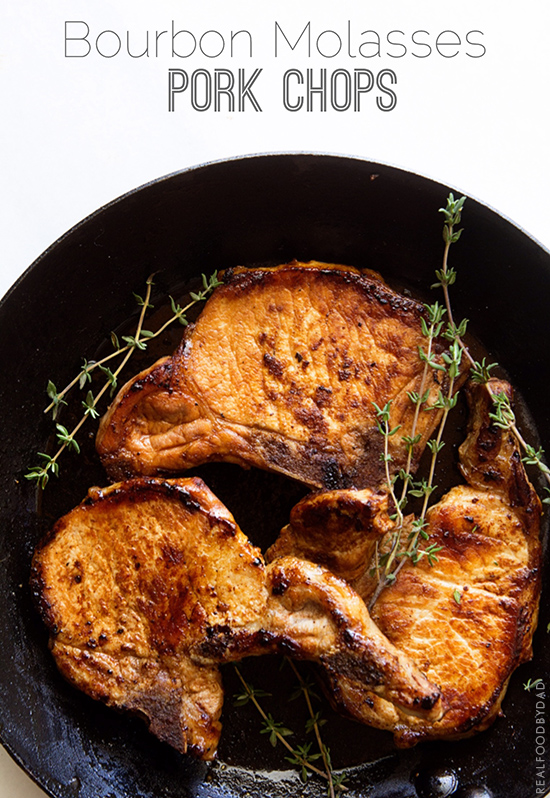 Ingredients
4 pork chops, bone-in
1/2 cup molasses
1/4 cup brwon sugar
1 orange, juiced and zest
1/4 teaspoon paprika
1 tablespoon thyme
2 tablespoons canola oil
1/4 cup bourbon
Instructions
Combine and cook molasses, brown sugar, orange juice, orange zest, paprika and thyme over medium high heat until slightly reduced; set aside. Pat pork chop dry; set aside
Heat a large oven proof skillet and add in oil. Brush chops with sauce and place in pan. Cook on medium high until just brown, about 3-4 minutes. Turn and cook other side until just brown. Continue to cook and turn chops in two minute increments for another 6 minutes. Deglaze pan with bourbon and cook for another 2 minutes.
Transfer pan to oven and roast chops at 450 degrees F, turning every two minutes to prevent chops from browning too quickly. Roast chops for about 14 minutes or until an instant-read thermometer inserted horizontally into center of meat registers 135°