As you can see, I am still on my pudding pop roll. Sorry, but I can't help myself. School is almost out, the weather is absolutely perfect as always here in Southern California, and I've got summer on my mind. In fact, I was walking our baby to the pool today and a random image of my childhood popped in my head. Me, sitting curbside outside of Thrifty after a day at the beach, eating mint chip ice cream on a cone. What was it back then, $0.50 a scoop? Whatever it was, I bought it with my hard earned money – mowing lawns, cleaning pools, washing cars…or looking under a couch cushion. I love memories like that. Life is so simple and fun at 10 and I tell my sons now to enjoy every minute of being a kid.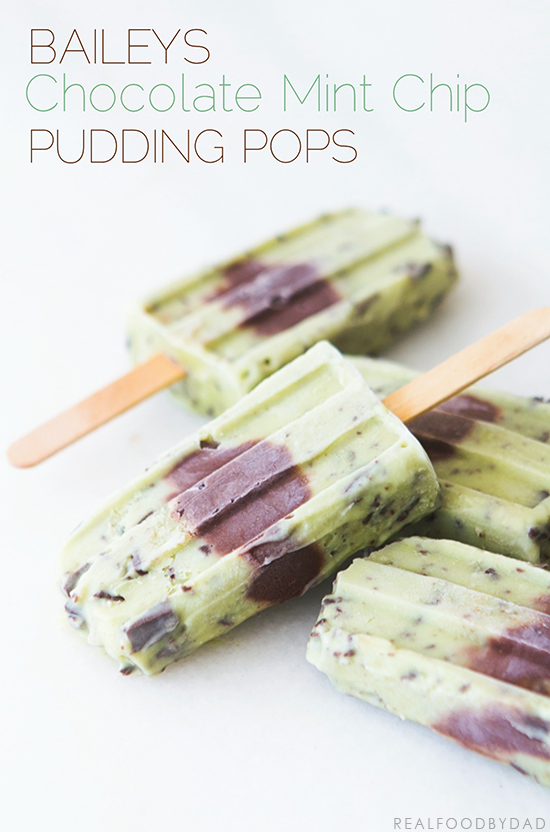 So instead of loading Connor into his car seat and going to the grocery store for some mint chip ice cream, I decided to make a grown-up version with these Baileys Chocolate Mint Chip Pudding Pops, since I had everything I needed right in the pantry. Seriously, check out how easy these are to make – some Baileys Irish Cream, vanilla pudding, a little chocolate pudding for the striping, chopped-up Andes chocolate mints, and a drop of green dye to give them that authentic mint chip ice cream look.
The taste? Pure summer, with more childhood memories on my mind. If it wasn't ice cream at Thriftys, then if was slushies at 7-11, or even K-Mart (does that even exist anymore?). And I am cracking myself up as I go back-to-back weeks with boozy popsicles/pudding pops. I am not a big drinker at all, just ask the guys I coach with. We meet at a sports bar to go over baseball plans, I order a beer and barely drink half of it by the time I leave an hour later. Sorry guys. But I can't resist making these ridiculously fun and tasty pops as we get closer to summer.
And since it may not actually be legal or socially acceptable to eat these curbside outside of a Thrifty or Rite Aid, I will be enjoying them poolside instead, watching my sons enjoying their summer and feeling blessed for another day on this planet.
Yield: 14
Baileys Chocolate Mint Chip Pudding Pops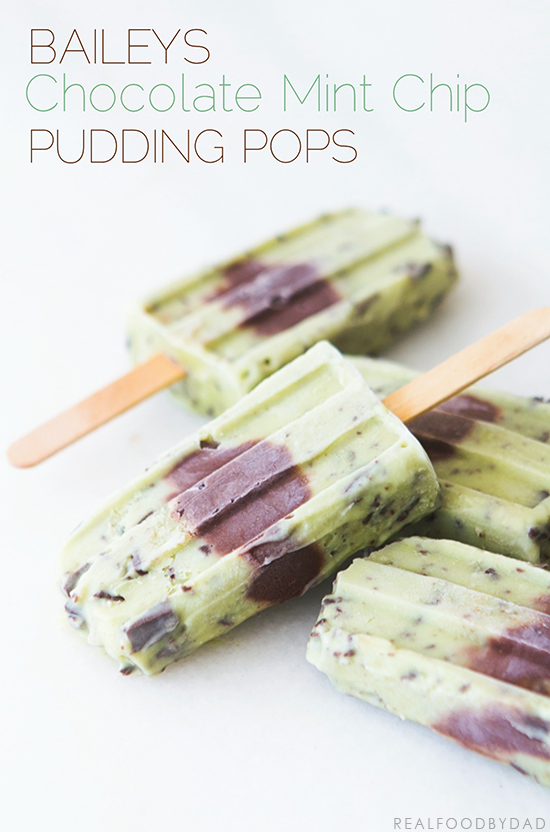 Prep Time 10 minutes

Total Time 10 minutes
Ingredients
1 5.9 oz Instant vanilla pudding
2 oz. Instant chocolate pudding
4 1/4 cups milk, divided use
3/4 cup Baileys
1 1/2 cups chopped Andes Mint candy
1 drop green food coloring
Instructions
Empty dry vanilla pudding mix into a bowl and add in 2 1/4 cup milk and Baileys. Stir for 2 minutes. Add in chopped Andes and fold to combine. Place a small drop of food coloring onto a spatula and fold into pudding mixture. Place 2 oz dry chocolate pudding mix into a bowl and add in remaining cup of milk. Stir for 2 minutes.
Transfer each pudding mixture into a pastry bag and layer with vanilla pudding, chocolate pudding and crushed Butterfinger, Repeat until each well is filled. Insert popsicle stick and let freeze until solid, 3-4 hours.
Notes: (1) Feel free to skip the chocolate striping if you want to avoid using a partial box of pudding. (2) Freeze time will vary according to settings and how full your freezer is.