**This post is made in collaboration with WLabs. All content, ideas, and words are my own.**
If you know me, then you know I'm a tech and gadget person, so when everyday routines and chores turn digital, I'm immediately curious. Whirlpool's WLabs™ Smart Oven is my latest focus. It's a countertop smart oven that has a built-in camera and infrared system for food recognition, and can also determine the food's starting temperature and whether it's fresh or frozen. The oven's screen will then populate with a few different options for the desired doneness. It's a gadget that has the kitchen conveniences of ninja-like cooking precision and time-saving automation that means less time tending to the food and more time with the kids.
A few weeks ago, I went to an event hosted by WLabs and celebrity chef Katie Lee to see the smart oven in action.
My first guttural reaction: (1) great design-sleek, matte black so yay to no finger prints, (2) easy interface that is user-friendly and intuitive so no fussing around the menu looking for what you need [part of that has to do with the food recognition capabilities-more on that, so keep reading], (3) not too big and not too small but big enough to hold a 12-inch pizza. But what I really wanted to know is does it live up to the promise and the hype?
The answer is yes. Full disclosure: I've already placed my pre-order. The WLabs™ Smart Oven is a limited-edition release with only 2,000 units available.
Here's why I ordered it: because no matter how much I cook, I'm always looking to make it easier, more convenient and more streamlined. The food recognition and the app helps execute on both fronts. To start, the auto food recognition feature scans the food, recognizes it and then the oven provides options for cooking. Along the way I can check on the status of the food by using the oven's Live Look In* feature that connects to an app— no more opening that oven door or lifting the lid and compromising the cook time or better yet, no more breaking away from an intense game of Candyland to check on the chicken while the toddler clings to my leg to make sure I come back. Nope. Now I can see it all on my phone. Along with that, the Whirlpool app is going to allow me to command the smart oven from anywhere via the app.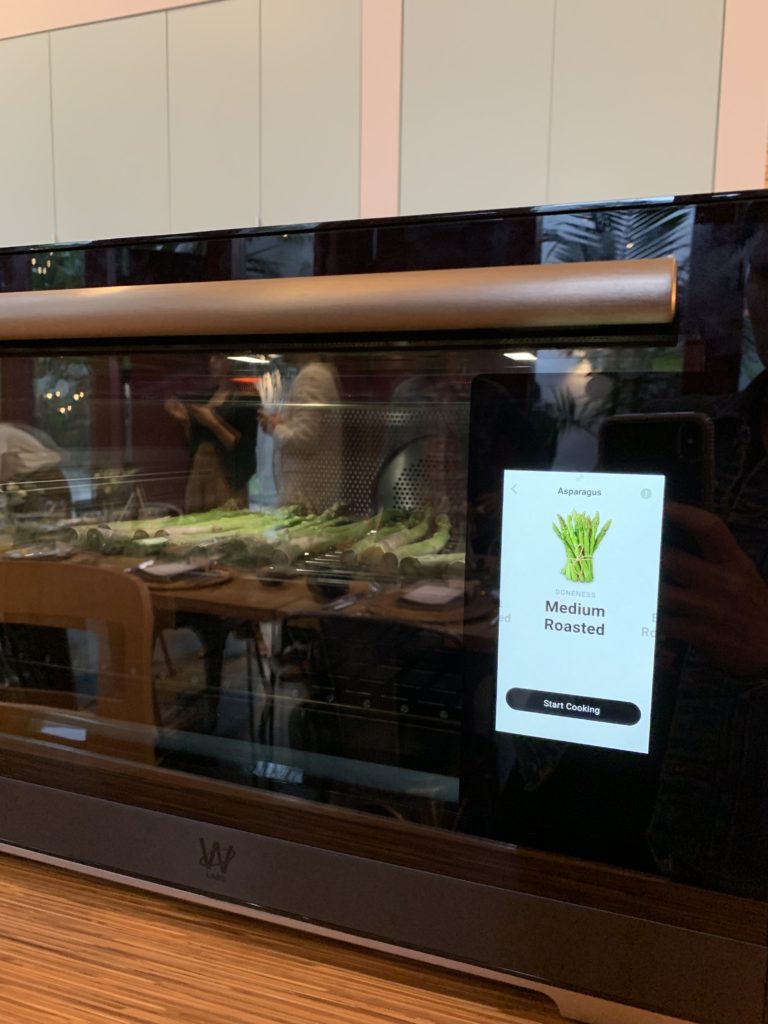 Next up – features: Counter space in the kitchen is at a premium, so having a countertop appliance that has 11 different modes and can replace one or two other appliances – I'm in. The WLabs™ Smart Oven offers 11 different modes (bake, convection bake, broil, convection roast, toast, reheat, proof, dehydrate, air fry and keep warm).
Now let's talk about ease of use: what can I say, other than even my 12-year-old will be able to use this. He already has a love for cooking, and is super excited for this as well. Which means between myself, Naomi and him there will be no shortage of who wants to make dinner.
Yay, to time-saving smart products like this. You can pre-order one now using this link. But get on it fast, because like I said, the WLabs™ Smart Oven has a limited quantity of 2000.
And stay tuned, because I can't wait to share more about the smart oven when it arrives in August.
*Appliance must be set to Remote Enable. Wifi & App Required.