Meet the easiest 2018 Valentine's dessert: Valentine's Chocolate Pops. Grab your favorite chocolate, melt, stir and top with sprinkles—done.
That is unless you are working with a toddler who manages to eat and spill more sprinkles than the handful that actually makes it on top of the pops. It's crazy how much he loves sugar and sprinkles. He definitely gets it from Naomi but I'm beginning to think at this rate his sweet tooth will outpace her's by the time he's 5. I mean, look at the picture below. He looks like he's patiently waiting, but in fact, I had him sit on his hands because he kept finger-dipping into the chocolate..
Then there's my ten-year-old, who doesn't care for sprinkles (hasn't since he was old enough to cry about them), but wanted to make these chocolate pops as much as his toddler brother. In fact, he nearly ran over his brother to claim his spot at the table. While he may not like to eat sprinkles he loves to make food with them. I get it. I'm not huge into sprinkles but I won't deny they do have a way of making things really pop.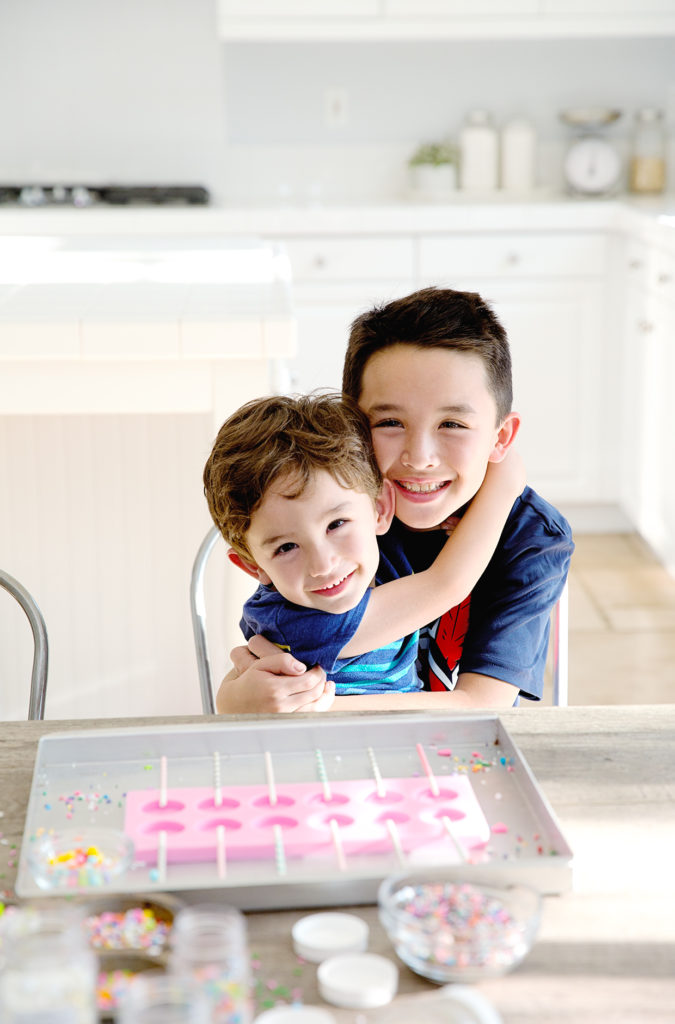 More importantly, I'm beginning to understand the power of  sprinkles, it's like fairy dust. I've never seen my boys so eager to make something—makes me wonder if there's such a thing as sprinkle soup or sprinkle crusted chicken because if there is, I bet I could convince the boys to make dinner.
Yield: Makes 18 1 1/2-inch pops
Valentine's Chocolate Pops
Ingredients
11 oz. dark chocoalte
sprinkles
Instructions
Place chocolate in a heatproof bowl. Place the bowl over a pan of simmering water and melt the chocolate, stirring constantly.
Transfer chocolate to a pastry bag. Pipe melted chocolate into lolipop forms.
Dust sprinkles on top and set aside for chocolate to set.