Sweet and Spicy Maple Bacon Chex Mix – Meet your newest snackable bite that's a blend of sweet and spicy with a heavy hit of maple bacon. Gather the ingredients and fire up the oven because if you want to know how long to bake this Chex mix for, it's only 20 to 25 minutes—that's 30 minutes give or a take a few minutes to pull this together from start to finish.
Now that the Super Bowl is over, let's just pivot our game day eats towards basketball, specifically March Madness. If you haven't already guessed, sports are a big thing around here, so yay to a few more months of rolling out party food like this Sweet and Spicy Maple Bacon Chex Mix.
Of course, you don't need a game day to make this snack. In fact, most times, this sits on my kitchen counter in an air tight Mason jar and we snack on it when the craving hits. It's easy to make and keeps well, so make a double batch because this is dangerously addicting and goes fast! Don't say you haven't been warned.
Yield: Makes 12 cups
Sweet and Spicy Maple Bacon Chex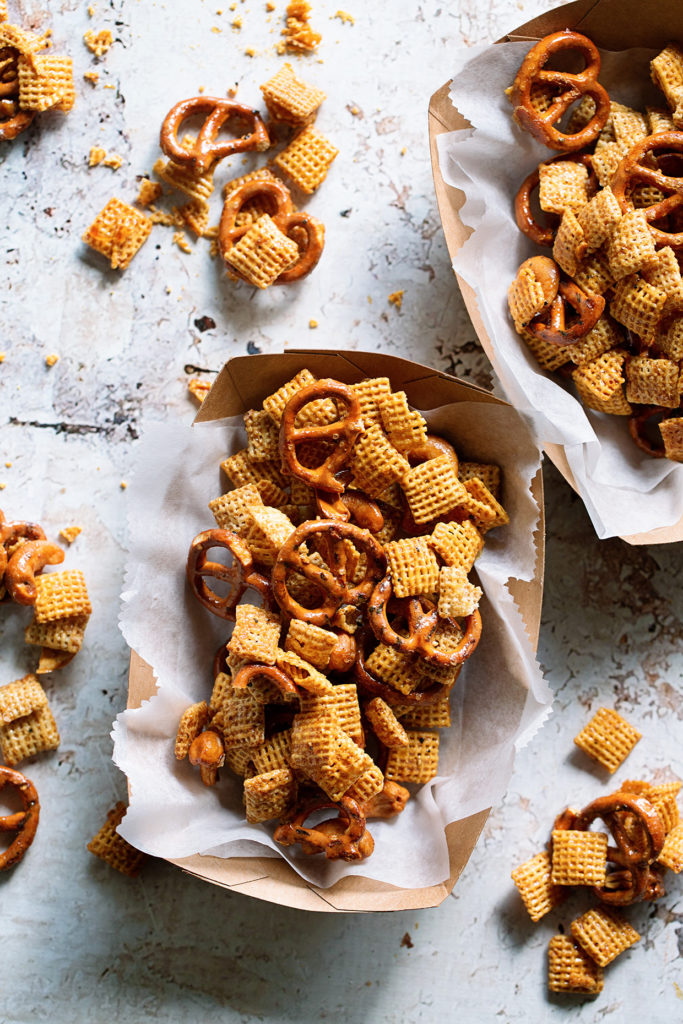 Ingredients
2 cups Honey Nut Chex
2 cups Rice Chex
2 cups Corn Chex
2 cups roasted cashews
2 cups mini pretzels
10 strips of cooked bacon, crumbled
1/2 cup maple syrup
1/4 cup brown rice syrup
2 tablespoons Sriracha
1 1/2 tablespoons fresh black pepper
Instructions
Heat oven 325 degrees F. Line baking two baking sheets with parchment paper
In a large bowl, mix together the cereals, cashews and pretzels; set a side. In a second bowl mix together the maple syrup, rice syrup, Sriracha and black pepper. Pour the wet mixture over the cereal and toss to combine.
Divide the mixture between two baking sheets and spread into a single layer. Bake for 20-25 minutes stirring every 10 minutes until the cereal mix is dry and crisp. Remove from the oven and transfer to a wire rack to completely before storing.
Keep refrigerated for up to 5 days. When ready to serve, remove as much as needed to serve and consume within 2 hours.