Spring Power Salad ~ A salad made of a mix that includes tender greens layered with bright citrus and chicken grilled with a zippy marinade that finishes with a garlicky bite.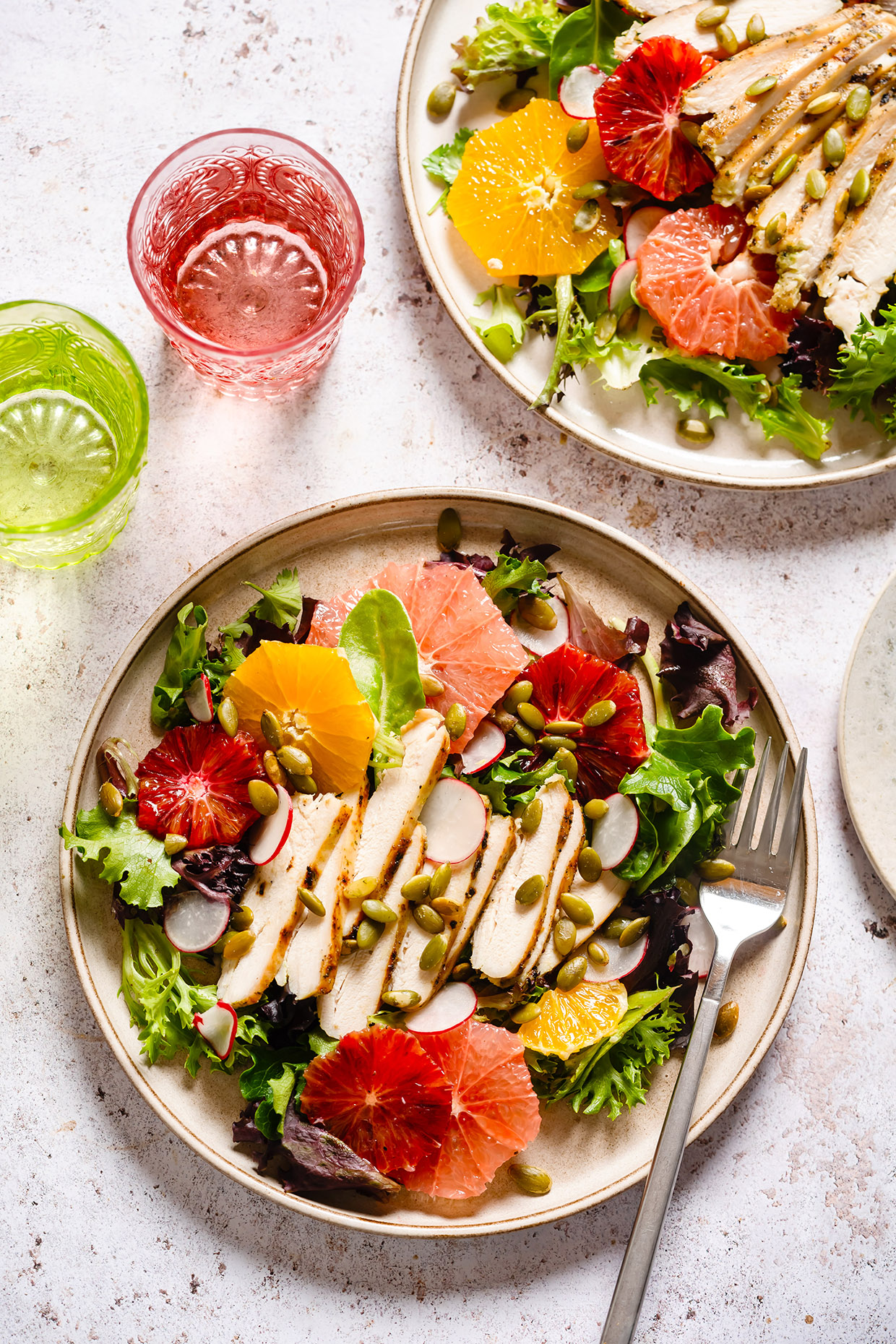 **This is a sponsored post in collaboration with Kroger. All thoughts and opinions are my own.
This is not a side salad. The grilled chicken gives it all the heft it needs to make this a full fledge meal. That is unless you are like my teenager who is hungry every hour. If that's the case, pick up extra of everything while you are at Kroger. Load up on the freshest produce from local farmers, stock your fridge and your pantry with a wide selection of low-price groceries and affordable organic foods from the Simple Truth Organics line. As a dad I love that Kroger makes meal time more budget friendly.
And since, I'm well tuned in with my son's eating habits I grill extra chicken when making this recipe. That way it's there ready for him to assemble a salad on his own or pick and snack on the chicken in between meals.
Lately he's been making his own, to avoid me putting in what he calls, "weird" stuff. Things like berries (because berries are so weird?), in his defense he says it interrupts the flavors of the citrus. He's kind of right on this one. I have a bad habit throwing in odds and ends to clean out the crisper when salads are made.
But the bigger upside of all this is he makes his own lunch, snack or dinner when it comes to this salad. Yay for me, and all of us really, this salad is easily adaptable to suit your preference, so have at it—just make sure to do the marinade for the chicken and grill it!
Spring Power Salad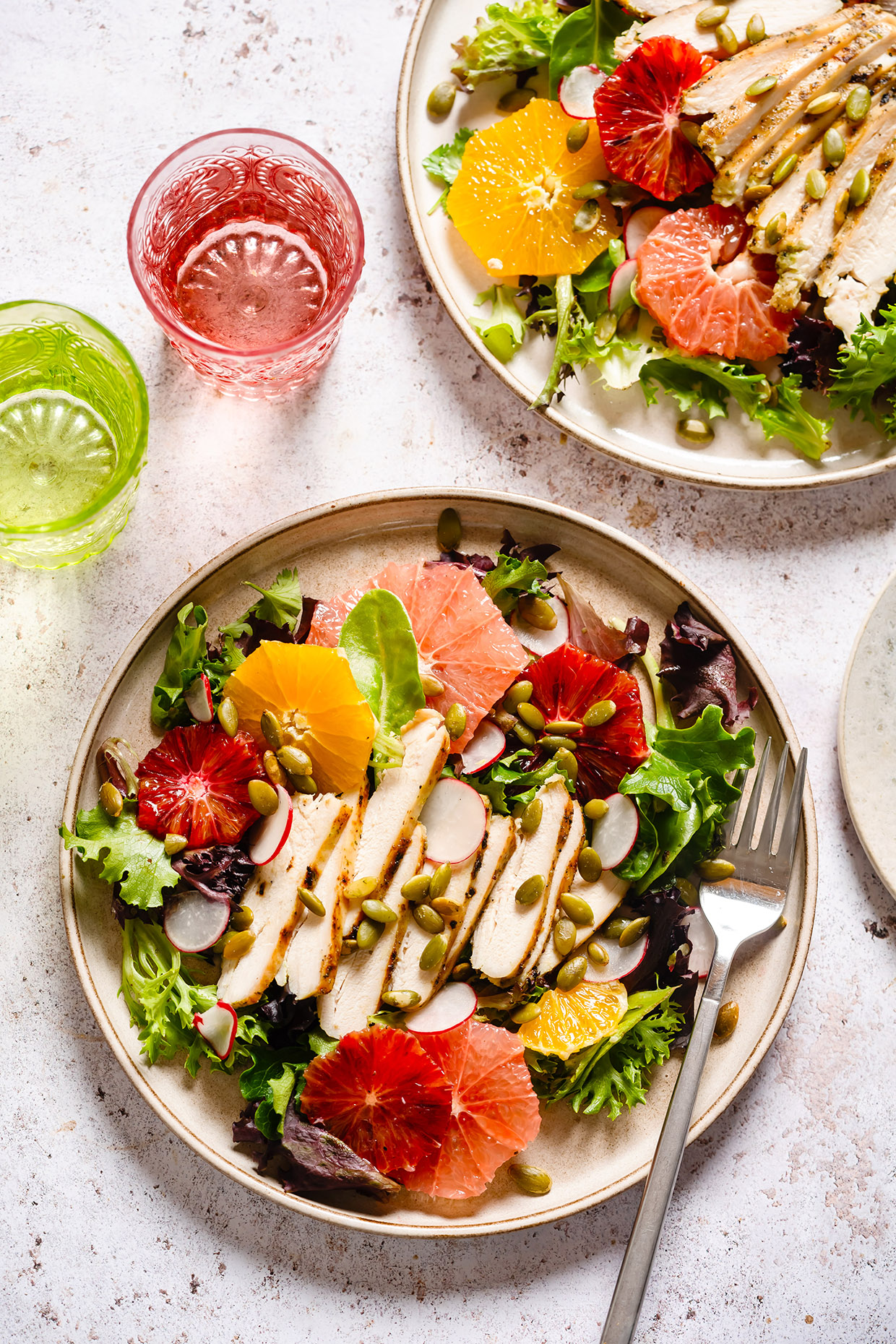 Ingredients
Marinade
1 bunch of scallions
1/2 bunch of cilantro
5 garlic gloves
1 jalapeño
4 tablespoons fish sauce
juice of 1 lime
1/4 cup mayonnaise
2 pounds boneless, skinless chicken breast
5 oz. baby spring salad mix
1 ruby red grapefruit
2 navel oranges
2 blood oranges
1/4 pumpkin seeds
5-6 radishes thinly sliced
Italian Dressing
Instructions
To make marinade: Place scallions, cilantro, garlic, jalapeño, fish sauce, honey, lime juice and 2 tablespoons oil in blender, puree until smooth

Toss chicken in marinade to coat completely. Set aside and heat grill.

Prepare grill: Light a chimney that has been filled to the top with charcoal. Once the charcoals are covered with gray ash, pour out and spread coals out evenly. Set cooking grate on top and place the lid on top to preheat for 5 minutes. Alternatively, set the burners on a gas grill to the medium heat and close the lid to preheat 10 minutes. Scrub grilling grate clean. Next oil the grate by tightly folding paper towel into a square and dip it in oil. Use a tongs to brush the heavily oil-soaked paper towel on the clean grates.

Remove chicken from marinade, let any excess marinade to drip off; discard marinade. Place chicken directly on the grill. Grill for a total of 12 to 14 minutes; flipping every two minutes. Chicken is ready when an instant-read thermometer inserted into thickest part of each chicken reads 165°F (74°C), about 20 minutes. Remove from grill and set aside to until cool enough to handle and slice.

Assemble the salad: In a large mixing bowl combine all the remaining ingredients and half the chicken, toss with dressing to lightly coat. Divide the mixture among 4 plates Place the remaining chicken on top and serve immediately.