Next to pizza, tacos are on repeat almost every other week. I'm always trying to find ways to keep my family fed and satisfied by keeping well-loved standards interesting.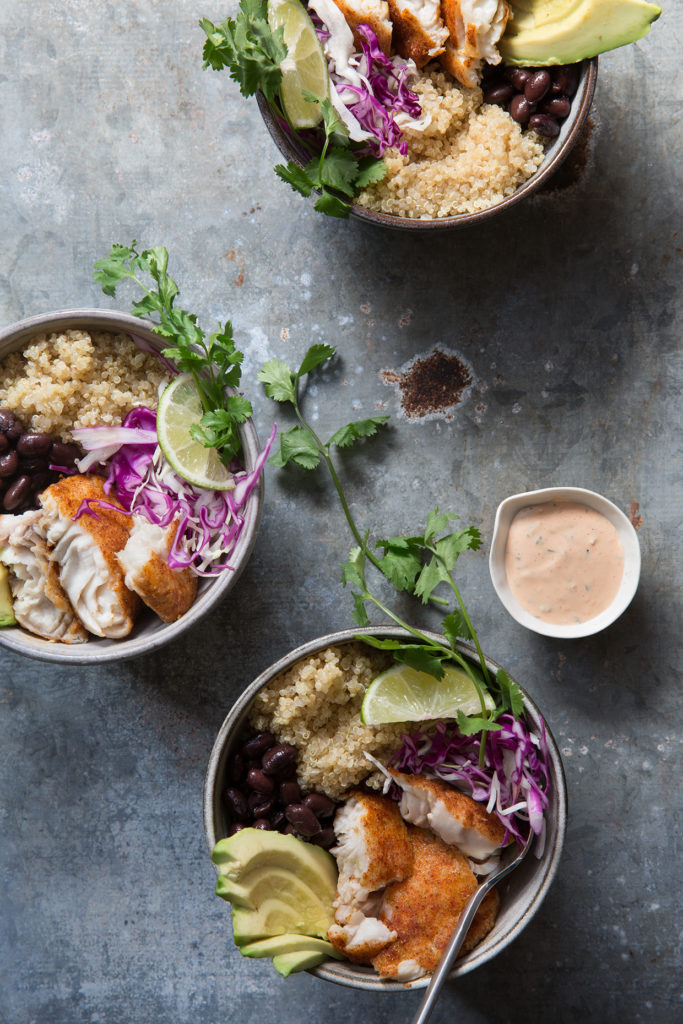 Today, I'm sharing how to flip a taco into a taco bowl. At the center of the bowl is my favorite tilapia from Regal Springs. Their tilapia is raised in pristine, deep water lakes. And since their fish is responsibly farm raised in oversized spacious floating nets, I like knowing my fish is not eating mud or waste at the bottom of ponds. There is no mystery in what the fish are eating. Regal Springs Tilapia are only fed a high-quality plant based diet. 
Rounding out the tilapia in this dish is angel hair coleslaw, quinoa, shredded radicchio, chopped cilantro, black beans and a Sriracha lime crema. Of course these are all the goodies I prefer. But since this is a taco bowl, use what you have on hand or what you prefer—just don't forget to use Regal Springs Tilapia, especially since their tilapia is mercury-free and antibiotic-free.
My family has a voracious appetite for tacos, so if anyone has suggestions for making this taco bowl or any taco better, let me know in the comments section.
 **This is a sponsored post in collaboration with my Regal Springs Tilapia partnership. All opinions are my own.


Yield: Serves 6
Spicy Taco Bowl
Ingredients
1 lb. Regal Springs Tilapia
1 1/2 teaspoon kosher salt
4 tablespoons flour
11/2 teaspoon chili powder
1 ½ teaspoon smoked paprika
1 teaspoon cumin
1 teaspoon garlic powder
½ teaspoon cayenne pepper
1/4 teaspoon onion powder
1 cup angel hair slaw
1 cup quinoa (cooked according to instructions) 1 cup radicchio, shredded
Additional add-ins:
Black beans
Sliced avocado
Lime wedges
Crema
1/4 cup sour cream
4 tablespoons mayonnaise
2 tablespoons Sriracha
1/4 cup cilantro, chopped
2 tablespoons lime juice
1 tablespoon lime zest
1 teaspoon kosher salt
1 garlic clove, minced
Instructions
Heat oven to 400 degrees F. Line a baking sheet with foil and mist lightly with non-stick spray.
Season tilapia with salt and set aside. In a large bowl, whisk together flour, chili powder, paprika, cumin, salt, garlic powder, cayenne pepper and onion powder. Dredge tilapia in flour mixture. Place tilapia on prepared pan and cook for 8-12 minutes or until fish flakes easily when scraped with a fork.
In the meantime, make the crema by whisking together all the ingredients in a bowl.
Divide the slaw and quinoa evenly amongst bowls. Top with beans, avocado and tilapia. Serve crema and lime wedges on the side.