We are only halfway through with summer, but for my boys who are about to go back to school, it feels like the end of summer for them. To keep summer around for as long as possible, I'm cranking out as much grilling food as possible for them. Today, I'm kicking off the week with this Southern BBQ Burger.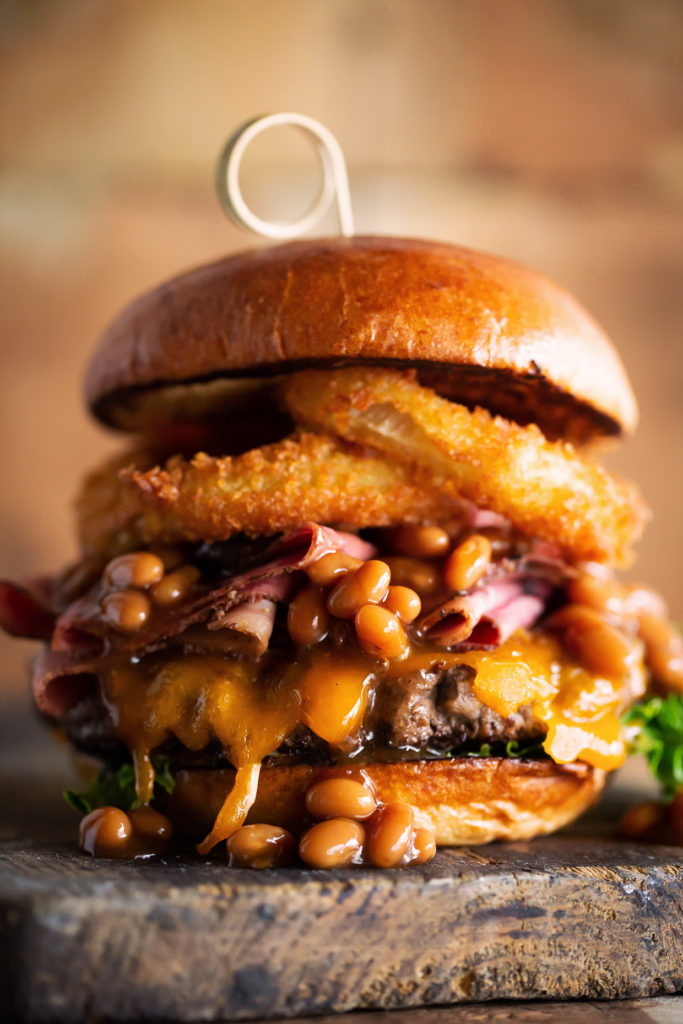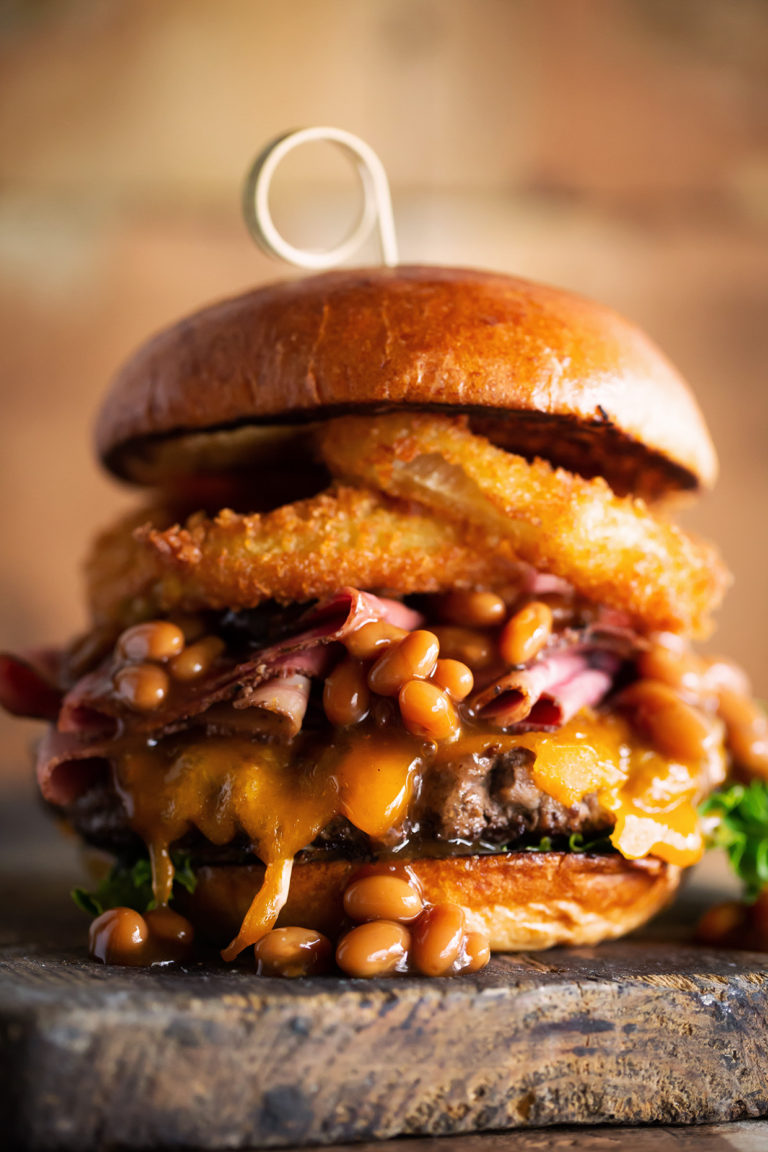 Sure, the bun-to-meat ratio might be slightly askew, but I don't think anyone is going to complain about a few slices of pastrami on top of a juicy burger for added smoke. And since I'm into big burgers, I added a layer of BUSH'S® Country Style Baked Beans for added sweetness, some onion rings for added crunch, and encasing all that is a toasted brioche bun—because nothing kills a burger like a dry, sesame-seed-riddled bun.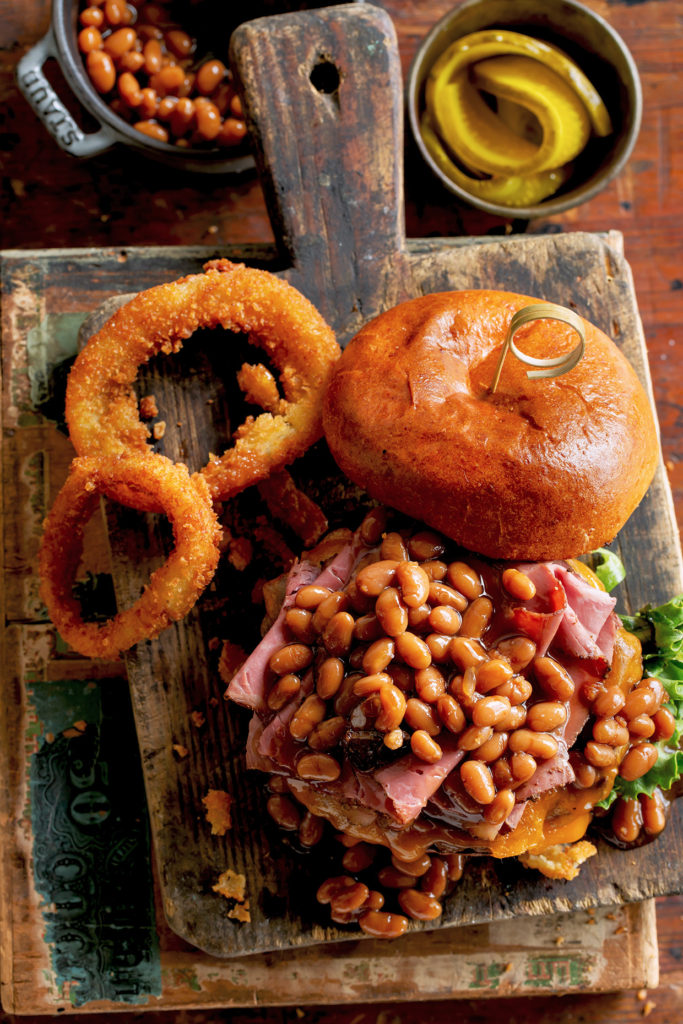 Trust me on the bun – go brioche when you can (I love the soft sweetness) and don't forget to toast it, otherwise you will have wasted all the effort with a sloppy, forgotten finish.
The pastrami is an important element. Get the best that you can from a good deli, otherwise it'll just be an extraneous layer of added calories that you'll have to run off later.
Now that you have the low-down, add this to your summer list of burgers!


Yield: Makes 4 servings
Southern BBQ Burger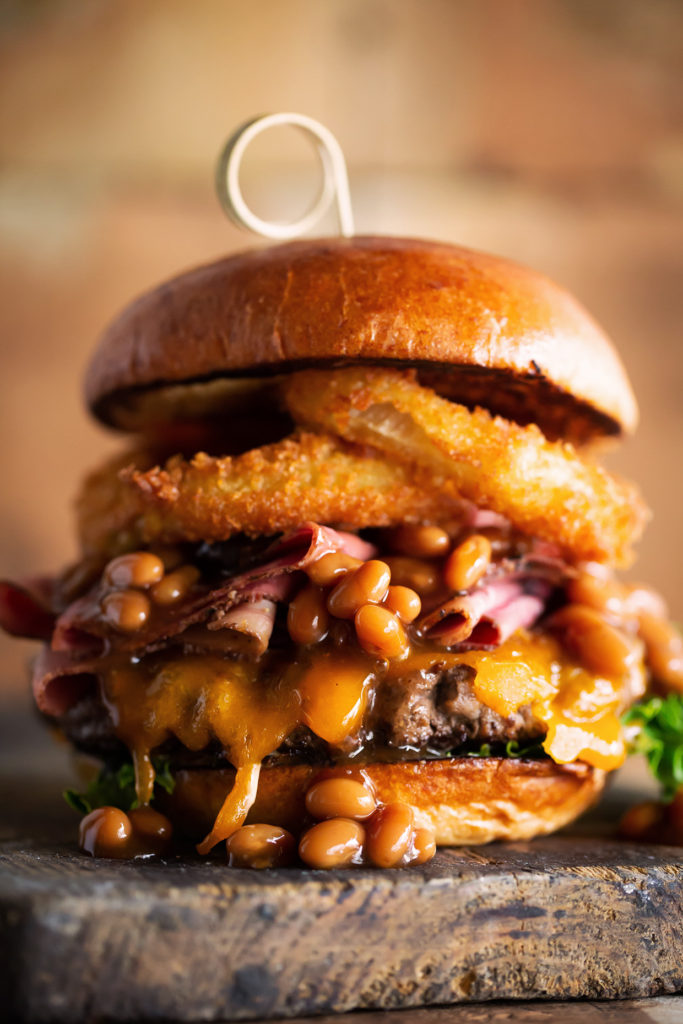 Ingredients
1 1/2 pounds ground chuck (80 percent lean)
Kosher salt and freshly ground black pepper
1 1/2 tablespoons canola oil
4 slices American Cheese
4 hamburger buns, split and toasted
lettuce and tomato
12 slices pastrami
1 cup BUSH'S Southern Style Baked Beans
6-8 onion rings
Instructions
Divide the meat into 4 equal portions. Lightly coat your hands with canola oil and form each portion loosely into a 3/4-inch-thick burger, using your thumb make a 1/2-inch depression in the center. Brush the burgers with a light layer of canola oil. Season both sides of each burger with salt and pepper.
If using a grill: Turn gas grill to high. For a charcoal grill, heat coals until ashed over. Grill the burgers for about 3 to 5 minutes or until a golden brown crust forms. Flip the burgers and cook for another 3 to 5 minutes, or until a golden brown crust forms.
Add the cheese, during the last minute of cooking and top with a stainless steel mixing bowl to help melt the cheese.
While the burger is cooking on the second side, prep buns by toasting them with a thin spread of butter. Layer with lettuce and tomato and any other desired condiments, so that the bun is ready to receive the burger.
Place the burger on the bottom bun, evenly divide the pastrami, BUSH'S Southern Style Baked Beans and onion rings among the four burgers and layer, finishing by placing the second half of the bun on top. Serve immediately.