I'm going fast and easy with today's trfile. It's all about layers, flavors and candy. Any candy will work, but Snickers is a favorite in my house and it was the little man's birthday this week, so we celebrated.
Unlike his older brother, he loves cupcakes, but hates getting frosting on his mouth or hands. To work around that, I made these trifles, it's basically a deconstructed cake. Works for me, because I'm not really handy when it comes to wielding a pastry bag for piping. He loved them!
But not more than a minute later, after he gave me big kisses for his special homemade treat he followed it up with, "Where's the cookie?"
Gah, I forgot to add the Oreos. The Oreos that he very clearly requested because he saw Oreos on his brother's ice cream cake.
Looks like I'll be revisiting this later this week for round two. Never mind that he's three and already learning to stretch out his birthday to birthday week.



Yield: Makes 4 servings
Snickers Trifle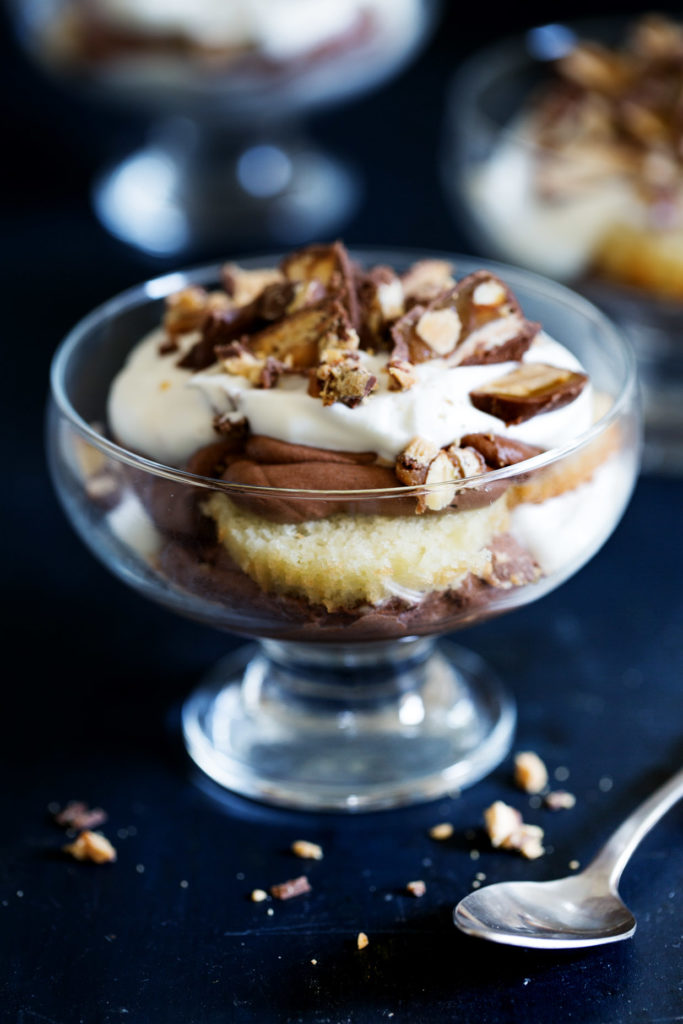 Ingredients
1 cup whipping cream (recipe to follow)
1 cup chocolate buttercream (recipe to follow)
4 cupcakes, unfrosted and sliced into horizontal thirds
1 cup chopped Snickers
Instructions
Evenly divide all ingredients between four glasses.
With each glass, halve the whipped cream and buttercream to create two layers. Start by layering the glass with the first whipped cream and buttercream half, followed by 3 cupcake slices. Repeat layering with remaining half of whipped cream and buttercream, top with chopped Snickers.
To make whipped cream: Combine 1 cup of heavy whipping cream and 4 tablespoons sugar into a chilled bowl. Beat until soft peaks form.
To buttercream: Whisk together 2 cups of confectioner sugar, 1/3 cup cocoa powder and salt; set aside. In stand mixer bowl fitted with a paddle attachment, cream 1/2 of unslated butter on medium low and add the sugar mixture in three additions and the milk in two additions, beginning and ending with sugar mixture. Make sure each addition is fully incorporated before adding the next, scrape down the sides of the bowl as needed.