It's the Monday before Thanksgiving so I'm keeping it light with a meatless pizza. Yes, meatless and you would never know it. I use Lightlife's Veggie Sausage and it's full of flavor and along with all the goodies on the pizza, it doesn't skip a beat in the flavor department. To keep things fast and easy, I made it a puff pastry pizza.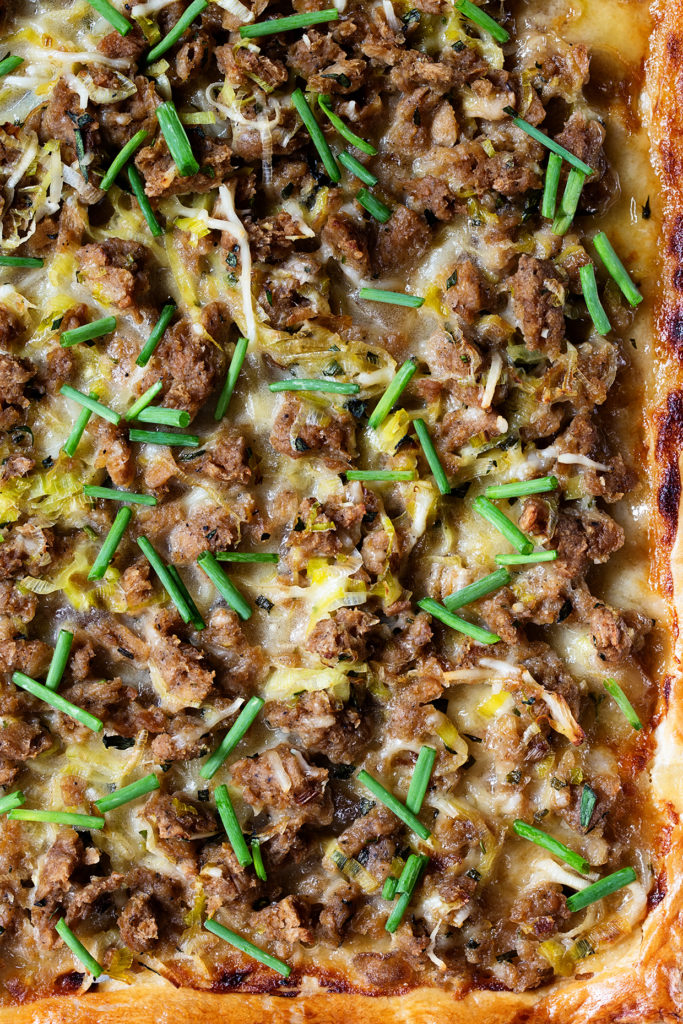 It's definitely a time-saving dinner for a busy week. And a must for this week. I don't know about you guys, but the holidays snuck up on me this year. I'm scrambling to get everything ready for Thursday. But on the upside, the Christmas tree is up and the house is fully decorated. Yay, to the little things like this. 
Now, I just have to figure out the turkey situations, since I've already missed the turkey brining window. Gulp. At least I'm can put this fast and easy puff pastry pizza on repeat one more night this week as I figure that all out.
Yield: Serves 4-6
Puff Pastry Pizza
Ingredients
1 14oz. LightLife Veggie Sausage package
1 puff pastry sheet, thawed according to package
1/3 cup onion and garlic jam
1 cup gruyere cheese
3/4 cup mozzarella
1/2 parmesan cheese
1 1/2 cups stalks leeks
1 cup chives
Instructions
In a large skillet, heat veggie sausage over medium heat. Set aside to cool.
Heat oven to 400F. Roll pastry out to 10x13 inches. Place rolled out dough on a parchment line baking sheet. Using a fork, puncture dough throughout. Bake for 10-12 minutes, or until golden.
Remove from oven and spread onion and garlic jam on top, layer with cheeses, sausage and leek. Return pizza to the oven and bake for another 10 minutes or until cheese is melted.
Serve immediately. Garnish with chives.