*This is a sponsored post in collaboration with Dean's Dips. All thoughts and opinions are my own. **
Alright, serious question for the day: are you a real dipper or casual dipper? If you fall in the latter, you need to come to a game day at my house and we can chat.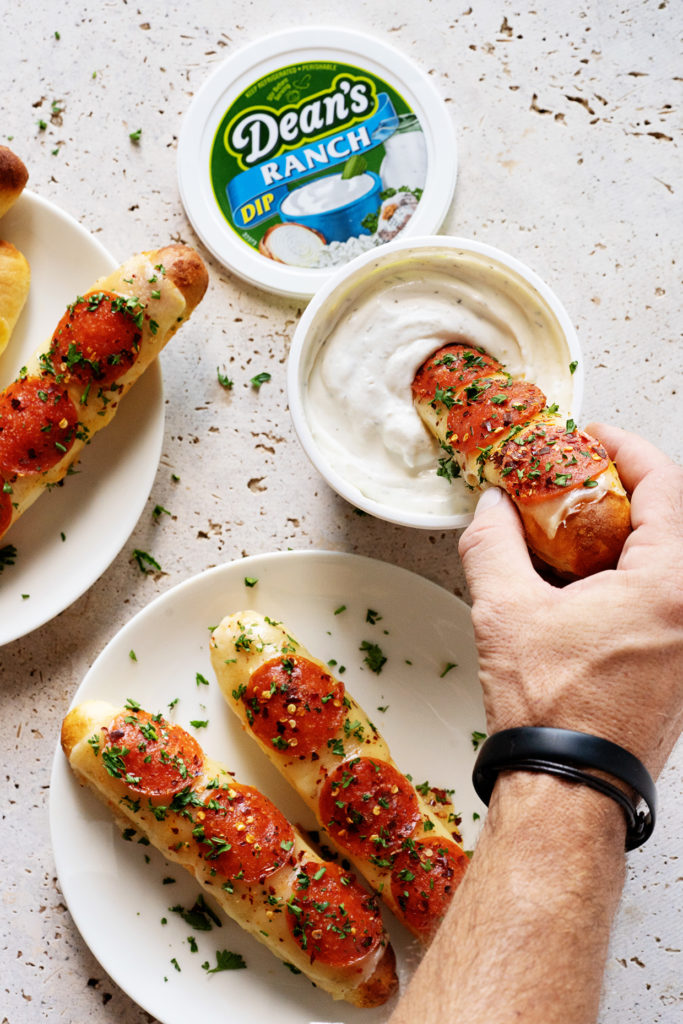 Sure the game is fun, but the food is always better —especially if you are die hard Dodger fan who just watched their team lose the World Series for the second year in a row.
Sucks.
What didn't suck- the eats from that day that we've now shifted to football games. Eats like these poppers made with Dean's French Onion Dip. They are incredibly easy to make and adding just a bit of Dean's Dip to the filling gives it a good flavor boost. But why stop there, I certainly don't—nope. Bust out the French Onion Dip, because those poppers are made for dipping.
Next up Pizza Bread Sticks. I proudly give you the best utensil for the serious dipper. Think your favorite breadstick turned pizza with two easy flicks of the wrist—add a slice of mozzarella and some pepperoni. You got this. Bake, dip and eat—bust out that wrist technique—and show your tailgating or homegating friends and family how to dip like a pro.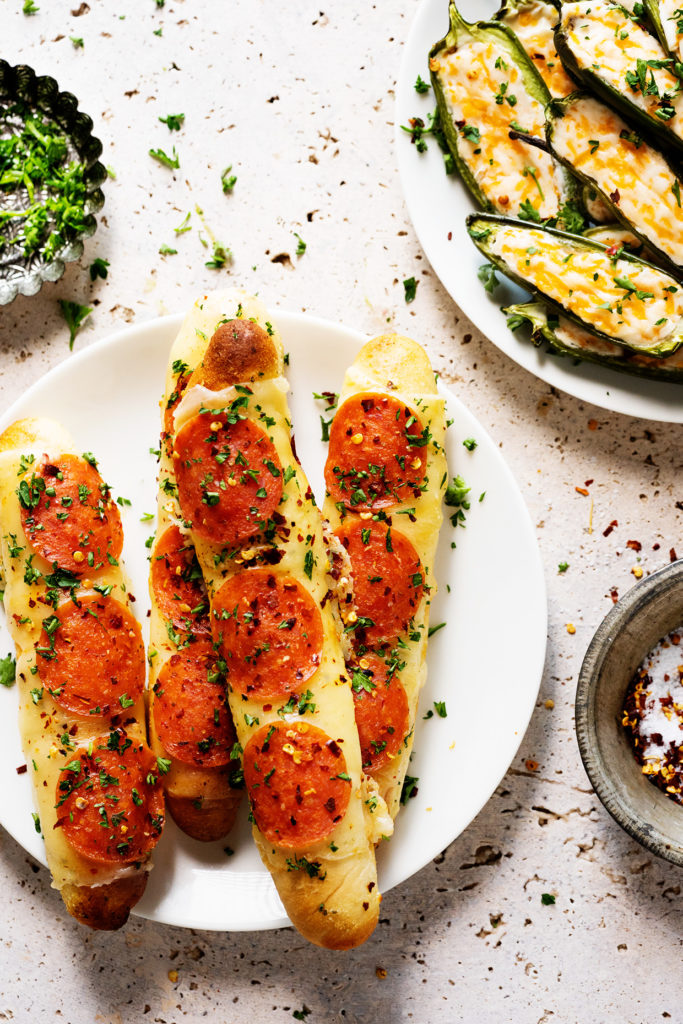 Need more visuals, for just the right technique, check out this video:
Do you see where I'm going here? It's all about the dip. Do it! What are you waiting for—grab your 16oz. tub, loosen those wrists and start looking at your food in a new way. Let's get dipp'n!
Pizza Bread Sticks
Makes 8 pizza bread sticks
8 bread sticks
8 slices of mozzarella cheese
24 slices of pepperoni
Heat oven to 400 degrees F. Place breadsticks on a baking sheet. Layer with cheese and pepperoni. Transfer to the oven and bake for 8-10 minutes. Top with red crushed pepper and chopped parsley. Remove from the oven and serve with Dean's Dip Ranch Dip.
Jalapeno Poppers
Makes 24 poppers
12 jalapeños, halve and seeds removed
8 oz. cream cheese, room temperature
1 cup sharp cheddar cheese
4 tablespoons Dean's Dip French Onion Dip
Heat oven to 400 degrees F. Halve jalapeños and remove seeds; set aside. In a large bowl, mix together cream cheese, cheddar cheese and Dean's Dip French Onion Dip until well blended. Transfer filling to a plastic bag and snip of the one quarter. Squeeze filling into hallowed out jalapeños. Place on a baking sheet. Repeat until all jalapeños are filled. Place baking sheet in the oven and let bake for 10-13 minutes. Remove from the oven and serve with Dean's Dip French Onion Dip.