Breakfast food as dinner has always been an acceptable thing in my home. So when the natives start to get tired of the usual "brinner" affair, I have to get creative.
Enter this paper-thin zucchini quiche topped with roasted chipotle chicken and fennel, with grilled zucchini. My second recipe for the TABASCO 10-Ingredient Challenge.
If you are familiar with fennel, then you know in its raw form, it has a strong anise flavor. But rub it with some olive oil, salt and pepper, then roast it at 400 degrees for 25 minutes and you will end up with something that is tender, sweet and with just the slightest hint of anise. It's pretty awesome how something can be so completely transformed.
This is one of those dishes with a few components, but plan ahead and it's a snap to make. Here are a few tips to stay ahead:
Shred the zucchini and squeeze out as much moisture as possible. This can be completed a day in advance and stored in the refrigerator in an airtight container (zucchini will surprisingly not oxide).
Roast the chicken up to two days ahead and grill the zucchini a up to a a day ahead. Store both in the refrigerator in an air tight container.
As for the remainder recipe components, they come together easily and quickly.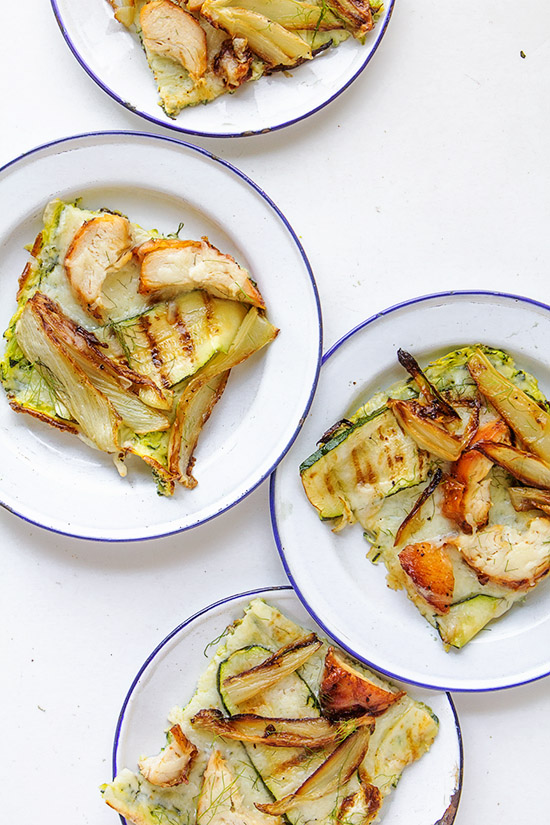 Yield: Serves 6
Paper-Thin Zucchini Quiche with Roasted Chicken and Fennel
Ingredients
2 tablespoons TABASCO Chipotle Sauce
2 teaspoons vegetable oil
2 lbs. chicken breast, skin on
4 large zucchini
1 large fennel bulb, quartered
2 large eggs, beaten
1 cup shredded mozzarella cheese
Instructions
Preparation: Heat oven to 350 degrees F.
Whisk together vegetable oil and TABASCO Chipotle sauce. Rub mixture onto chicken breast. Salt and pepper each each side to taste. Transfer to a bake sheet and roast, until thickest part registers 165 degrees F, about 12-15 minutes. Remove from oven, allow to cool before slicing.
With a food processor, shred zucchini or use the largest hole on a cheese box and grate zucchini. You should have roughly 5 1/2 - 6 cups of grated zucchini. Place shredded zucchini in a cheese cloth and squeeze as much moisture out as possible; set aside (see posts for notes if working ahead).
Rub quartered fennel with oil; salt and pepper to taste and place on a bake sheet. Roast fennel at 400 degrees F until caramelized, about 25 minutes. Remove from oven and set aside.
Slice remaining zucchini lengthwise and place on stovetop grill, cook on medium high heat until grill marks appear and zucchini is soft, about 3-5 minutes.
To assemble: Spray quarter bake sheet (approximately 12x9 inches). In a large bowl, mix and combine shredded zucchini with eggs and press into pan. Bake at 450 degrees for 8 minutes. Turn oven down to 375 degrees F and bake for another 10 minutes. Remove from oven and top with mozzarella cheese, leaving 1/4 cup to aside. Layer with roasted chicken, grilled zucchini and roasted fennel. Sprinkle remaining mozzarella cheese on top. Bake at 350 degrees F until cheese is melted, about 7-10 minutes.

This conversation is sponsored by TABASCO. The opinions and text are all mine.