Orange Chicken with an Olive Gremolata is a one-pan meal that's a little sweet and a lot of savory. The olive germolata tops it off with citrus-y brine finish that ties it all together.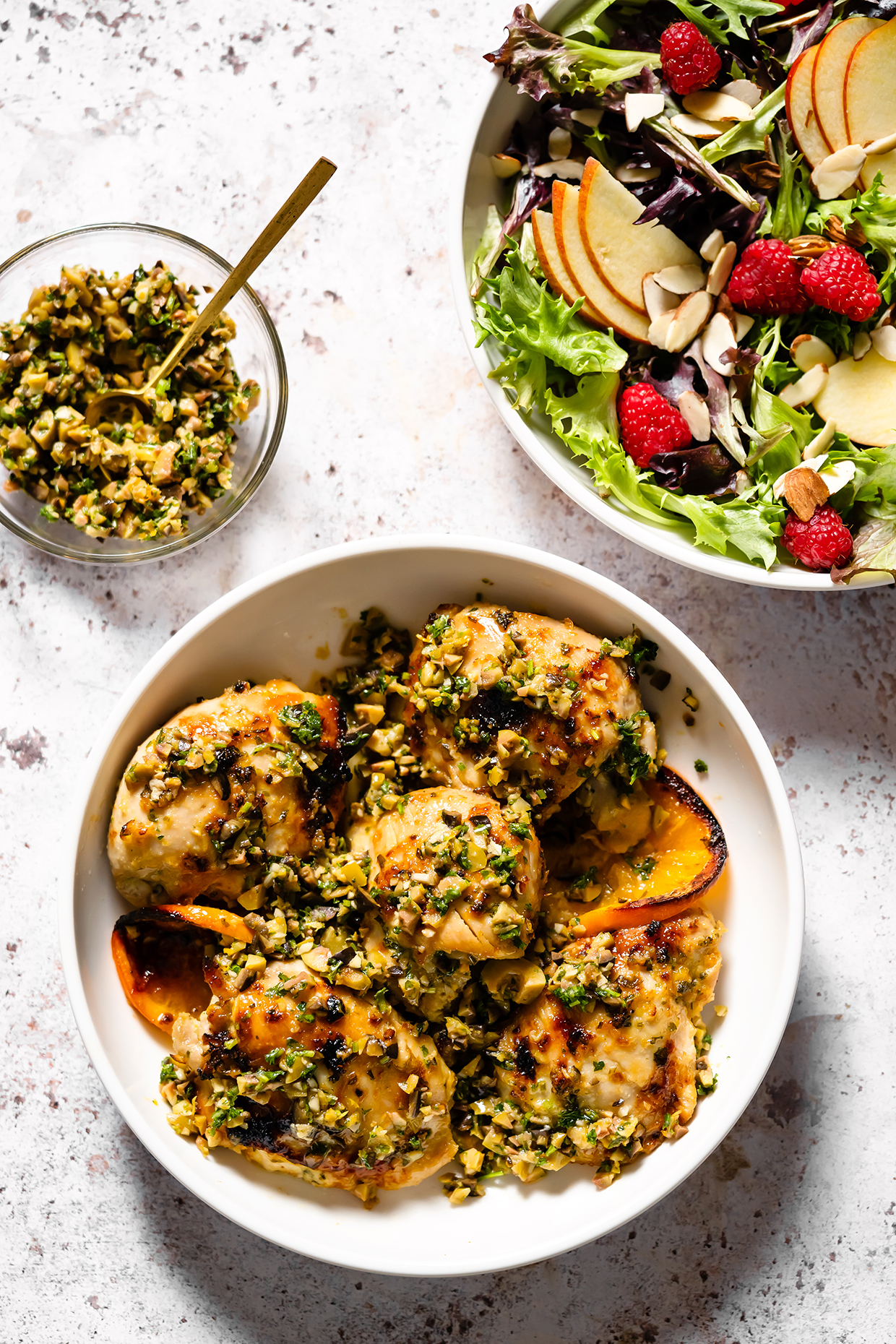 *This is a sponsored post in collaboration with Kroger. All thoughts and opinions are my own.
The best part of is the recipe comes together easily and quickly. Make the marinade, transfer it into a plastic bag, add the chicken, give it a quick massage to ensure the marinade coats every nook and cranny of the chicken pieces. Let this chill in the refrigerator for at least 20 minutes while you being your oven to temperature. If you are a planner, then you can take the recipe up to this point and leave the the chicken to marinade overnight.
If you didn't plan ahead or if you have a fluid schedule like me, . . . enter Kroger Delivery. You're familiar with the store, right? Well now they have an app that does Home Delivery through Instacart. With just a few clicks you can have everything delivered on your schedule—unpack, assemble and boom, dinner in no time.
I love it when a brand makes my life easier. You can find all the same broad assortments of fresh, pantry and household essentials as you would walking down the aisles. But the app gives you the freedom to shop from anywhere, anytime.
Now you have no excuses not to make this for dinner this week. Before you get started, let's go through some details, things you should know and question you may have:
Can I use something other than chicken thighs?
Yes, any cut of chicken will work for this recipe, e.g. chicken breast, thighs or drumsticks. Additionally, you can work with bone-in and skin-on or boneless or skinless. Make sure to check for proper doneness by inserting an instant-read thermometer at the thickest chicken part, where it should should read 165℉ to indicate chicken is fully cooked through.
Will this work with lemon instead of oranges?
Absolutely, it will work great with lemons.
Can I skip the broiling and just bake this?
Yes, the broiling helps to brown the top, but you can skip that to save yourself an extra step. You will need to extend the bake time, so make sure to use an instant thermometer to check for doneness.
What can I serve this with?
This can be served with rice pilaf, creamy polenta, roasted potatoes or a nice side salad of your choice.
Orange Chicken with an Olive Gremolata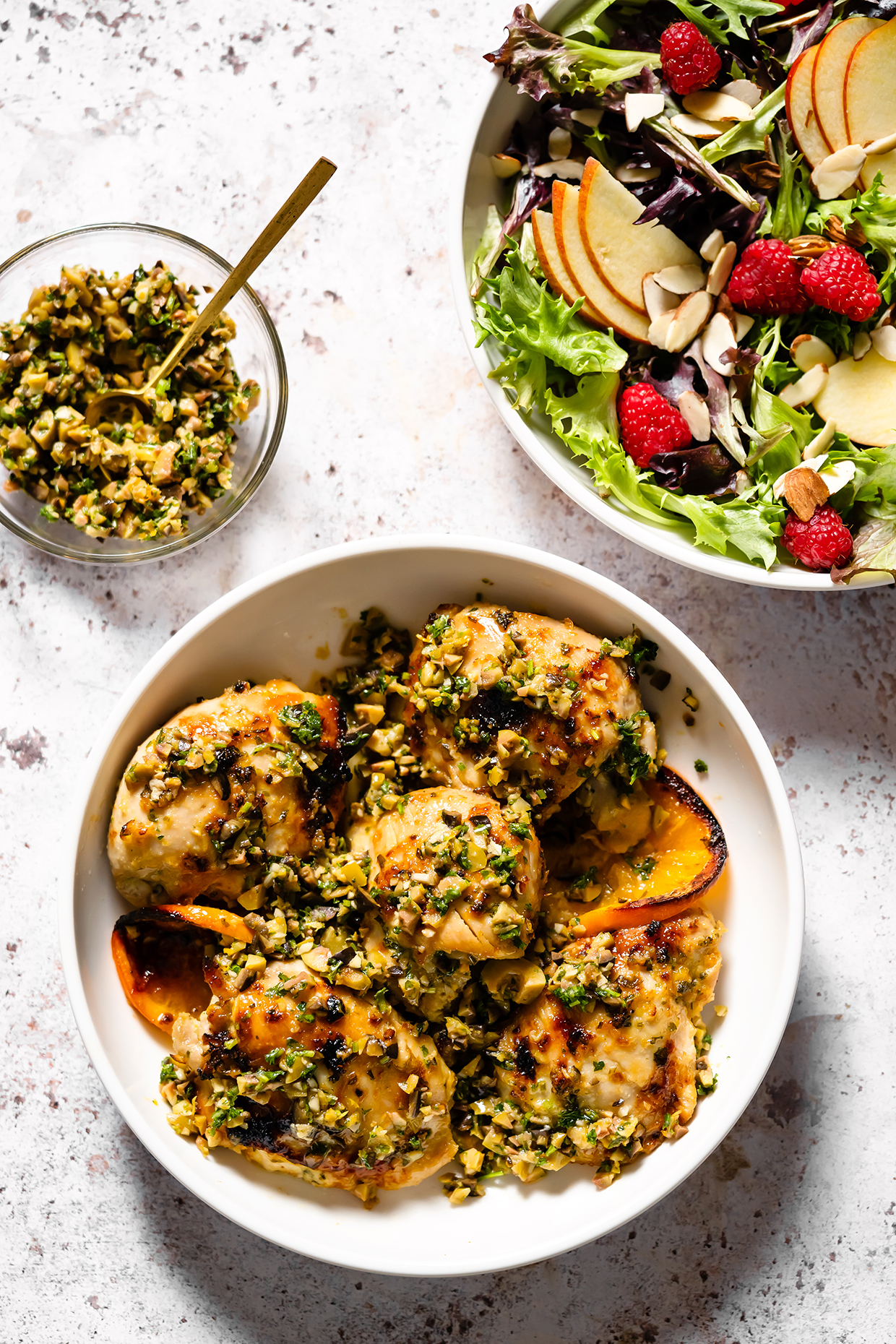 Ingredients
8 chicken thighs (boneless and skinless or *bone-in and skin-on)
1/4 cup parsley
6 garlic cloves, crushed
1/2 cup fresh orange juice
zest of one orange
2 small oranges, thinly sliced
1/4cup olive oil, divided use
2 teaspoons granulated sugar
1/2 teaspoon kosher salt
1/2 teaspoon fresh black pepper
Olive Gremolata
7 oz. olives (mix of green and black olives, pitted and finely chopped)
2 garlic cloves, minced
zest 1 orange
3 sprigs of parsley coarsely chopped
1/3 cup olive oil
1 tablespoon orange juice
squeeze lemon juice
Instructions
In a large bowl whisk together parsley, garlic, orange juice and zest, 1/4 olive oil, salt and pepper. Add the chicken and toss to coat. Cover with plastic wrap and transfer to the refrigerator to marinate for 3 hours (or overnight) or for at least 20 minutes. To make the gremolata, place the olives, garlic, orange zest, parsley and finely chop all together. Transfer to a bowl and toss with olive oil and orange juice. Set aside for flavors to infuse.
Heat oven to broil on high. Place a few orange slices onto the bottom of the pan. Remove the chicken from the marinade and lay chicken pieces in a single layer. Tuck orange slices throughout. Dust with sugar. Broil on high for about 2-3 minutes, or until top of chicken pieces and orange slices start to brown and char. Rotate pan as needed for even browning. This happens quickly, so keep a close eye on the chicken.
Once browned and charred, turn oven down to 375 and bake until chicken is cooked through, about 15 - 20 minutes or until instant thermometer registers 165ºF at the thickest part of the thigh. Scatter gremalota on top. Serve immediately.
*If using bone-in and skin-on, total roast time may need to be extended to 30 minutes total or until chicken registers 165ºF at the thickest part of the thigh.