This is a sponsored post in collaboration with the National Chicken Council.
Fast and easy dinners like this Meatlovers Pasta is a staple around here. For the protein I use pancetta and chicken. To keep it simple I used rotisserie chicken. It's my go-to when I need sustenance and protein fast.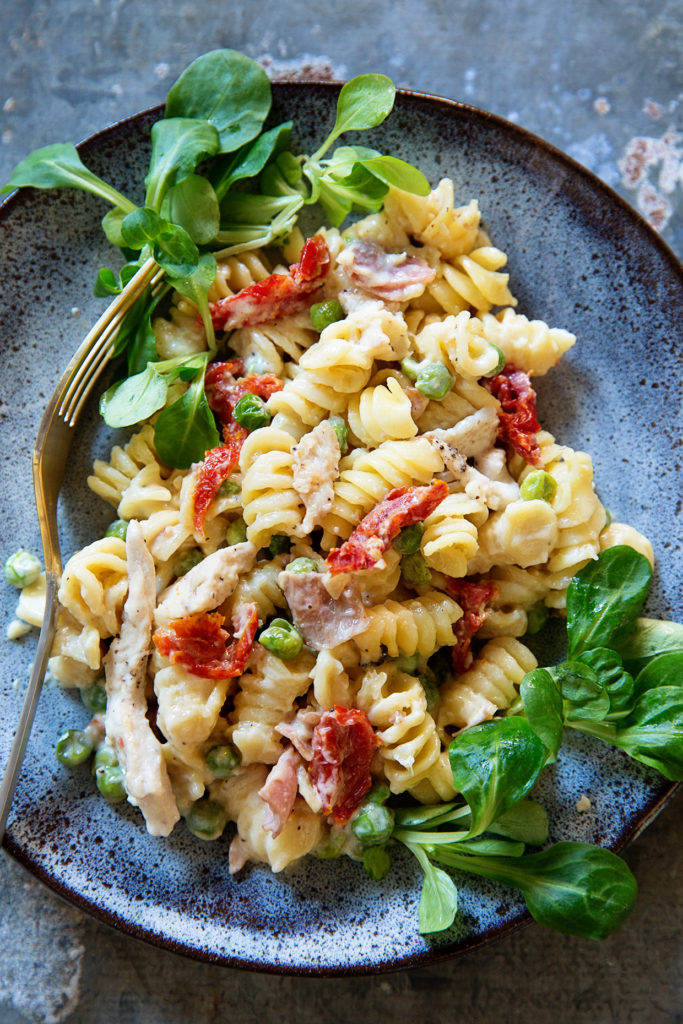 If you are anything like me, you tend to be picky about your rotisserie chicken. For example in the past I steered cleared of anything that appeared bigger than "normal" anything heavier and more plump than average surely had to be pumped with some sort of Frankenstein juice. Same thing for the chicken parts in wrapped in plastic – I equated big juicy chicken parts with hormone and steroid injections.
As it turns out, my recent trip along with a few other bloggers to Maryland in collaboration with the National Chicken Council made me realize a few things about how broiler chickens (meat chickens) are raised. We were graciously hosted by Jenny Rhodes, the owner of Deerfield Farms, for a full tour. Jenny raises chickens for a local company, Allen Harim.
Here are a few myth busters:
All chickens raised for meat are free of added hormones and steroids. It's actually been against the law to inject or otherwise administer either of these things into chickens, and has been since the 1950's. So why the range in size – it all depends on the breed of chicken and when the chicken is harvested. The bigger ones are raised longer.
Free-range vs. cage-free: All chickens raised for meat are cage-free. Fre- range chickens have access to go outside for parts of the day, but most chickens will choose to stay in the chicken house near their water and food supply and where the temperature is controlled and set to maximum comfort.
ABF and NAE: All chickens, if fallen ill in any sort of way, are seen by a veterinarian and put on a protocol. These flocks that have been treated with antibiotics are no longer eligible to be marketed as ABF ("Antibiotic-Free") NAE ( "No Antibiotics Ever"). All chicken is tested for antibiotic residue by USDA before it arrives at grocery stores or restaurants. That means there are never antibiotics in the chicken meat you buy at the store.
These are just a few of the most talked about and labeled "issues" that I gained some much needed clarity on, but you should really head on over to the National Chicken Council's Chicken Check In site to educate yourself
When you are done, come back share with the rest of us what you didn't know prior to going there.