The first time I had a Singapore Sling, I didn't even know what it was, and I probably wouldn't have remembered it if Naomi hadn't ordered it for me when we were first dating.
Needless to say, I married her and she's still making them for me. Today, I took one of our favorite drinks and turned it into a Popsicle. We are always playing around with this drink to give it varying flavors, but this mango & passion fruit sling popsicle is hands down my favorite.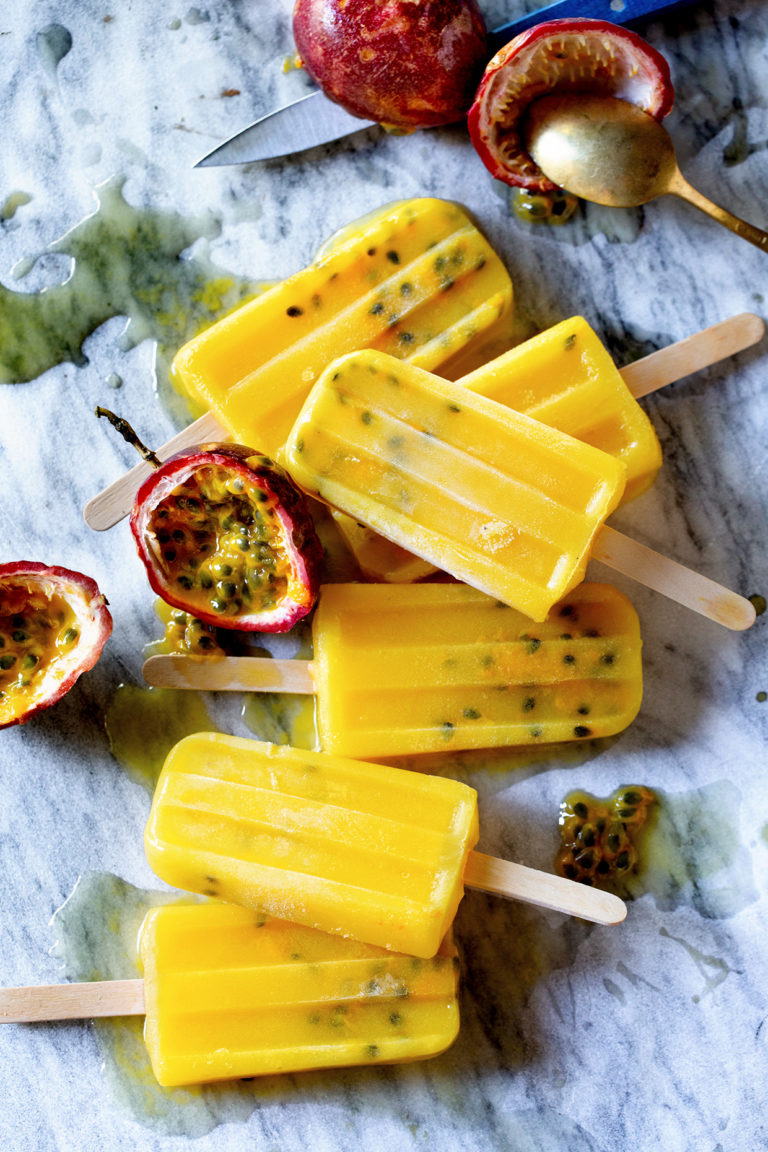 I don't know how I've gone all my childhood and adult life without ever trying passion fruit up until just a few weeks ago when Naomi forced me to try one after I lost a bet. That's what happens when you grow up being a picky eater — you miss out on a lot. The upside is having discoveries like this one. Now I want to try it in and on everything.
The only problem is it's hard to find and—oh my gawd—it's so pricey. I nearly dropped my wallet when the cashier rang me up for 8 of them at $30. I mean, two scoops and you're done. But those two scoops are just about the most tropical tasting summer bite I can get with out hopping on a plane.
And BTW – Naomi and I are back at it again with our competition. This time we are going head-to-head with boozy popsicles. She's got a up a Spicy Paloma that honestly, is going to be tough to beat, but I think I got this one. Head over to my InstaStories and vote!


Yield: Makes 10 2-ounce popsicles
Mango and Passion Fruit Sling
Ingredients
1 cup pineapple juice
2/3 cup gin
8oz. mango fresh or frozen
5 tablespoons Benedictine® liqueur (or Angostura Bitters if you don't have Benedictine)
5 passion fruit, halved
Instructions
Place first four ingredients into a blender and blend until well combined and fruit is pureed. Fill one popsicle well 1/4 of the way up then empty half of a passion fruit into it and then finish by filling that well with more pineapple and mango mixture. Repeat with remaining wells. Cover popsicle mold with foil. Cut a small hole through the foil in the center of each well. Insert popsicle stick and transfer to the freezer to set for 4 to 6 hours. Setting time will vary according to freezer setting and how full your freezer is.