This post is in collaboration and sponsored by Imagine®
I gave my Italian Soup a better-for-you update by starting the base off with a combination of Imagine® Chicken Bone Broth and Imagine® Organic Super Greens Soup.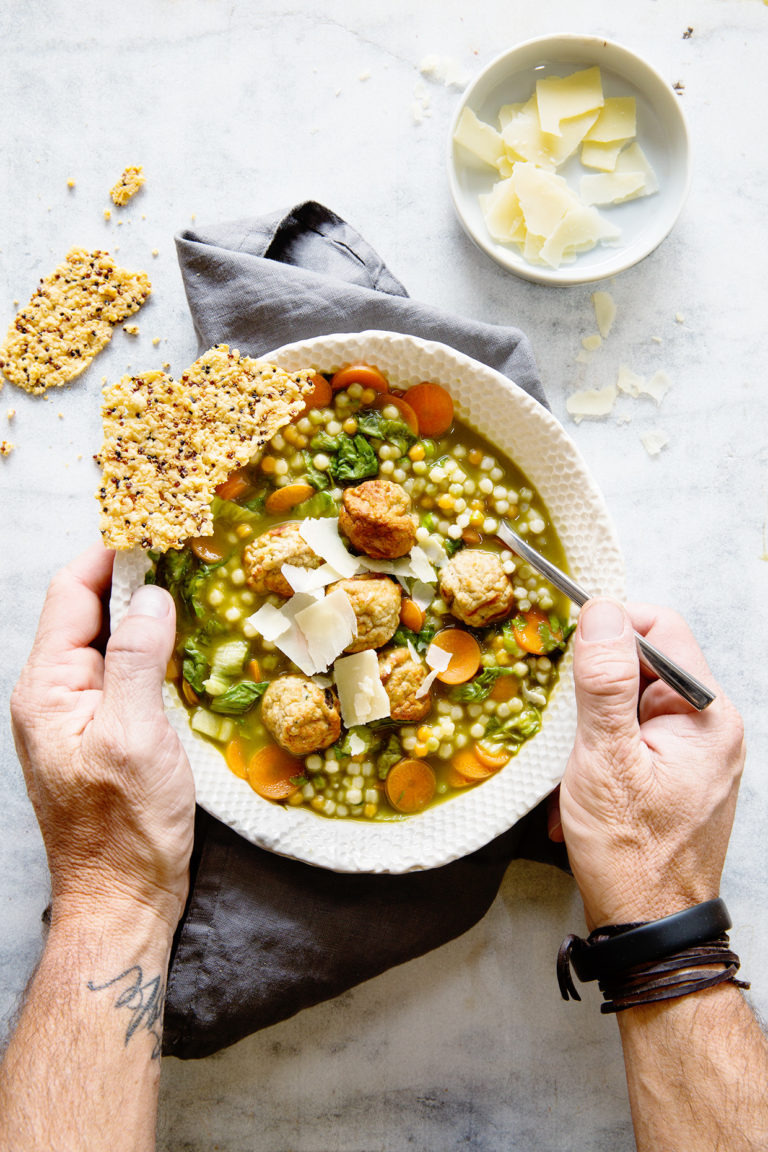 This soup is light as ever and made with nutrient-packed ingredients like spinach, green peas, broccoli and a sweet touch of coconut cream. The broth contains non-GMO products and is made with real, wholesome ingredients with no artificial ingredients or preservatives. And since their products are readily available at my local grocery store, I'm revisiting all my soups and leveling them up with a little help from Imagine. To find out where you can find their products, click here.
You may be wondering—Spring has sprung so what's up with all the soup? I'll tell you what's up with all this soup, it's spring and its California so all this late winter rain, while great for this dry state, is really messing up a few things on the home front.
Things like . . .
Baseball schedules which will now have to be moved around and doubled up on what is already a mad-crazy season.
Snow is falling up in Northern California which means next week's road trip requires snow chains for my new all-terrain tires that specifically state not to add chains.
And Naomi has me on some crazy building project for her organic backyard farming. A project that is proving to be more challenging with each revision from the said "It'll be easy, I just need a big rectangular box".
Although admittedly, I'm kind of grateful for the rain when it comes to the last one mentioned above. I'd much rather turn out soup for the family then spend my day doing Home Depot runs and redesigning a project that has already seen 4 iterations.
Yield: Serves 6
Italian Wedding Soup
Ingredients
Meatballs
• 3/4 pound ground chicken
• 1/2 pound Italian sweet sausage
• 2/3 cup fresh white bread crumbs
• 2 teaspoons minced garlic
• 3 tablespoons chopped fresh parsley leaves
• 1/2 freshly grated Parmesan
• 3 tablespoons milk
• 1 large egg, lightly beaten
• Kosher salt and freshly ground black pepper
Soup
• 2 tablespoons good olive oil
• 1 cup minced yellow onion
• 1 cup diced carrots (3 carrots), cut into 1/4 inch pieces
• 3/4 cup diced celery (2 stalks), cut into 1/4 inch pieces
• 5 cups Imagine Chicken Bone Broth
• 5 cups Imagine Organic Super Greens
• 1/2 cup dry white wine
• 1 cup small pearl cous cous
• 12 ounces escarole
Instructions
To make the meatballs: Place all ingredients in a bowl and gently combine (taking care not to overwork). Create 1 1/2 inch meatballs and transfer to a parchment lined baking sheet. Bake at 350 degrees for about 30 minutes, or until meatballs are cooked through and lightly browned. Set aside.
In the meantime, to make the soup, heat olive oil over medium-low heat in a large heavy-bottomed soup pot. Saute the onion, carrots, and celery for about 5 to 6 minutes, or until softened, stirring occasionally. Add Imagine Chicken Bone Broth, Imagine Super Greens, the dry white wine and bring to a boil. Add the pearl cous cous then turn heat down to a simmer and cook for 8 to 10 minutes, or until the cous cous is tender. Add the meatballs to the soup and simmer for 1 minute. Season with salt and pepper to taste. Stir in the fresh escarole and cook for 1 minute, or until the escarole is just wilted. Ladle into soup bowls and serve with cheese crackers and Parmesan cheese.