I don't know how it goes for any of you, but for me, the kitchen is my playground. There are as many successes as there are failures, but what always remains constant is my curiosity to learn more. With that, I'm excited to share that I've partnered with KitchenAid to show you how to create a savory hand pie made with homemade ground beef using its Metal Food Grinder Attachment.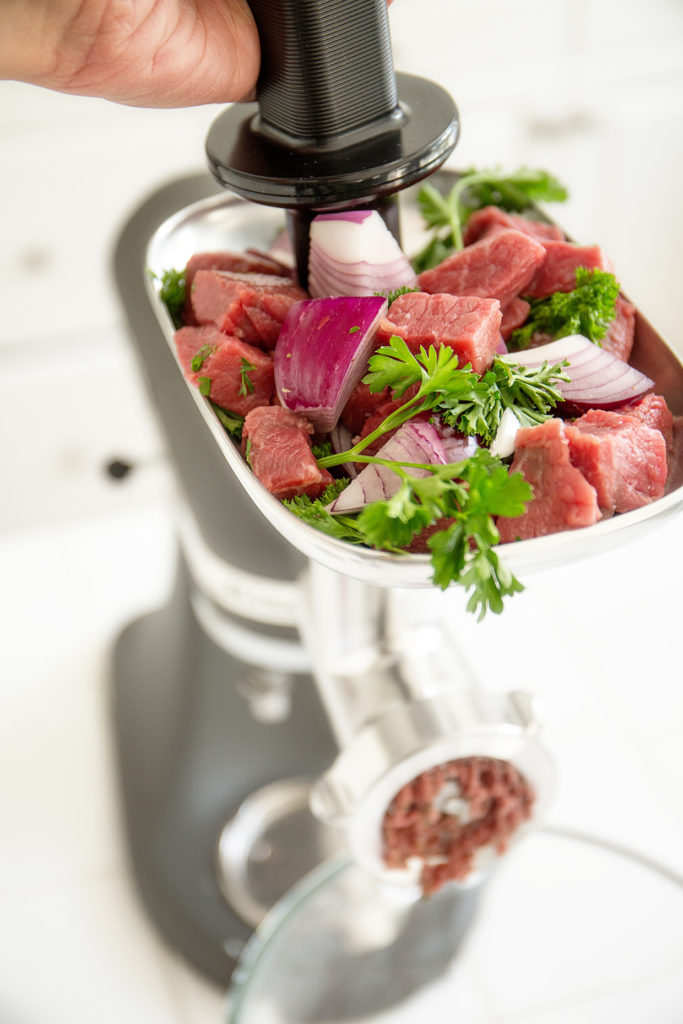 If you've never used a meat grinder before, I'm here tell you two things: (1) up until few weeks ago, I hadn't either, and (2) you are going to love the KitchenAid Metal Food Grinder Attachment.It's easy to use – just attach it right to your stand mixer – and it quickly transforms ingredients to help you knock it out of the park. And If you are like me and the ease of cleaning any product weighs heavily on whether or not you'll purchase it, there's more good news because it's really easy to clean and the metal body makes it highly durable.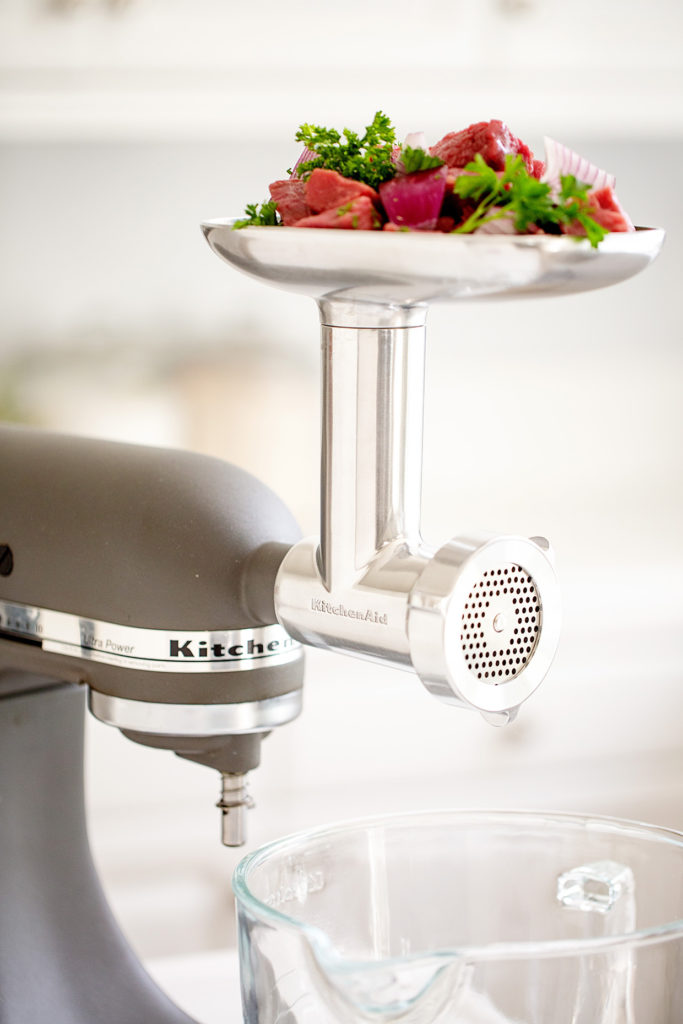 Yay to that, because it gives me more reasons to put my stand mixer to work as the culinary center of my kitchen. And the attachment comes with fine, medium and coarse grinding plates and two sausage stuffer tubes, which gives me endless and creative possibilities to play with my food. The attachment also gives gives me more control to not only add the ingredients I want to incorporate, but transform them into fresh recipes. Along with that, you can easily pre-chill the attachment for a cleaner grind and the larger food tray makes it so much easier to process what I need with minimal effort.

And that is a must when October rolls around, since it marks the start of my kitchen's busiest season—from holiday cooking and baking to hosting holiday gatherings, I'm in the kitchen a lot. It's the time when I'm not only testing out new recipes, but I'm putting new spins and twists on classic recipes like this hand-pie.

This is usually a recipe I quickly whip up with store-bought ground beef that I cook with some butternut squash, stock and heavy cream before throwing it over pasta. But this year, I wanted something slightly different, so I went for a hand-held pie that can easily be eaten between activities. And of course, I've never met a flaky puff pastry I didn't want to devour, so naturally it's the vehicle for my filling.


Winner-winner, who wants dinner? My little guys loved this and I love that the KitchenAid Metal Meat Grinder Attachment gives me a quality grind in less time, so I can knock out more fall dishes like this.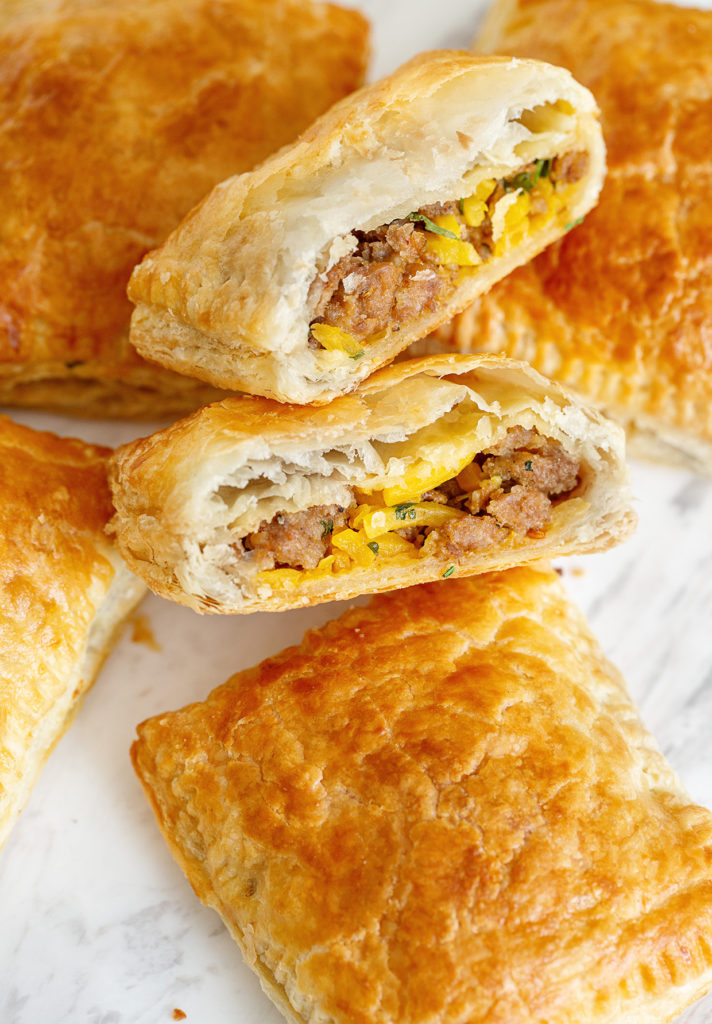 Meat Hand Pies
Ingredients
2lbs. London broil beef cut, diced to 1/2 inch cubes
1 small red onion, cut to 1/2 inch pieces
4 tablespoons finely chopped parsley
1 tablespoons garlic powder
1 tablespoons onion powder
2 teaspoons kosher salt
1 teaspoon fresh cracked black pepper
3/4 cup grated parmesan
2 sheets ready-to-make puff pastry, thawed and cut into 3x3 inch squares
1 egg
1 tablespoon water
Instructions
Push the meat, onion and parsley through the KitchenAid Metal Food Grinder Attachment.
Add the garlic powder, onion powder, kosher salt and black pepper into the ground meat and mix to combine.
In large skillet, heat two tablespoons of olive oil over medium heat. Add the ground meat, cook and stir until cooked through, about 5-7 minutes. Set aside to cool to room temperature. Once cooled stir in parmesan cheese.
In a small bowl whisk together the egg and water. Brush edges of each puff pastry square 1/4-inch deep. Place filling in the center. Place a second puff pastry square on top and pinch edges together with a fork. Brush the top with the egg wash. Transfer to a parchment line baking sheet. Repeat with remaining puff pastry squares.
Bake at 400 degrees F until puff pastry in golden brown, about 15- 20 minutes.