We have less than 25 days left of summer. Where did it go? I'm hanging onto the last of it in every way, including serving it up with this 20-minute meal that results in what you see below: Grilled Salmon with Corn and Mango Relish.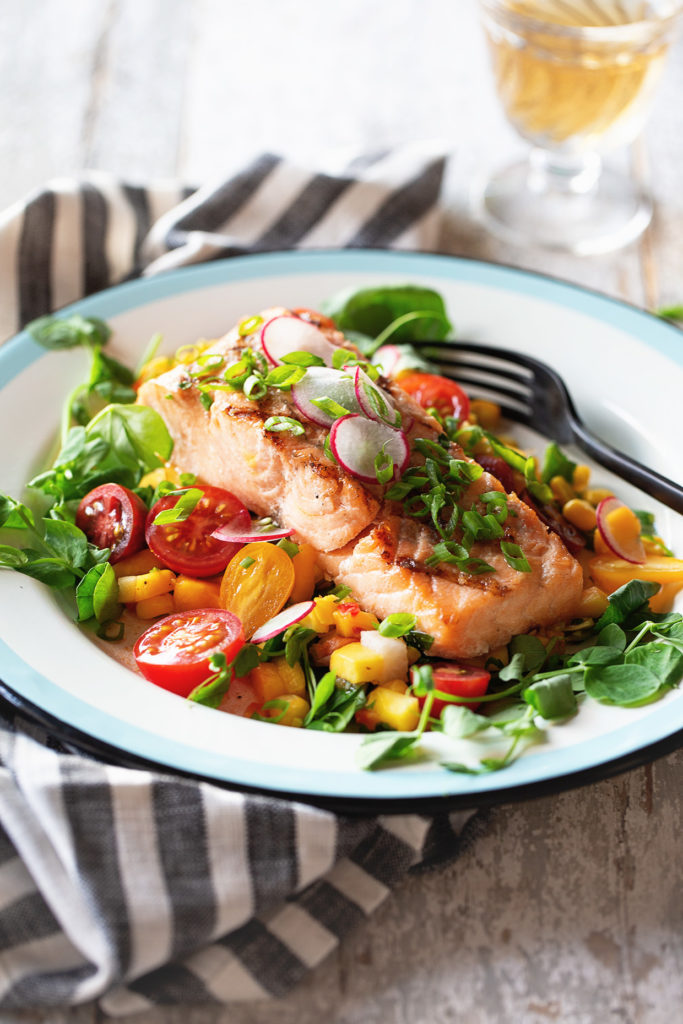 It comes together easily and quickly, in terms of easily serving it to my kids – I know them well, I dressed up the plate with a few of their favorite things by way of the relish.
My boys are huge into mango, although Cole doesn't much like corn, so I made his relish before adding the corn. I did him a big solid—Naomi would have just mixed it all in and left it to him to pick out. I get that, no parent wants to be a short order cook.
But as a recovering picky eater, I always hated that while everyone was eating and my stomach was grumbling, I was sitting there picking and sifting through meals littered with all things that made my jaw snap shut. It sucked. Thankfully for me, only one out of three boys is a picky eater. I'm hoping my picky eating teenager will grow out of it.
For now, the ones that aren't picky eaters are getting the full rainbow of food. Sure they have their preferences – like no corn for the tween and no spinach for the toddler. All reasonable preferences aside, I'm doing my best to prevent a repeat of me—someone who did not even have a mango until his adult life (among so many other things).


Yield: Makes 4 servings
Grilled Salmon with a Corn & Mango Relish
Ingredients
4 6 oz., skin-on, boneless salmon fillets, at room temperature
4 tablespoons olive oil
2 cooked corn
2 mango, diced
6-8 cherry tomatoes
1/4 cup chopped jicama
3 tablespoon cilantro, chopped
2 tablespoons green onions
2 tsp. lime juice
Instructions
Heat a grill to high. Cover grates with non-stick spray. Pat the salmon dry and brush with olive oil. Place the salmon on the grate skin side down, close the grill cover and cook for about 8 minutes. Remove from grill and set aside for 10 minutes to rest.
To make the relish: Mix all ingredients in a bowl. To serve: layer salmon over relish and greens