In an effort to keep my kids well-balanced when it comes to food, I'm taking a page from Naomi's kitchen playbook and made them this colorful, Grilled Salmon Bowl, which we've nicknamed the Unicorn Salad.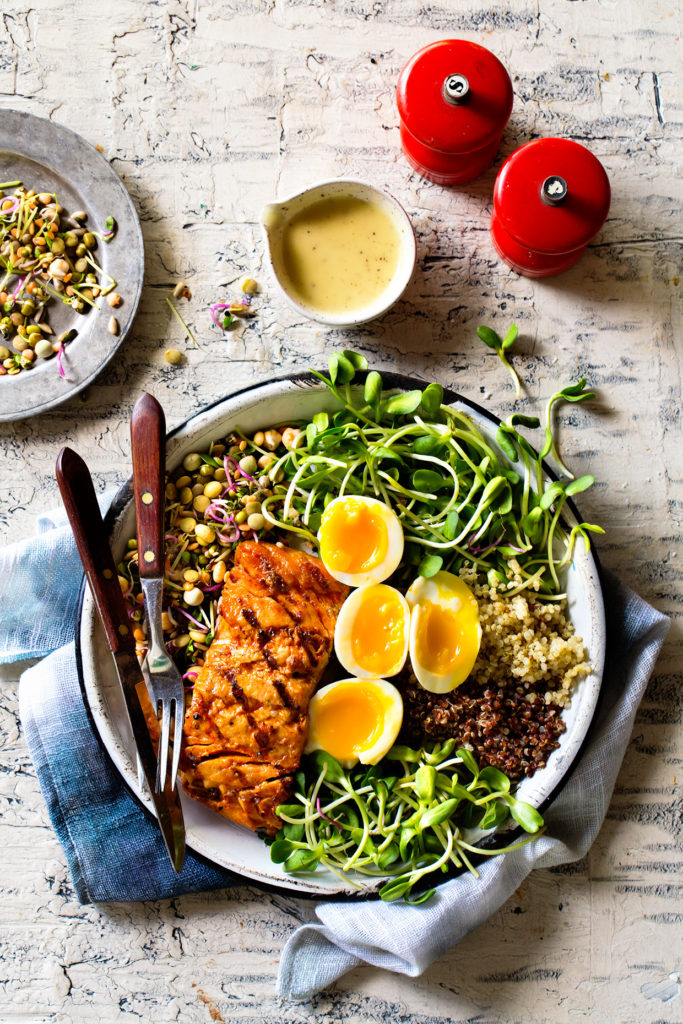 All kidding aside, yes—the kids grimaced a little. Yes, they picked through it. And, yes, it was so annoying. I get it—kids don't gravitate to sprouts.
But I also have super human powers of persuasion, so they forked their way through and at the end of it, they said, "It wasn't that bad." Humbling. I'm use to wearing the winning hat in my home for best cook. This definitely gave me a bit of a demotion.
I haughtily told them, "Not everything can be pizza'd,  nacho'd, or fried." So while I didn't win any dinner points with this one, I did get the last word in. That counts for everything when your kids give you a "meh" for dinner.
Yield: Serves 4
Grilled Salmon Bowl
Ingredients
4 6 oz., skin-on, boneless salmon fillets, at room temperature
4 tablespoons olive oil
8 large eggs
1 cup white quinoa
1 cup red quinoa
1 cup sprouted legumes
1/4 cup sunflower seeds
2 cups sunflower greens
lemon garlic viniagrette
Instructions
Heat a grill to high. Cover grates with non-stick spray. Pat the salmon dry and brush with olive oil. Place the salmon on the grate skin side down, close the grill cover and cook for about 8 minutes. Remove from grill and set aside for 10 minutes to rest.
In the meantime, bring a pot of water to a boil (make sure to there is enough water to submerge the eggs). Create a water bath, by filling a bowl with water and ice; set aside. Slowly lower eggs into water and turn down the heat so the water is at a gentle boil. Let the eggs gently boil for six-and-half minutes. Remove from pan and transfer eggs to the water bath. Peel eggs and set aside.
Assemble the bowl by equally splitting the remaining ingredients into 4 separate portions. Halve the jammy eggs, and add them and, the grilled salmon filets to the bowl. Serve immediately with a lemon garlic vinaigrette or your preferred dressing.