Grilled Jerk Baby Back Ribs ~ Get excited because these flavor packed ribs are a little sweet with a hit of fiery heat that's set against a backdrop of warm spices like allspice and cloves. It's also part of my thriving not surviving self-care routine.
Who wants to just survive, right? Let's talk about where it's really at: thriving. I realize there are a lot of articles out there about self-care, so to be successful and stick with it: find what works for you.
The general idea of self-care is finding overall wellness when it comes to physical well-being, mental health and how you fuel your body. With that in mind, individualize the mechanics of it to suit your needs. Here's what I mean, my self-care is the opposite of my wife Naomi: I don't stretch in the morning, I hike. I don't journal, I read and listen to podcasts. I don't juice cleanse, instead I eat a well-balanced diet that includes pork because it's a nutritious protein.
And of course, it's tasty! I mean look at those ribs—jerk drenched and falling-of-the-bone tender. My self-care doesn't get much better than this.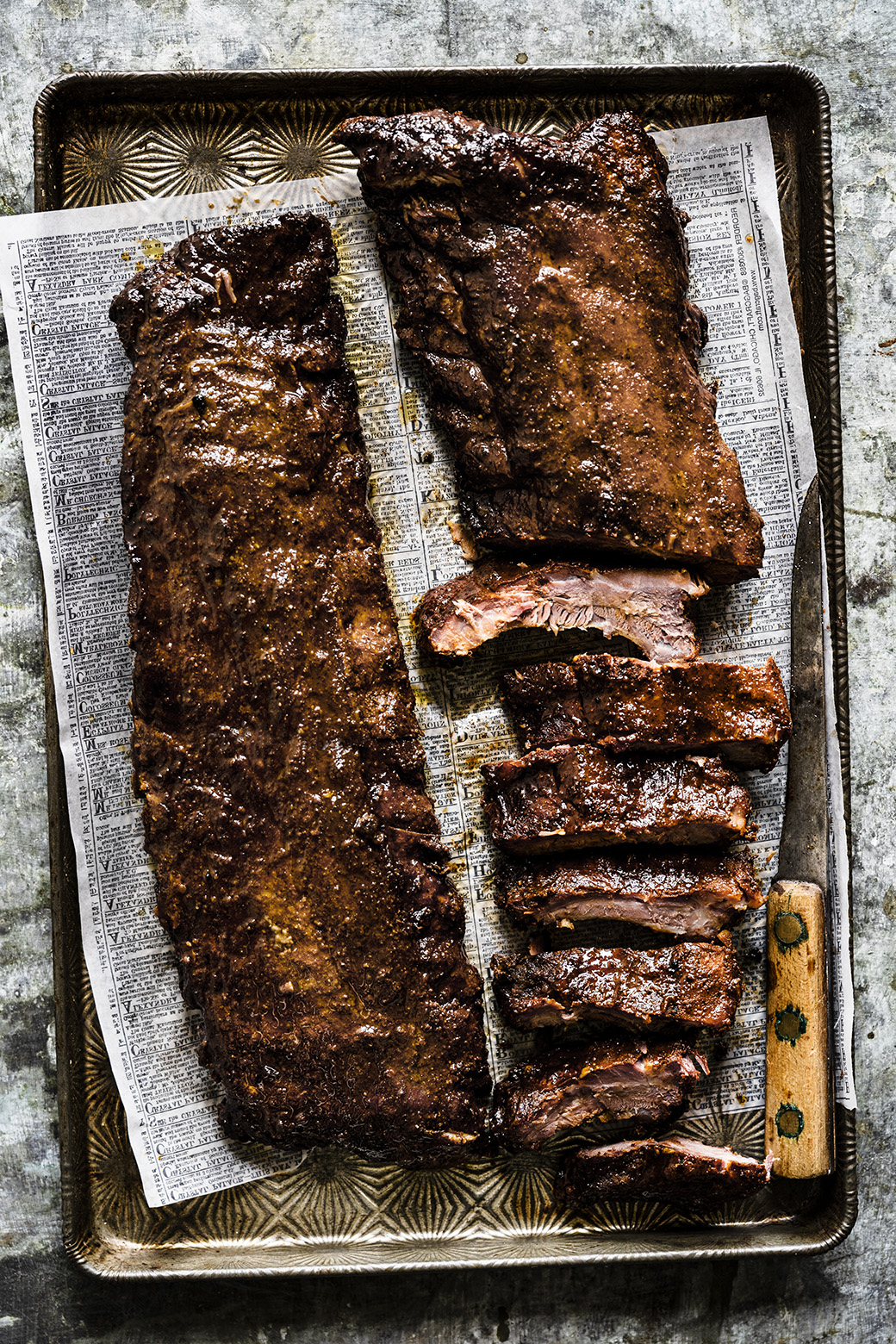 While this isn't a 20-minute dish, it is a dish worth the effort. The process starts with making homemade jerk marinade. From there the ribs need to marinate for a few hours or overnight for best results. Once that's done, you'll need 3 hours for some low and slow grilling. As I mentioned, it's a process. For me that's something I enjoy. I like the transformative end results.
To start, you'll need a flavor-packed rib cut like baby back ribs. Pork ribs are my go-to because they're easy to work with and taste the best for this recipe.
Of course, I also love that pork is packed with the essential amino acids, vitamins, and minerals. When I'm not cooking ribs, you can find other cuts of pork on my weekly menu. Being a quality source of protein, pork is great for helping to maximize my workout efforts.
Now that I've shared a few of my go-to activities for self-care and a recipe to go with it, what's your self-care routine? I'd love to know. I'm always looking for new ideas and new recipes for a better balanced diet. Let me know in the comments.
Here are a few notes before you get started:
Louis ribs vs baby back ribs? I prefer baby back because they are slightly leaner.
Pork safety ~ Most pork cuts need to be cooked until an internal temperature reaches 145F. Ground pork and sausage should always be cooked to 160F. Since ribs are difficult to temp, stick to the cook time and make sure they're tender to determine doneness.
Pork misconceptions clarified ~ Follow the temperature for doneness. It's false that pork must be cooked until juices run clear and that the meat is white. When whole muscle cuts of pork (like chops or tenderloin) are cooked to 145 degrees F, they will be a light blush pink color.
How to properly take the most accurate temperature ~ This video here explains it best. https://www.pork.org/cooking/pork-temperature/
** This blog post is in collaboration with the National Pork Board. All thoughts and opinions are my own.
Grilled Jerk Baby Back Ribs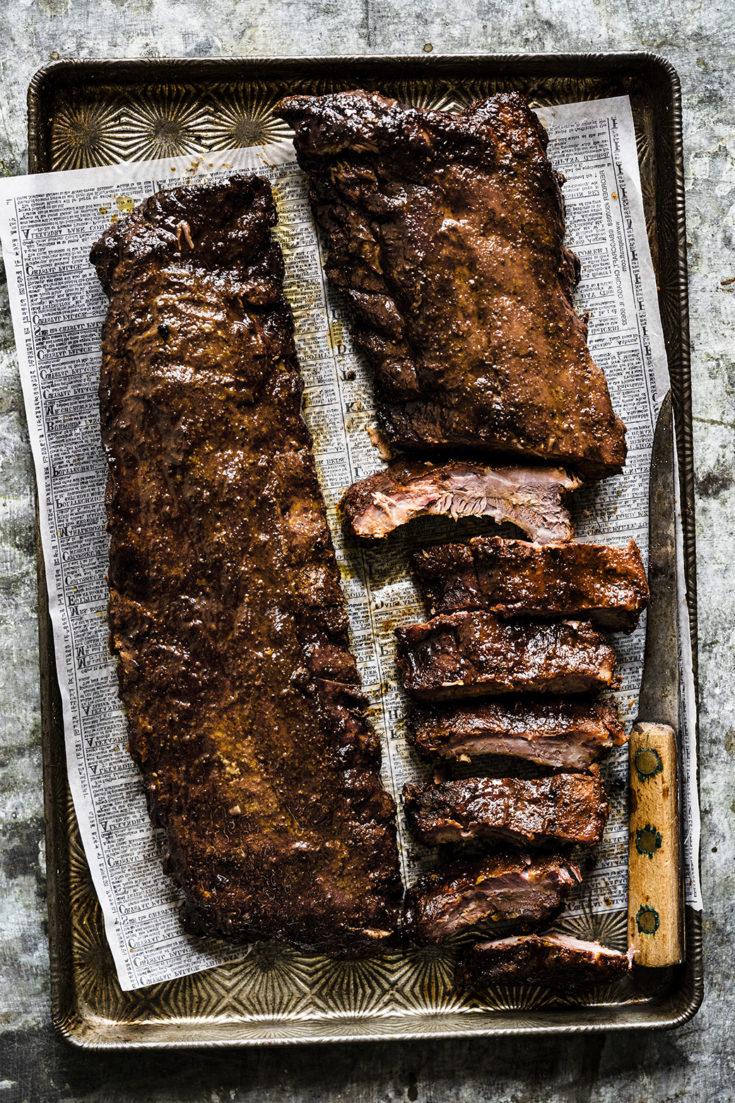 Ingredients
2 racks baby back ribs, about 3 pounds
1 tablespoon liquid smoke
Jerk marinade (makes about 2 cups)
1/4 cup vegetable oil
1/4 cup soy sauce
4 large jalapeños (use Scotch bonnet chilies for a more traditional fiery finish)
1 medium size onion, coarsely chopped
8 scallions (white and green parts)
1/3 cup parsley leaves
6 sprigs fresh thyme
4 cloves of garlic, coarsely chopped
2 tablespoons of chopped ginger
2 tablespoons fresh thyme
1/3 cup packed dark brown sugar
2 tablespoons all-spice
1 tablespoon dried thyme
2 teaspoons kosher salt
1 teaspoon cinnamon
1 teaspoon freshly ground black pepper
1/4 teaspoon ground cloves
Basting mixtures
½ cup unsalted butter
2 tablespoon cider vinegar
¼ cup of jerk marinade (from above)
Instructions
Make the jerk marinade: Place all ingredients in a blender or food process and process until smooth, about 1 to 2 minutes. Marinade should be thick but a spreadable paste in consistency. If marinade is too thick, add 1 tablespoon of water at a time to achieve a spreadable paste. Reserve 1/4 cup of jerk for the basting and the remainder can be used as dipping sauce.

Trim the ribs by placing the rack on a cutting board with the bottom facing up. Starting at one corner, slip a dull knife under the membrane and carefully dig underneath to lift and loosen the membrane. Using a paper towel (because the membrane is slippery), begin pulling to remove it. (Small note: You can also request the butcher to do this.)

Drizzle a few drops liquid smoke on to the rack then smear the rack with jerk marinade. Wrap the ribs in plastic wrap and refrigerate for at least four hours or up to overnight. Save the remaining jerk sauce for basting and serving.

Prepare grill for indirect cooking at 250 to 300F. In the meantime, prepare the basting mixture by placing the butter, vinegar and reserved ¼ cup of jerk marinade in a saucepan over low heat. Cook and stir until mixture is homogenous. Remove from heat set aside for basting.

Make sure the cooking grates are clean. Place the ribs bone side down, over the indirect heat. Close the lid to grill for 1 ½ hours, making sure the temperature of 250 -300F is maintained.

After 1 ½ hours, rotate and baste the racks. To do so, remove the racks from the grill and close the lid to maintain the temperature. Lightly baste both sides of the ribs with the basting mixture. Return ribs to the grill over the indirect heat, making sure ribs are rotated for even cooking. Close the lid and grill for another 1 ½ hours longer or until meat is fully cooked.

To check for doneness, the USDA recommended temperature for pork doneness is 145F plus three minutes of rest time. (I like to remove mine a 140F and let the residual heat bring it to 145F). Additionally, a visual queue will show the meat shrunk back from the ends of most of the bone by at least ¼ inch. If not, continue grilling for another 15 minutes. Remove from grill and serve.